Phill vom GCHQ - Seite 75: Julzeit [German]
Episode 75: Julzeit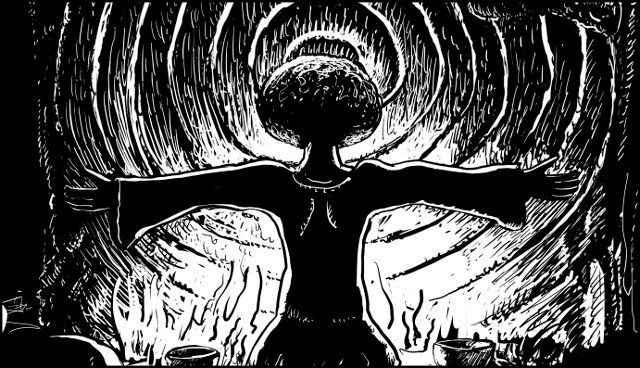 This is the German translation of 'Phill from GCHQ'.
You can find the English version here.


Liebe Comicfreunde,
nach längerer Pause hier endlich einmal wieder eine frisch übersetzte Seite von Phill. Kaum zu glauben, aber die Originalseite ist schon vor über einem Jahr erschienen. Wie die Zeit vergeht...
Ich wünsche jedenfalls allen Leserinnen und Lesern ein frohes und erfolgreiches neues Jahr!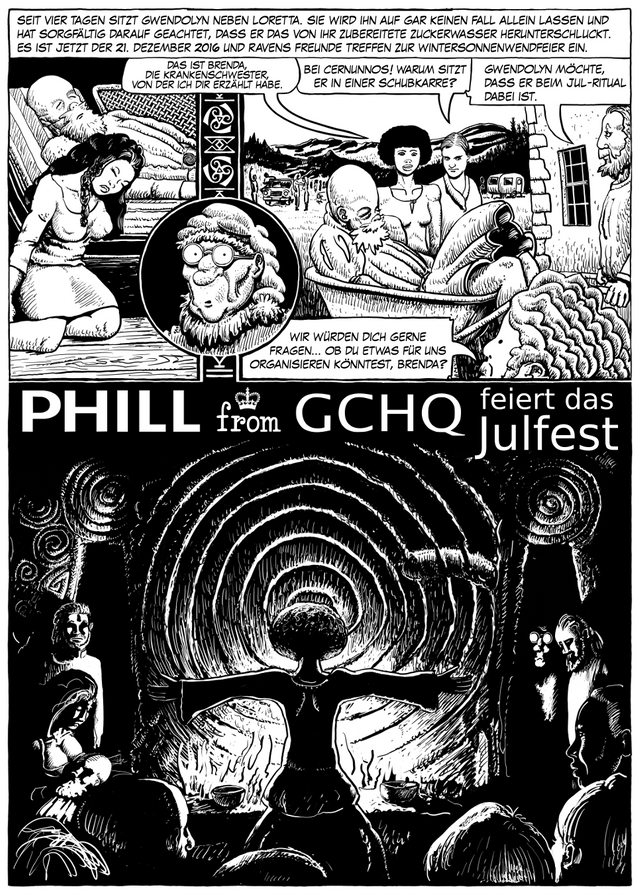 Phill vom GCHQ erscheint unter CC-BY -Lizenz.
Original-Artwork und Idee von @katharsisdrill.


Julzeit/Julfest
Das Julfest ist ein nordeuropäisches Fest, das je nach religiöser Zuordnung zwischen der Wintersonnenwende und Anfang Februar gefeiert wird. Im Schwedischen, Dänischen und Norwegischen heißt Weihnachten heute jul.
Cernunnos
Cernunnos ist vermutlich der latinisierte Name eines keltischen Gottes. Sein Name wird als "der Gehörnte" gedeutet, und er wird aus den bildlichen Darstellungen zumeist als Gott der Natur, der Tiere oder der Fruchtbarkeit interpretiert.
Ich kann euch wirklich empfehlen, den Comic auf der Homepage von Phill nachzulesen. Dort sind nicht nur die Seiten besser lesbar, man kann auch schnell hin- und herblättern, wenn man die Zusammenhänge besser verstehen möchte.

Für alle neu hinzugekommenen Leser:
Der dänische Künstler @katharsisdrill veröffentlicht seit September 2016 einen Webcomic über einen nerdigen Geheimagenten namens Phill auf Steemit.
Nach ein paar Seiten habe ich ihn gefragt, ob ich eine deutsche Übersetzung davon machen darf. Kurz darauf hat dann @vcelier angefangen, den Comic auch auf Französisch zu übersetzen.
Mittlerweile gibt es sogar eine mehrsprachige Homepage, auf der ihr alle bisher erschienen Seiten nachlesen könnt. Schaut mal hier!

Original English versions at the account of @katharsisdrill.
Vous pouvez trouver les traductions en français sur le profil de @vcelier.
Die deutschen Übersetzung gibt es bei mir.

Vielen Dank für eure Aufmerksamkeit!
P.S.: Selbstverständlich werde ich die Rewards dieses Posts - wie immer - mit @katharsisdrill teilen.