DEXA COIN – A BLOCKCHAIN BASED SOLUTION FOR MONEY REMITTANCE INDUSTRY.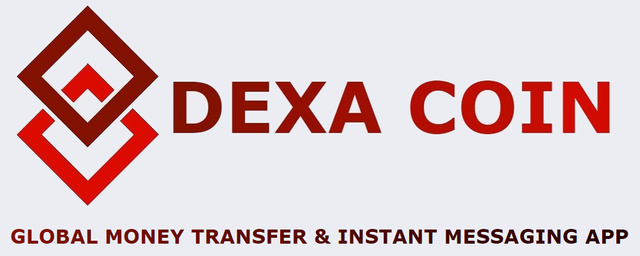 The advent of the internet paved the way for lots of amazing techs, features and ecosystems to be designed and also helped in accelerating the growth of traditional business models and industries. It has been known that the application of the internet to an already existing business or model saw an incredible boost in its output so we can say that the advent of the internet started an incredible revolution.
Communication advanced along with other things and even the banking system got better as it integrated with the internet making it possible to, using a smart device, easily conduct a transaction to anyone, anywhere in the world this is also known as "money remittance" although not only banks run money transfer because as it got important to send money from one place to another other platforms arose who conduct the same business and it was actually going well.
However, as the world advanced the money remittance sector begins to get flawed as lots of issues were seen to be wrong with it and if it continues being unattended to it would produce a catastrophic result. An advanced world means a faster, secure, more comfortable and decentralized one and the money remittance sector has failed to keep up with these necessities.
Problems
The process involved in running this money transfer is stressful as in some cases banks requires a physical presence before conducting a transfer and there's also the case of security as scammers are lurking in almost every part of the internet and this is a great issue as users get scammed of their funds because the banks could not establish a secure platform for the masses. Bank act as "middle-man" between the sender and the receiver thus controls everything that happens between both people and after the work has been done they are paid commission which only keeps soaring high meaning transaction cost is expensive.
DEXA COIN As A Solution.
The main problem with traditional money remittance industry is their incapability of growing and exploring other technology(s) that could help in revolutionizing the industry and that is where Dexa Coin exceeds as it uses a potential, amazing and unique form of technology known as the Blockchain to fight the issues and it has produced amazing result so far.
Dexa Coin is a blockchain based application for making global money transfer cheap, faster and provides the much needed security and it is also decentralized. The app has a friendly user interface thus anyone that can make use of a smartphone will have no problem making use of this app and executing a successful transaction. Dexa Coin is on a whole new level of convenient, it doesn't require a human presence so no need of an identification authorization before executing a transaction it is "lightening" fast and because of the blockchain which is a decentralized system it completely eradicates the need of a "middle-man" so no human is in-charge of operating your transaction but nodes on the blockchain and this makes transaction charges cheaper as transaction is done peer to peer.
Dexa Coin adopts all the beneficial aspects of the blockchain such as fast transaction speed, security provision, decentralization and transparency. Now, with all of these advantages embedded into one application it will definitely provide amazing results and also Dexa Coin has an instant messaging feature integrated with it to allow users communicate easily especially when both parties are involved ina transaction they can be able to talk on how it is going.
In conclusion, Dexa Coin will undoubtedly create a superfluous revolution in the money remittance sector given what it presents and because of utilizing a unique tech like the blockchain and this will cause for the masses to become aware of the blockchain's potential thus a progressive adoption.
FOR MORE DETAILS RELATE TO THE LINKS BELOW;
Website: https://dexacoin.net/
Telegram: https://t.me/dexacoin
Bitcointalk Announcement Thread: https://bitcointalk.org/index.php?topic=5158033.0
Whitepaper: https://dexacoin.net/wp-content/uploads/2019/08/DEXA-COIN-OFFICIAL-WHITEPAPER-UPDATED-24th-AUG-2019-01-27-AM.pdf
WRITER'S INFO
Bitcointalk username: Beneze
Bitcointalk profile link: https://bitcointalk.org/index.php?action=profile;u=2190968;sa=summary