Course Review: Johnny Roberts Memorial Disc Golf Course -- Holes 1-9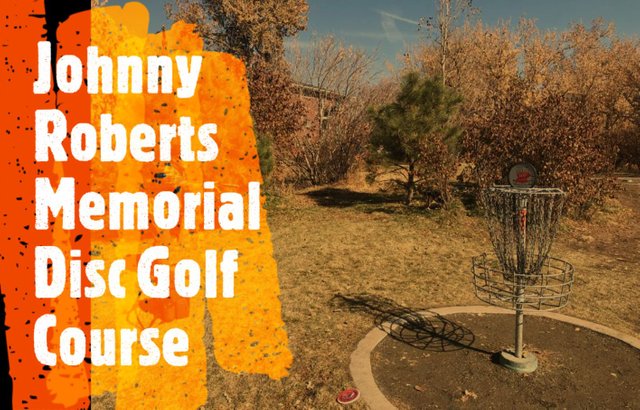 Earlier this week Stephanie (@geke) and I played a round at Johnny Roberts Memorial Disc Golf Course in Arvada, Colorado. This is the course where Stephanie got her first birdie back in October with an amazing 60-foot putt! It's a collection of par 3s on a groomed course, a literal "walk in the park" with gently sloped fairways and few obstacles. We've been wanting to head back to this course to review it, so we shot a round on Wednesday with Stephanie hitting several pars and me at 13 under.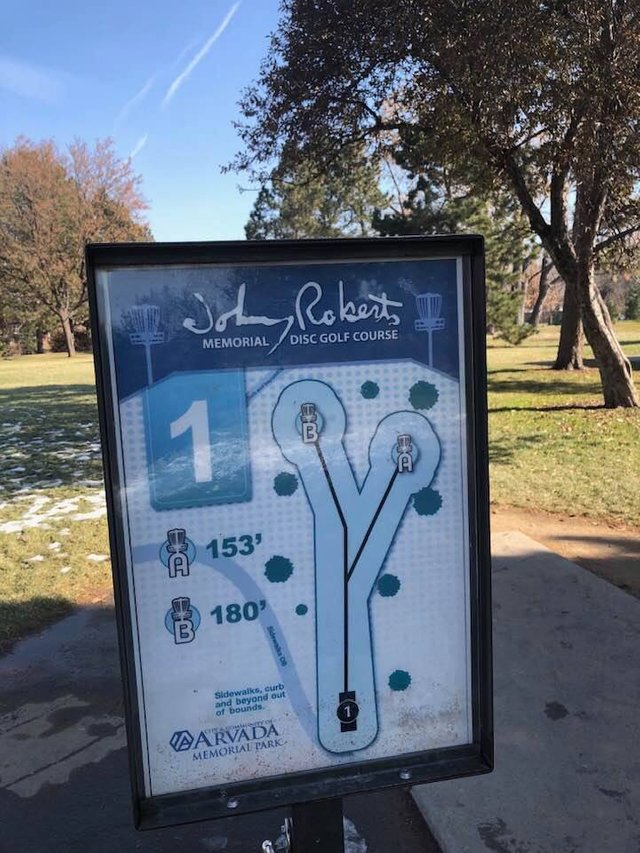 Hole 1: Par 3, 180 feet
The first hole starts easy and slow. The basket is a straight shot off the tee, just to your left. Unfortunately, we didn't get a single photo of a Hole 1 drive because the area around the tee box was so muddy. But it's a straight shot out with some trees on your left.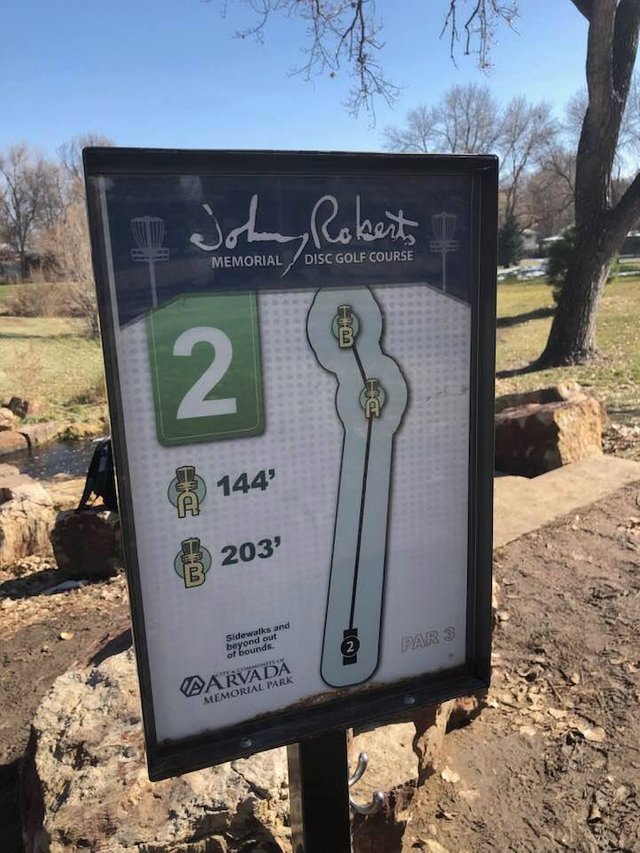 Hole 2: Par 3, 144 feet
Hole two is a short one and a fun tee shot across Ralston Creek. Even beginners can clear this one and feel like they mastered the hazard! After your drive, you'll navigate the creek on huge slab stones to reach the basket on the other side. Below the photos are videos of both Stephanie and I shooting this one.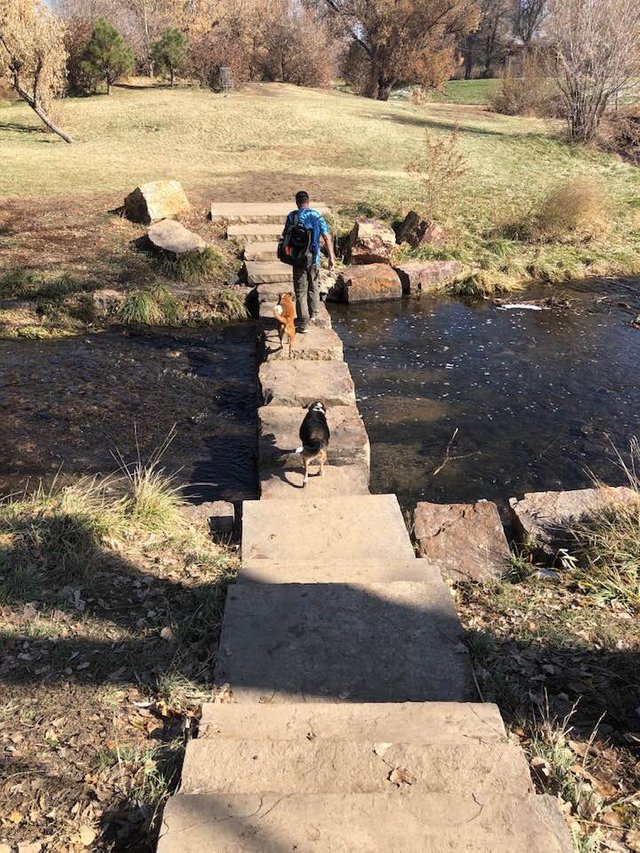 Walking from the tee box to the basket
over Ralston Creek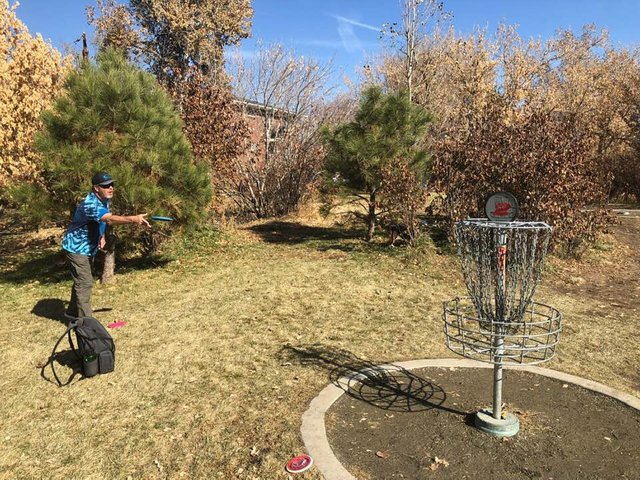 Easy birdie for me; Steph's lie is just outside the green in two for an easy par
 
Videos of this hole below: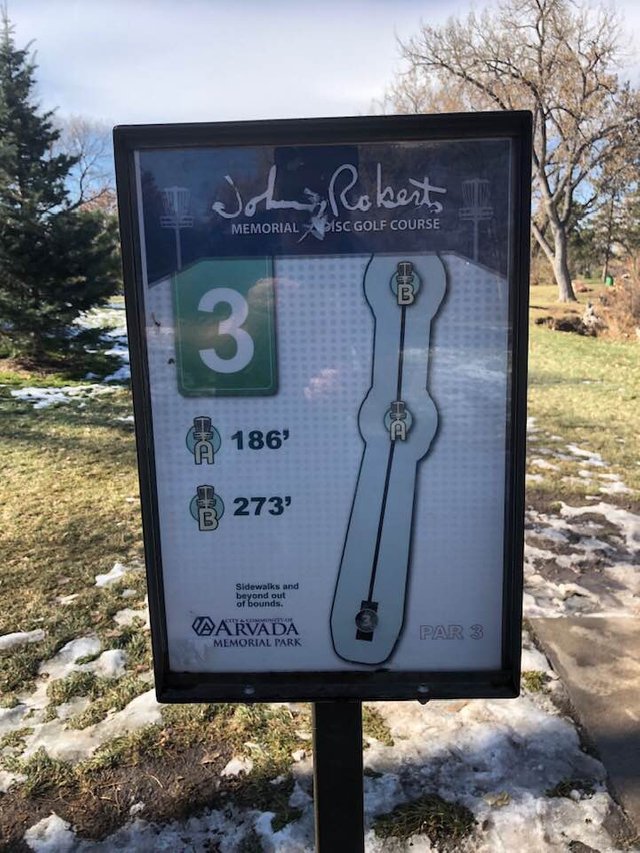 Hole 3: Par 3, 273 feet
This one's not easy to find: you need to head east after leaving the basket on Hole 2 and take a right on the sidewalk to find Hole 3. Once there, it's a straight shot off the tee, bearing ever so slightly left. There are a few gentle rolls that will stop a disc into a skid, so keep your disc up if possible. The creek from Hole 2 is on your right and sometimes play stalls here while people retrieve wet discs. A retriever tool is always a good idea to have on hand.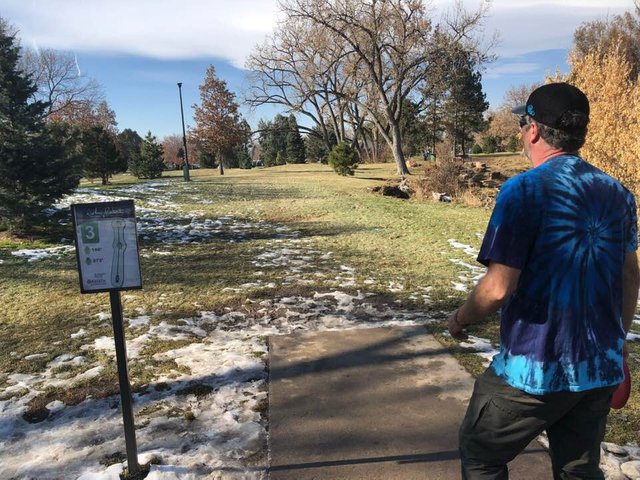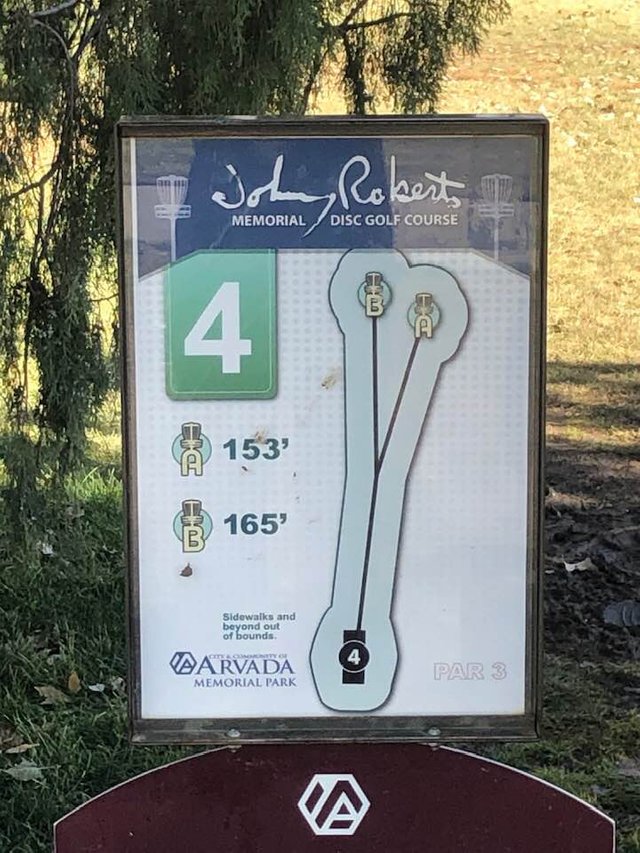 Hole 4: Par 3, 165 feet
The fourth tee is tucked under a few trees and the basket is guarded by a few more. As you can see, these trees have reaching fingers trying to tap down your disc. Stay brave and try a flick here to curve around them. It's a short hole, so a flick is all you need, but if those trees have their way, what should be an easy birdie will quickly turn into a par... or worse.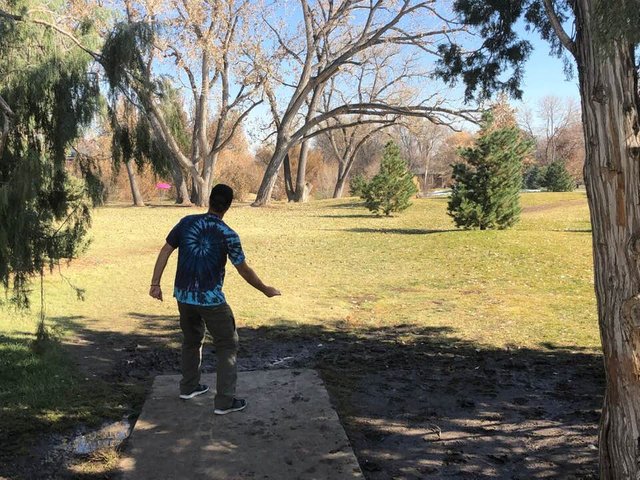 !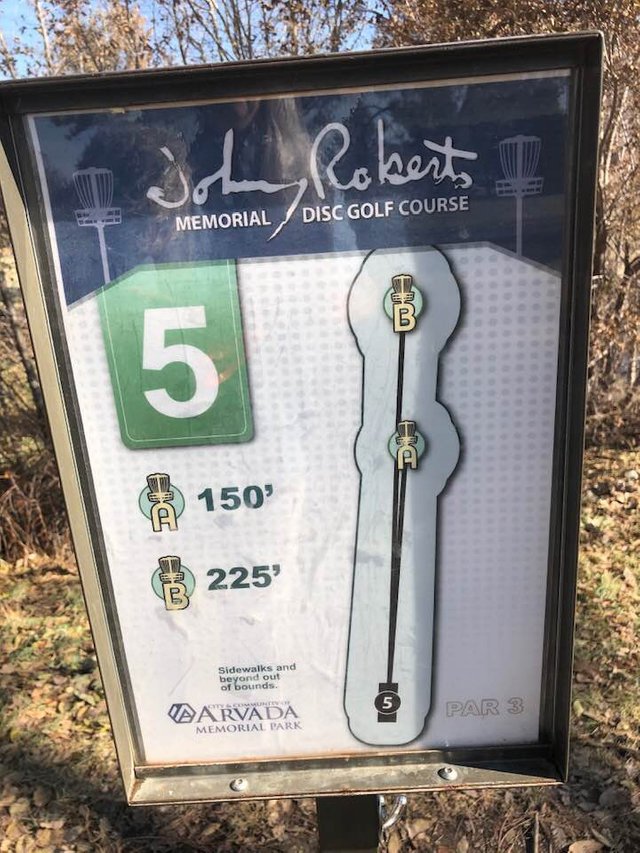 Hole 5: Par 3, 225 feet
All the holes at Johnny Roberts are pretty short, but this one is a little longer and much trickier than most. Off the tee you need to clear tall bushes immediately in front of you, then clear--yet again--that creek from Hole 2. You can see the creek in the photo below to the right of the tee. Obviously, lots can go wrong on this hole so definitely give it some power. After you tee off, head down the sidewalk to your left and cross the bridge on your right to make your way to the basket.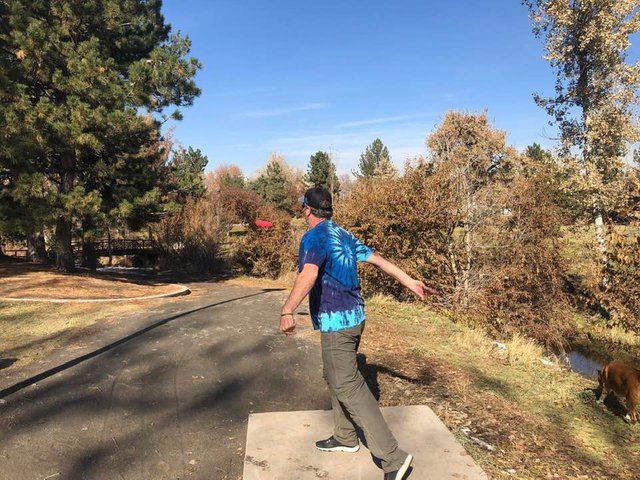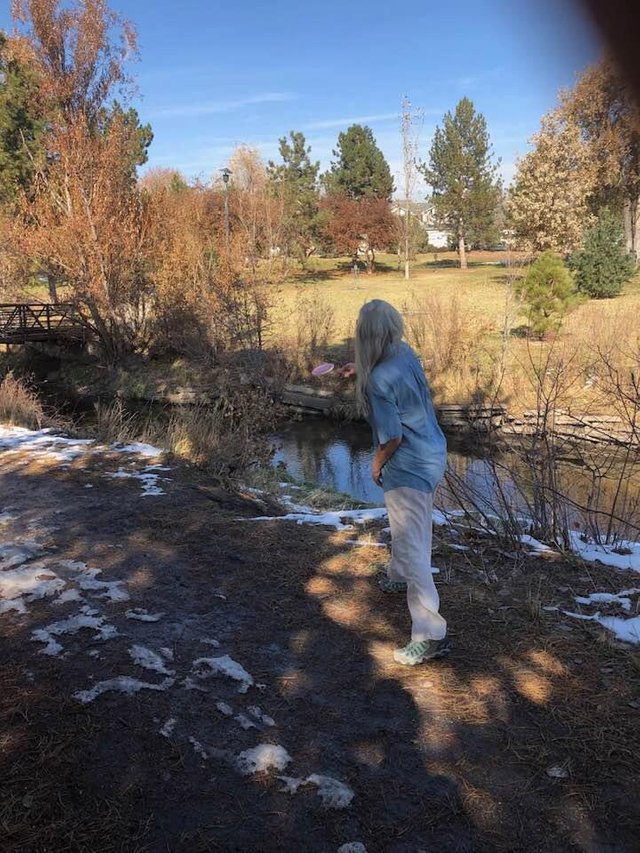 Stephanie tees off further down the path,
avoiding the tall bushes in front of the tee box.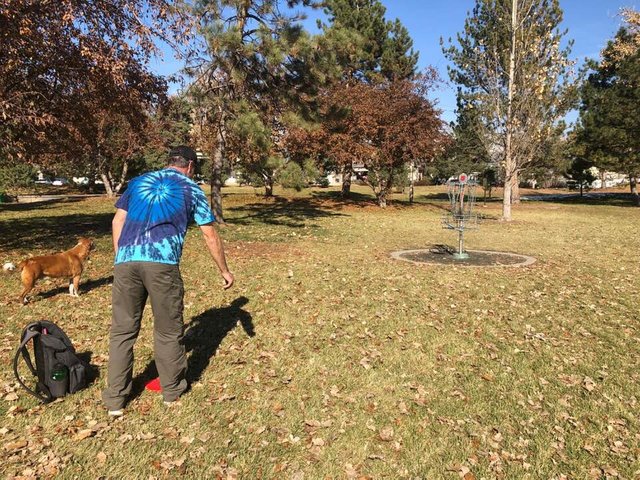 Blue putter in the basket...
an easy birdie if you play it right.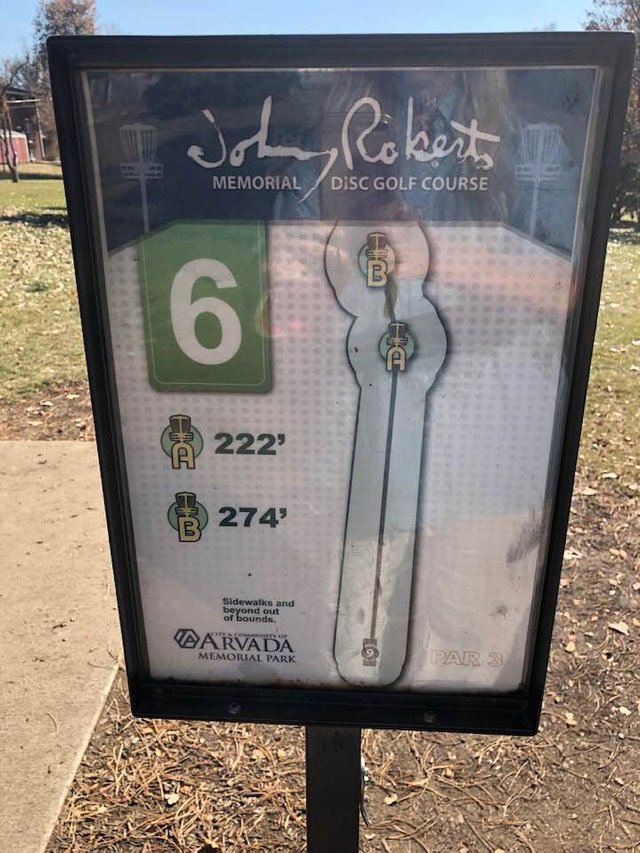 Hole 6: Par 3, 274 feet
Hole 6 is another fairly straight shot, open and free of hazards except for a stray tree here and there but, like Hole 3, it has some small rolling hills that can snag a low-flying disc into a skid. Keep your disc high and straight if you can.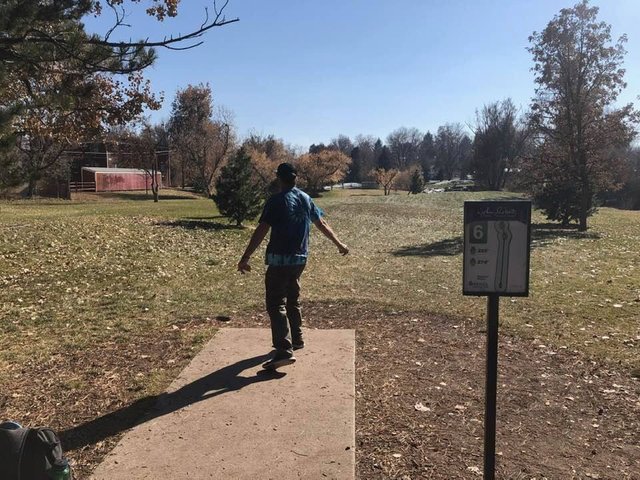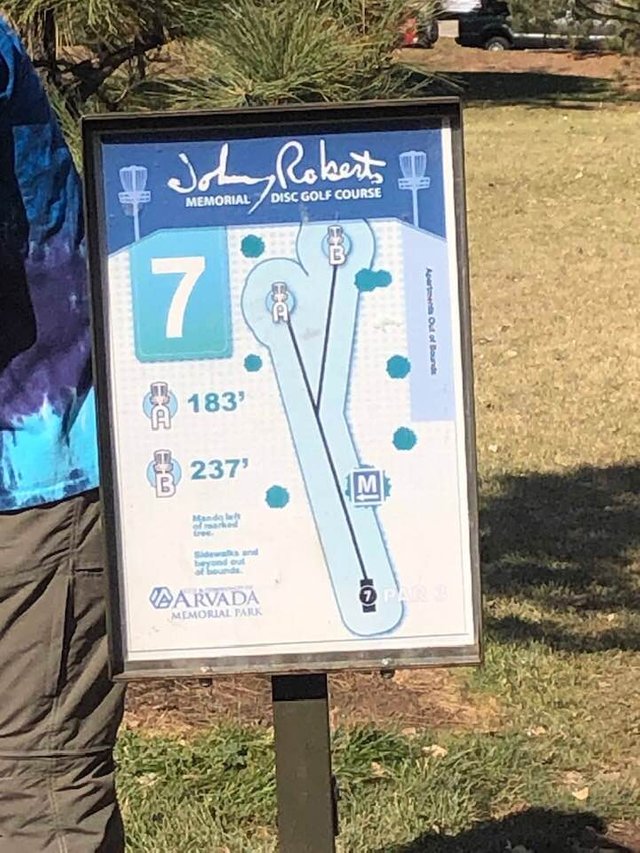 Hole 7: Par 3, 237 feet
Hole 7, again pretty unremarkable, has the same rolling hills as Hole 6 because it's right next door, heading back the other way. This hole is on the northeast end of the park, with private property and homes along the right side of the fairway, so don't anhyzer too much here.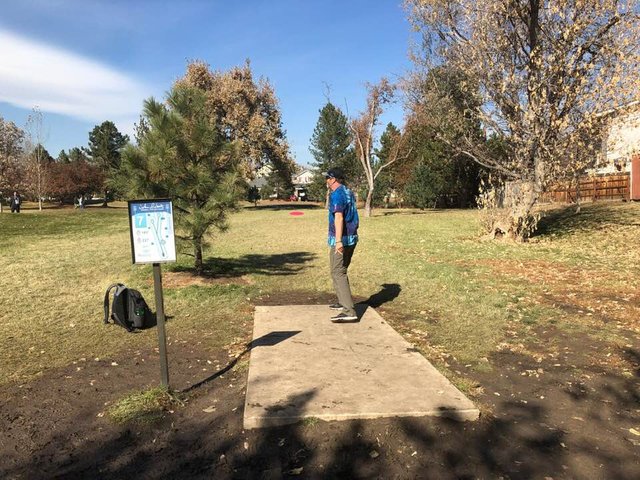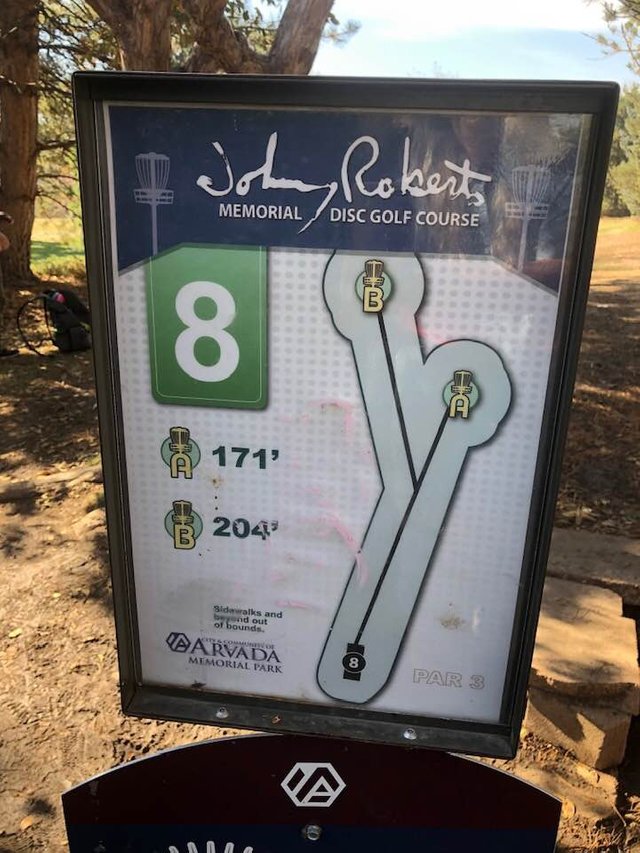 Hole 8: Par 3, 204 feet
The tee box on Hole 8 is limiting and short with a small stone wall on its front end. A hill rises immediately in front of you and trees hang overhead. Barbara Ann Drive (a street) is along the right side of the fairway, but if you accidentally throw too far right, the trees should pop your disc back inbounds. The tee box area is so tight, Steph had trouble getting back far enough to take a picture, so she had to turn the phone around in selfie-mode. Word of advice: watch your shins.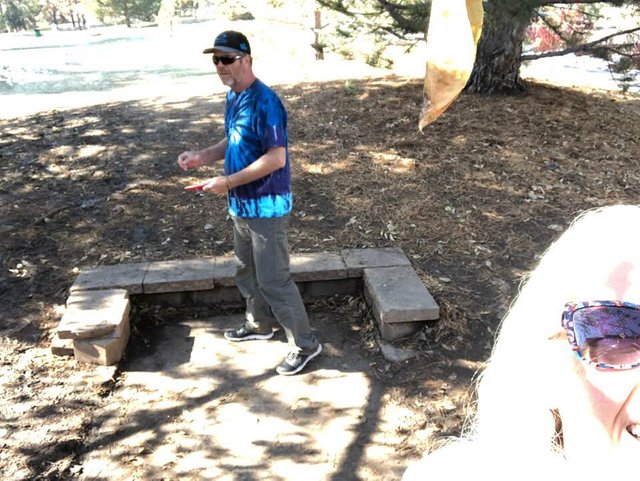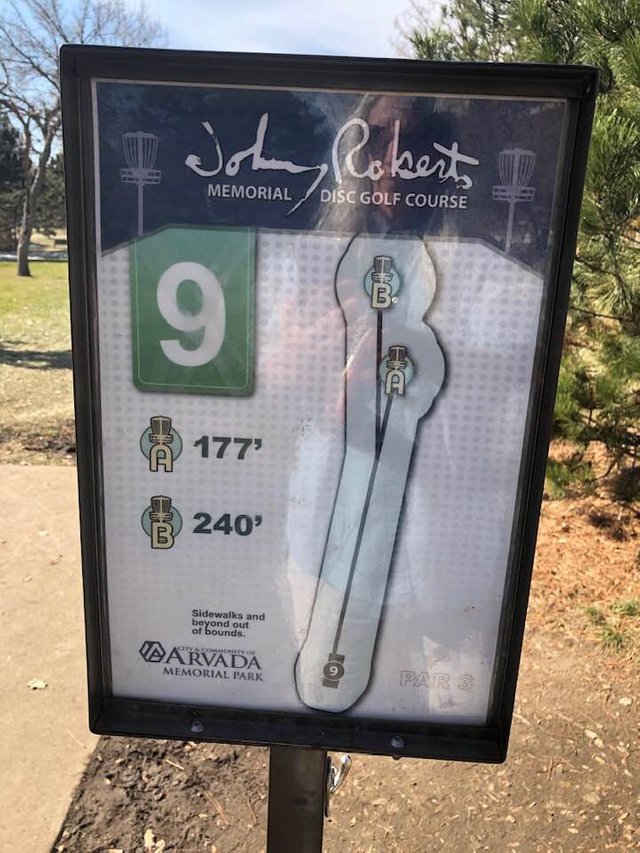 Hole 9: Par 3, 240 feet
To find this hole, head left toward the sidewalk from Hole 8's basket, then make a right on the sidewalk and duck under the trees on your left. Hole 9 also runs along Barbara Ann Drive (on your right). This is the hole where Steph got her first-ever birdie so this is a very do-able hole.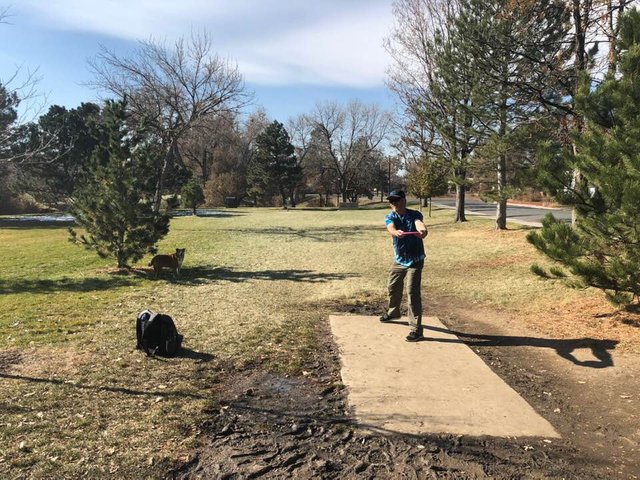 That's it for the first nine holes of Johnny Roberts Memorial Disc Golf Course. I'll be posting the second part of this review with Holes 10-18 in a few days. Thanks for coming along on the round!

Thanks for reading! All images above are original photographs
taken by @hanedane or @geke.
Please follow @hanedane
for more on the art & craft of footbag.