Are We Limiting Ourselves to 1 Type of Content?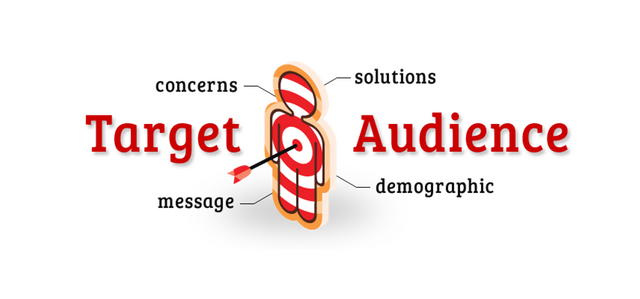 After being on this platform for about 2 years now, it has been very interesting learning, and seeing the changes that are happening on this platform.
Lately, I have been hearing a lot of people wanting to put their efforts to focus on YouTubers and video content creators. While that is great, why limit ourselves to 1 type of audience?
The Bigger Picture
I came across a couple of surveys(I know, results can vary and depend on conditions) but most of the results I have found were fairly close on their results.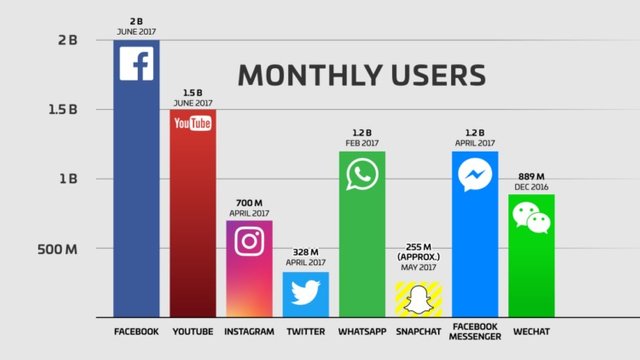 With more than 2 billion monthly users, Facebook hosts over a quarter of the world's population, providing advertisers with an unparalleled opportunity to reach virtually anyone and everyone.
As you can see from the chart above, Facebook leads the board with monthly users. 1 percent of 2 billion monthly users from Facebook is more than having 1 percent of YouTube's 1.5 billion users. So why not target them all?
(I am aware we could not really target Facebook because of the crypto ad ban and censoring Steem related posts prior to the ban. But the ban has been lifted. I think...)
We do have initiatives that are targetting other social media platforms but with the way things are set up currently, I see a lot of push for just video content creators.
Below is a chart that shows the beneficiary rewards and the percentage of the allocation. Now there are other apps that aren't in this chart, and I don't know how accurate this chart is, but from the looks of it, the allocation is toward @dtube.
Now there is a lot of data here missing such as DLive and others. I would guess we would see something similar with DLive data. (I'll be honest, I should get the accurate data myself but this is where my laziness set in. I am ashamed, yes, but I am looking forward to someone correcting me or directing me to the right information 😁)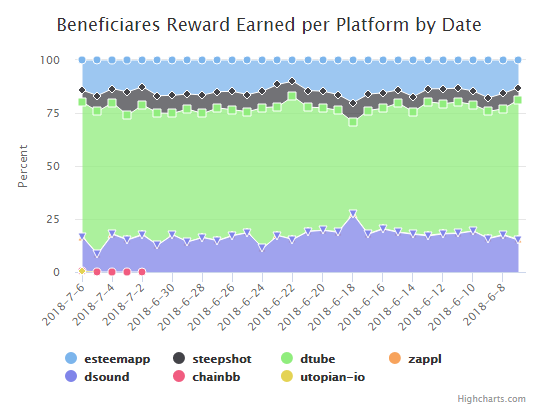 https://steemdb.com/apps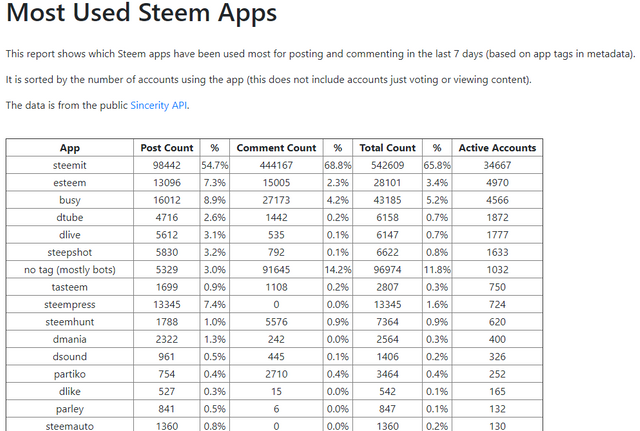 https://steemdb.com/apps
This is not to bad mouth D.Tube
D.Tube is a GREAT platform(with some issues to work out) and is a great attractor to video content creators.
What I am noticing is something I noticed with @steemsports when they were incentivizing users to vote their posts to earn rewards from the post payout.
This created a mass allocation of rewards towards this one type of content and category.
With that happening, and fewer users on the platform at the time, it was understood that rewards needed to be distributed and more categories of content needed to grow. So initiatives were done and became quite successful.
In D.Tube's case, the benefactor rewards are being redistributed to the voters. Which is great, but seems similar to how SteemSports had their setup. Now we're seeing it be more profitable to just vote up D.Tube posts because of that "extra" curation rewards. If an individual or groups were to think only to maximize their rewards, then voting ONLY on D.Tube content and not others would essentially help maximize your rewards. Since we see a large allocation of beneficiary rewards is going to D.Tube.
One of the interesting thing to me is, how much of the video content on D.Tube is actually being viewed? I ask this because I know for others and myself, A lot of the times the video doesn't play or takes a really long time to load. It was frustrating me to the point where I honestly, rarely view D.Tube content and I just upvote them...
Again, There is nothing wrong with this
We do have more widespread apps and distribution and now, most of these apps are in competition in many ways, and competition is good. Especially cooperative competition.
I decided to talk about this in this post because I have been working on various projects on the platform and still curating posts.
I came across a Steemian that that has been on the platform for over a year now and gained very little support until recently now that I decided to support her. I may not have much SP but she will be earning more than she was for her great content. I'm sure she'll gain bigger support eventually.
https://steemit.com/@mvd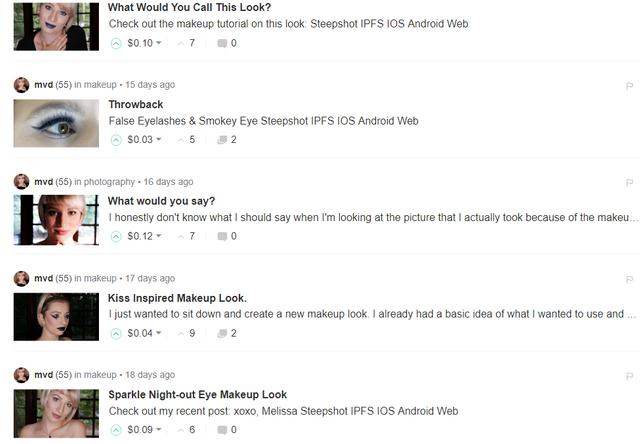 Now there are many factors like engagement and other strategies, but just by looking at the type of content she produces, it baffled me to see her reputation at 55(Not really a factor) after being on the platform for over a year. I felt her content should have gained some support by now.
Of course, judging content is subjective but many of us use certain criteria to determine if a post is spam, plagiarism, etc. and She has clearly gone above and beyond. Making sure she was producing content of value to help educate others and attract others to the platform.
Not to say she has never used D.Tube or DLive, because she has and has gotten a couple of bigger votes, but not compared to others that I have known that have been on here only 3 months and have an equal reputation or more.
Like I said, there are many other factors like she could have used bid bots, and yes, but she as a blogging content creator doesn't feel that she adds much value that way... I commend her for sticking it through for so long and I hope she continues and explores new ways to bring value to the platform.
This Steemian is not the only blogger or content creator I came across while curating and seeing more so videos with higher rewards than most blogs or other forms of content. Not everyone is a video content producer.
Thank you to @mvd for giving me her approval to share with everyone, what she shared with me.
I discovered more interesting statistics that takes the angle of Business-to-Business or B2B. (Once again, results can vary depending on conditions.)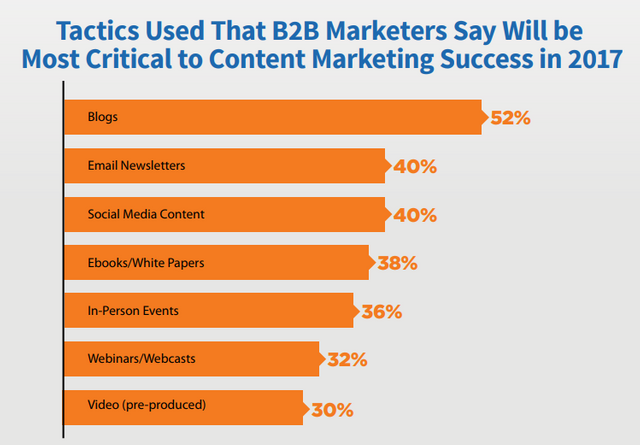 Fewer than 30% of B2B marketers whose organizations use the following tactics said the tactic will be critical to overall content marketing success in 2017: Infographics (15%), Research Reports (12%), Online Presentations (11%), Interactive Tools (9%), Illustrations/Photos (7%), Print Magazines (6%), Digital Magazines (5%), Books (4%), Mobile Apps (4%), Video [livestreaming media] (4%), Separate Content Hubs (4%), Podcasts (3%), Print Newsletters (2%), Virtual Conferences (2%), and Other (4%).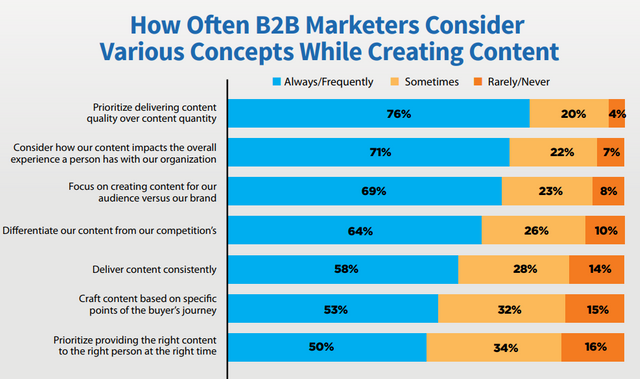 Aside from Content, the beauty of blockchain and more so with Steem, we can showcase a lot of different ways to use this platform and apply it to real-world usage.
As usual, the awesome @roelandp showed off an entertaining but excellent example of B2B-Real world usage.
https://steemit.com/steemwhale/@roelandp/introducing-steemwhale-io-donate-some-steem-to-a-life-sized-18-meter-60-feet-fake-whale-and-get-her-spouting-just-for-you
Let's End the Civil War Within Steem.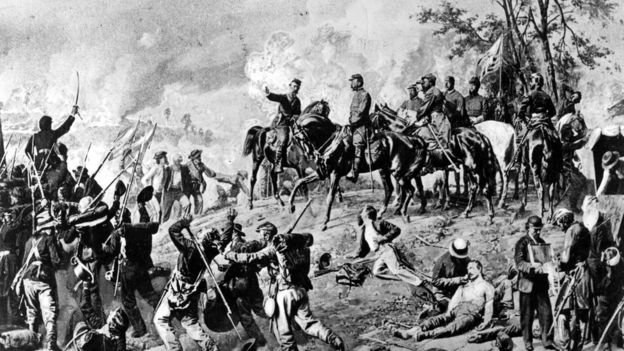 Source
We Have Bigger "Fish to Fry"... (Cough) Errm Platforms to Compete With.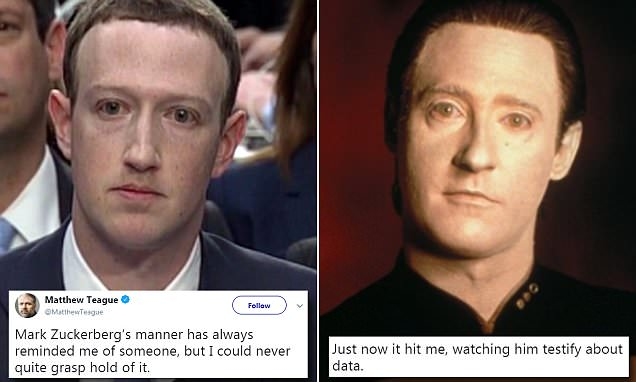 Source
I couldn't resist, one more... Source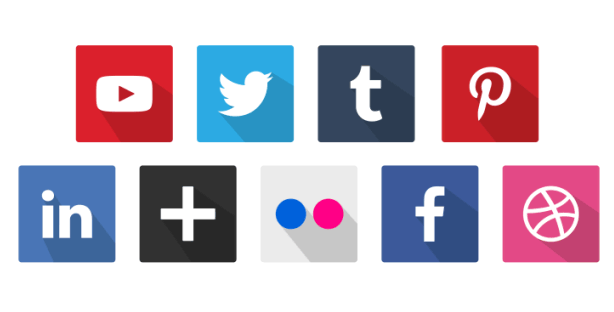 Source
But Wait... Steem 2.0 and BTS 2.0 on EOS Blockchain Almost Ready??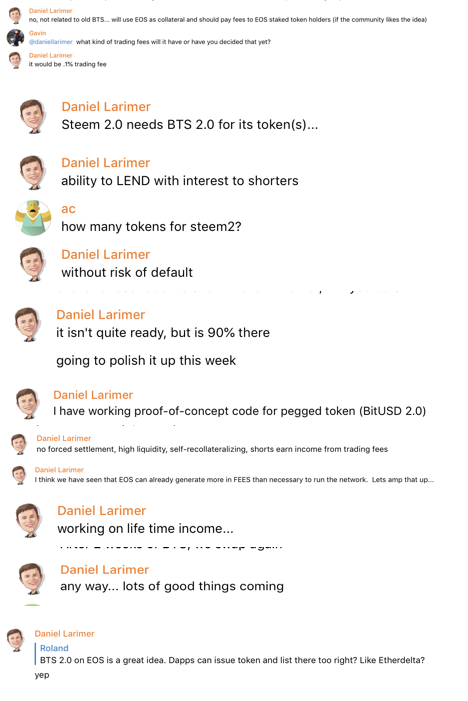 Many of you probably already heard about this by now but this was brought up recently in a chat discussion.
This is what I am getting at with all this blabber of text.
Instead of putting our eggs all in one basket, might be a good idea to be a part of all the platforms and diversify your portfolio.
Let's utilize all these platforms and mesh the mainstream with blockchain. The adoption will happen on its own.
Let's work together collaboratively and tokenize the web.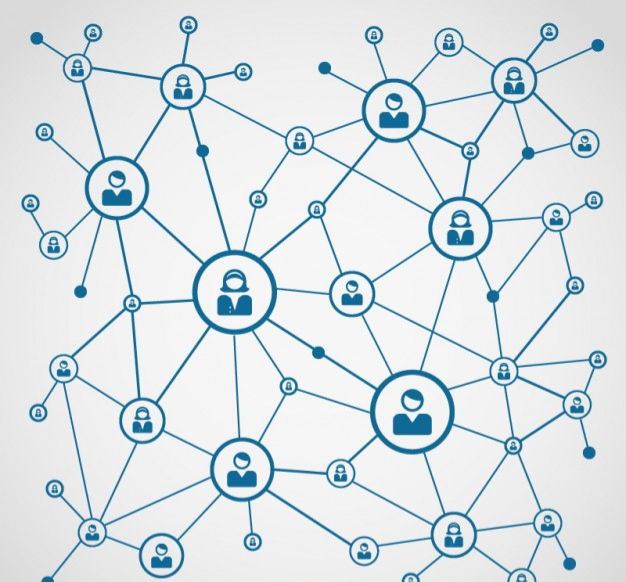 Source
LET THE COMPETITION BEGIN!!!


P.S.
It has been a little while since I had put out a post like this and felt a little self-conscious about it but I was fortunate to have @whatsup read over this post because we have been having some great conversations on voice chat and ended up discussing a few topics that were relating to what I was writing in this post.
I got her "stamp of approval" 🙏, and appreciate that she took the time to read the nonsense I wrote about 😝
---
---