How do you solve a problem like a topless coffee table?
I've just been given the base for a 1950s coffee table by my parents. It's made of oak with a clear varnish, and measures 51.5cm by 60cm and is 61cm high.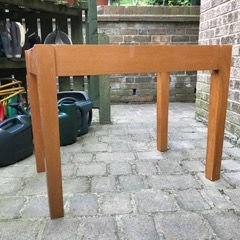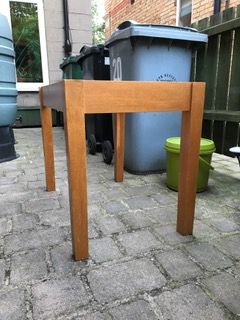 As yet I'm not entirely sure what I'm going to do for a top for the table. I've thought about using ply wood and staining it in a chevron pattern or similar. I could straight up steal the design of my parents own coffee table – a chess board design made from squares of felt on solid wood base and covered in a sheet of glass.
And then I saw this table from Graham and Green.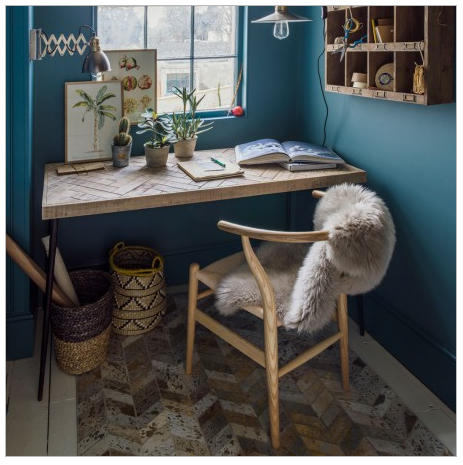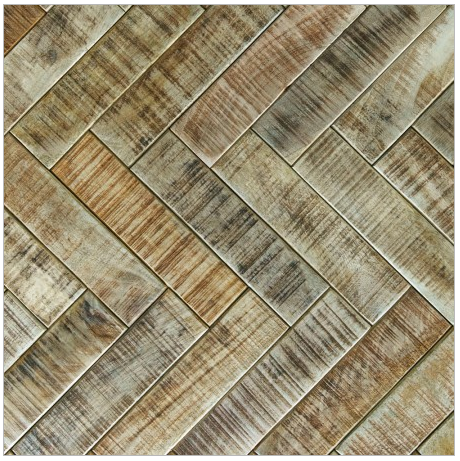 A close up of the picture shows that the table top is made from pieces of wood laid like herring-bone parquet within an outer case. This desk is of course much larger than the coffee table at 145cm by 60cm and 76cm high, but I think that even replicated on a smaller scale, this design could work nicely.
I know that this is a very "of the moment" trend, and will very possibly date; but I like it. I figure that if you fill your home with things that you genuinely like because you like them, rather than because they're "having a moment", then you're going to continue to like them.
I've found a couple of (WILDLY) different Youtube videos on "How To DIY a Herringbone Table".
This is probably what I'll end up doing.
But this, THIS, is stunning. My god, this is the kind of guy you want to know. Especially if you don't have a full woodwork studio. Wow.
Back to reality; dare I try to recreate this? Do I have enough space wood? Will the random assortment of spare wood that I do have look anything like the "rustic mango wood" of the original? Does it matter? Do I have the patience? So many questions still to be worked out.
Thanks for reading! I'll update as I go. Hopefully I'll have good progress to show you guys.