DLease.io - 20 Million STEEM Power Leasing Milestone Achieved! [Contest Inside]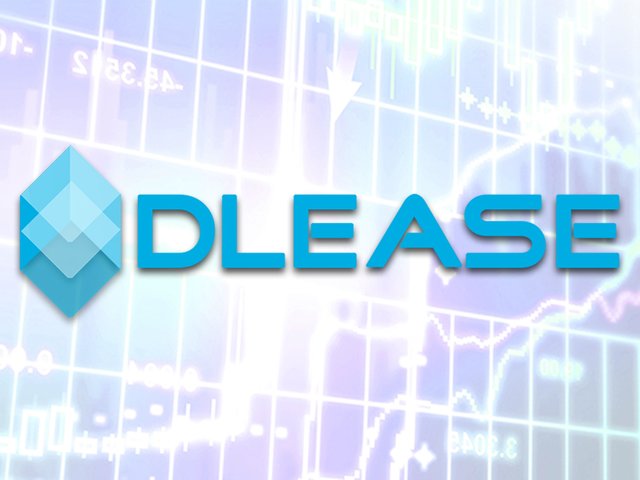 ---
[Keep reading for the 1000 SP delegation contest instructions]
---
BuildTeam is proud to announce that its flagship delegation leasing product, DLease.io and its predecessor, the MinnowBooster.net leasing market, have reached a combined milestone of 20 Million STEEM Power in total facilitated leases since inception in 2017!
In addition to this milestone, the total active leases have also reached a milestone of 2 Million STEEM Power, across approximately 2500 ongoing leases.
This is a massive amount of STEEM Power that has passed through the service, which is clearly a testament to the popularity and satisfied customer-base of the MinnowBooster.net and Dlease.io delegation leasing apps.
---
A Brief Overview of DLease.io
DLease.io is a revolutionary new, professional-grade Digital Asset Leasing platform.
DLease offers users the opportunity to earn steady passive income, while utilizing the first-of-its-kind token leasing app, enabling lessors to receive dependable daily returns with zero risk of counterparty default and full control of asset ownership and custody, without the maintenance, asset deterioration and administration costs of traditional physical asset leasing.
In the case of STEEM Power Digital Asset leasing, only the resource utility of the asset is revocably leased out and not the actual asset itself.
A compelling comparison table between DLease and Real Estate leasing is available on our FAQ page.
Aside from generating passive returns for STEEM Power stakeholders, DLease is a tool for Steem communities and individuals to rent STEEM Power resources to meet their transactional and social influence requirements on the network.
Large stakeholder status is very expensive to attain for new users who have not been active on the Steem network since its inception in 2016, however leasing a large stake for the utility of the associated benefits will cost a fraction of the price via short-term leasing on DLease.io.
---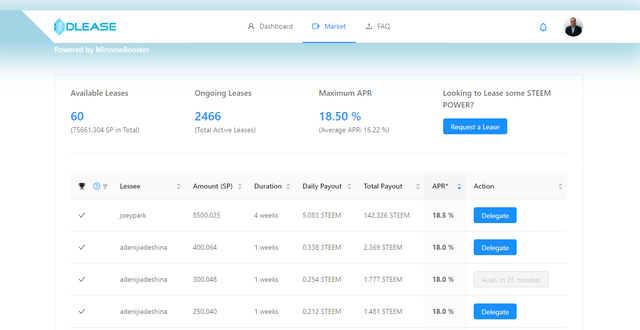 The sleek UI of the DLease market view offers users the ability to sort lease requests by several categories, including:
1.) The account who has requested a lease
2.) The amount of STEEM POWER (SP) requested
3.) The duration of the requested lease
4.) The daily payout in STEEM
5.) The total payout you will receive by the time the lease has expired
6.) The Annual Percentage Rate (APR) % offered
7.) And recently sorting by action for ease of finding your market orders you may wish to cancel
---
Conclusion
In summary, Dlease.io has now accomplished the following milestones:
1.) Current active leases exceeding 2 Million SP.
2.) 20 Million SP in facilitated leases since inception of the platform.
User of the DLease platform can be assured that DLease is secure and has been heavily tested; it runs the same backend architecture engine as the well known, trusted and battle-tested MinnowBoooster.net service that BuildTeam has operated since 2017.
Look for future updates coming soon, this is the first release candidate phase and we still have many features and optimisations to come.
Our next task is to make DLease responsive for mobile, please bear with us while we get that done.
Help us spread the word about DLease.io the innovative new Steem app with external investor appeal!
So, what are you waiting for?
Go to DLease.io today and take it for a spin!
---
1000 SP Delegation for a Month Contest Instructions
Edit: The winner of this competition is @kenny-crane and the delegation has been issued.
Now for the part you have all been waiting for! In celebration of the milestones achieved, @buildteam is running this contest to giveaway 1000 SP in delegation for a month to a lucky contest winner.
All you have to do is visit https://dlease.io/market and either:
Step 1 - fill a new lease by clicking the Delegate button: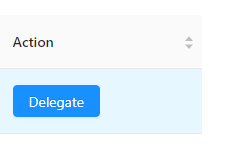 or create a new lease order for yourself by clicking the Request a Lease button and following the wizard:
Note that to qualify, you need to ensure your lease request APR is greater than the current market average of 16.22% APR.
Step 2 - Vote this post with the Steem account you are entering with and leave a comment with a screenshot of your DLease dashboard showing the lease you just delegated to in the Delegated (Out) tab: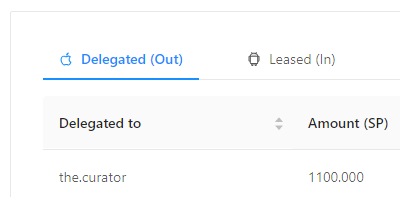 Or if you created a lease order, once it has been filled then paste a screenshot of that order in your comment, as shown in the Leased (In) tab
Winner selection - Once this post has reached its 7 day payout period, we will choose a random winner from the comments of this post and issue the delegation of 1000 SP for a month.
To qualify we will check that the winner has voted this post and that their delegation or lease request has indeed been filled and still active at the time of winner selection. If they opted to create a lease order, then the APR chosen must be greater than the current average of 16.22% APR. If the winner is a delegator and terminates their lease early then the prize delegation will be terminated early as well.
BuildTeam reserves the right to disqualify bad actors, content spammers or plagiarisers from winning the delegation offered in this contest.
Best of Luck!!
---

| Visit our website for more! | Subsribe to our YouTube Channel |
| --- | --- |
| | |
Set it up today and contribute to building a better tomorrow!


( Want an easier way? Use our SteemConnect proxy link! )
Get support and connect with us and other BuildTeam fans!



---
This is a @steemvoter subscription payment post. Thank you to Steemvoter customers for allowing us to use your Steem accounts to upvote this post by virtue of your free subscription to the Steemvoter.com bot service. @steemvoter is proudly a @buildteam subsidiary and sister project to @dlease, @steemsports, @tokenbb, @ginabot, @quicksteem, @minnowbooster and @minnowmonsters.