When the disciple surpasses the master - La Opinión A Coruña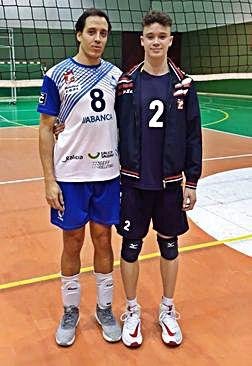 Really for me it has been to fulfill one of my vital objectives, since Roi was born, that I was still active, I promised myself to continue in shape to arrive this day to be able to play with him (mainly I was thinking about the beach), then with his call in the selection everything was postponed, but now I have had this really unique opportunity. I will keep this article as gold for the rest of my life.
Thank you Maria Varela from "Opinion de A Coruña" for the great article.
---
Roi Losada, from the Spanish junior team, wins the duel with his father Angel, a player from Calasancias "At this point, facing him was a motivation to continue".
Angel and Roi Losada, father and son who faced each other at the weekend. La Opinion
When Angel Losada decided that, at 41 years of age and despite undergoing major knee surgery, he would continue to play volleyball, one of his main motivations was his own name: Roi, his son. He has been living in Palencia for three years with his colleagues from the permanent concentration of the Spanish junior team, with whom he plays in the CyL 2020, in the same group of Superliga 2 men's team as Calasancias. So there could be a filial paternal duel. It could have happened last year, the first one of the team from A Coruña in the elite. But then the little one still didn't have too many minutes while the father, who combined the court with his role as coach, was injured. So it was something they had pending and that last weekend was lived in the pavilion of the Barrio de las Flores. "I was very excited," admits Angel. "It was something we had pending," says, for his part, Roi. "For me it was one of the things that motivated me to continue playing at this point in my life," says the father.
The duel was for the son, who with his team won 0-3. "It's a superior team. They are very young, but they are still the elite of Spain, all very high, physically with great qualities to play volleyball, so they imposed 90% of the time their physical", analyzes Angel. Roi only played a few minutes in the first and third set, so they coincided little on the court. A more personal challenge would be a one-on-one match between the two in which things would be evened out. "Last year I was injured but the previous year I beat him to beach volleyball," says his father. "That was a long time ago," replies the son. If it were to be repeated now, it would be closer. "He is still excited about playing and has not lost his qualities", says Roi about Angel and he surrenders to his descendant: "Physically he has already surpassed me, but I still have the wisdom". It is difficult that this direct duel takes place, but there is the possibility, they hope that in summer they can get together as a couple in the beach volleyball circuit.
It will be a difficult duo to beat. Because Roi has grown "a barbarity" since three years ago went to Palencia to the Spanish team. He was only 14. Now he is 17. "The physical change is brutal", his father is impressed. Roi himself is also impressed. The training routine is hard. "In the morning we have an hour with a tutor and then we go to train on the track and in the gym. We eat. We go back to training. And in the evening we go to class," he says. They do their high school at night, so it will take three years instead of three. That's why he still has two more to go in Palencia. "If everything goes well, I hope to stay here all the time. It's a unique opportunity to train at a high level," he explains. And it has its results because the team is third and with the Spanish national team has qualified for the next round of the European Athletics Championships.
His father is already looking forward to the future and is starting to target the United States. Roi prefers to be cautious. He would like to be a professional, but it gives him peace of mind to know that if he wants to return home, at his club, Calasancias, things are going well with both the Superliga 2 team and the youth team. "It's what gives you long-term survival. A sponsor can last you a year but it doesn't last forever," analyses Angel. It will be key for the senior to achieve permanence. And for that he will have two key matches in the next two weekends. This one against San Sadurniño and the next one against Collado Villalba. "It's in our hands," he says.
Shared On DLIKE
---