2 Failed Interviews, 2 Successful Ones - Tips To Integrate Passion, Purpose + Money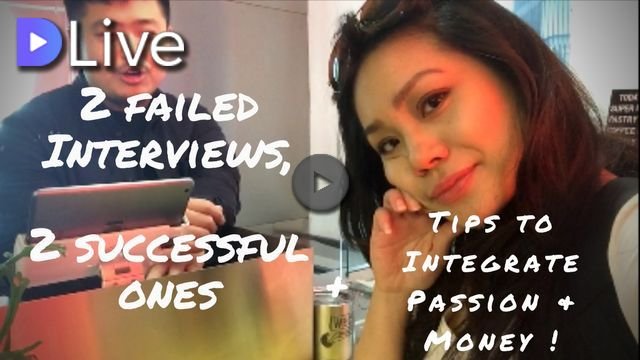 2 Failed Interviews, 2 Successful Ones ! - Tips To Integrate Passion, Purpose + Money
In this video, I went out to my neighbourhood and did random interviews on strangers; one with a police officer lady, one with an 33 years old optician, another 20 years old student, and a 26 year old coffee enthusiast cafe co- founder - on whether they truly love their jobs, or are they just in it for the money.
If you have seen my other videos, you will know that I am in for the passion, I cannot do without my passion, and I will not settle for that. Period.
In a world where there is a clash of two sides - the climbing the ladder corporate; 9-5 mundane job, where people work for no other reason than because it is just another way to exist, and yet there is the up and coming "New Money", the hustlers that blast out their guns and work their ass off to make their dream come true, it is interesting to see just how many of us are wiling to make the latter happen, i.e their passion and dream.
And that is just what I decided to do - go and find out! Watch this video to find out more and to hopefully get inspired to make your dream happen!
---
Other Related Videos:
How I Choose Passion & Money

How I Turn My Challenges Into Opportunities

How I Break Out Of My Comfort Zone In Vlogging
---
Music by Ikson "Coastline"
---
Catch me on Instagram @jassicania
My video is at DLive