AirMech Lionmom Review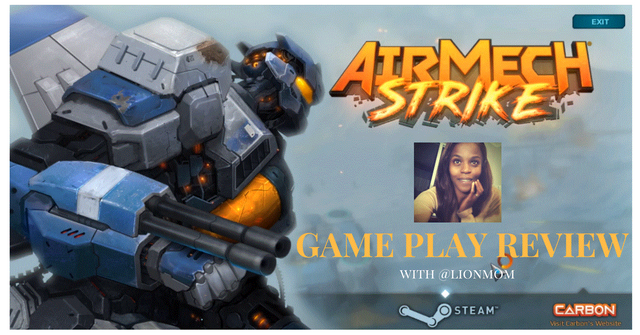 Hi everyone
Thanks for checking out my post. So today I've decided to try out a new game (well new to me anyway :-) ) called AirMech. This game is a free-to-play multiplayer online battle arena video game developed and published by Carbon Games for Microsoft Windows. not a very large game to download on steam and easy enough to run on most PCs.
My take on the game as a beginner..... I found it easy to get the hang of, after a few bot practice rounds you start to get a feel for your controls and command options. Playing with these bots by the way eventually gives you a great "I can kick ass", "Finish Him!!" kind of feeling but that's fast extinguished when you start playing "ranked & unranked" games against other real players on the game.
While recording this game i had a few awesome games that gave me bright & fluffy lead board hopes and dreams!... but shortly after that the next few games really put me back in my place lol!!! I saw myself up against the Leviathans of this twisted combat arena, who's arsenals ("No not that shady soccer team" said the ManU fan ;-) ) had weapons I had not only never seen, but weapons that made me wanna call my mom and have her sing me to sleep over the phone.
The kind of weapons Tony Stark makes for fun.
I know i only started playing but from here, there is no beating them and the game starts to feel very unevenly matched.... I have a lot more to learn I'm sure and many other features I may have to still discover and skill up on so ill keep playing for a little while longer.
So my own interpretation of the game, well the objective of the game is to claim bases and expand your forces while moving over the map towards your enemy base (not to visit for tea, but to DESTROY THEM!!! :-) The more bases you occupy the more cash you are able to generate, the more cash you generate the faster you can build units and upgrade them as you go along (daaah, like everything else in life)..
Combat levels you up and as you level up you unlock super
"powers" that make your strikes more lethal and you more capable of taking higher amounts of damage. If you are killed however you are benched for a number of seconds and for much longer the more times you die, a sort of punishments "Go directly to jail; do not pass go, do not collect $200" kind of vibe.
I tend to get real worked up when I get annihilated by the higher ranking players, which is just so not like me.... but don't know why I kinda like the game and want to give it a chance. Would love to hear from anyone else who has played it and find out how you liked or disliked the game.
Extra info
Requirements:
CPU: Pentium 4 (or equivalent)
CPU SPEED: Info
RAM: 2 GB
OS: Windows XP
VIDEO CARD: nVidia GeForce 8800 GT (or equivalent)
SOUND CARD: Yes
FREE DISK SPACE: 200 MB
AirMech Recommended Requirements
CPU: Core 2 Duo (or equivalent)
CPU SPEED: Info
RAM: 4 GB
OS: Windows 7
VIDEO CARD: nVidia GeForce 8800 GT (or equivalent)
SOUND CARD: Yes
FREE DISK SPACE: 200 MB
As you can see very little space needed.
Ciao
My video is at DLive