LOA Club Week 7 - "Get What You Want" by Tony Burroughs Part 2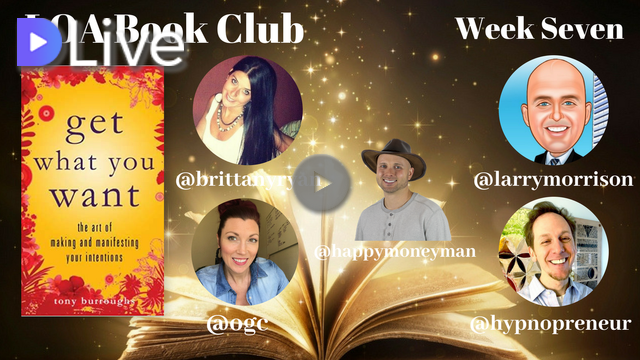 "Everything we put our attention on becomes more, bigger, and brighter." - Tony Burroughs
A handful of amazing Steem Creators got together to read and discuss books based around the Law of Attraction. We are in the sixth week and are reading/listening to, "Get What You Want" by Tony Burroughs. It is all about intention with this book. Very clear explanations of how to manifest anything we want for the highest good of the person and the Universe. Great read
The group this week is comprised of some amazing human beings that you will be delighted to hear from. First, Carly @ogc, she has been involved and working with personal growth for many years. She has an open mind, an authentic voice, and a unique point of view. Next, Dan Fishman @hypnopreneur. He has practiced expertise on these subjects, a master of NLP, Hypnosis, and self-discovery. He has great insight into what blocks most of us from living the life of your dreams. Lastly, there is Larry Morrison @larrymorrison, who is also an entrepreneur and helper of humanity. He has been writing and speaking almost exclusively about the Law of Attraction on the Steemit Platform and makes talking about these concepts easy and fun. Our amazing newcomer is Brittany Ryan @brittanyryan, she has a huge heart and a super positive attitude. She has a unique point of view from many years of practicing law of attraction.
During the discussion, we talk about being aware of what we are putting out in the Universe with what is coming out of our mouths, being harmony with nature, loving what is, using law of attraction with others, realizing that we are spiritual and the spirit is helping you manifest. Please join us and listen in
Want to give a special thanks to IJ @steemcafe for putting on the Steem Creators Conference in Las Vegas where most of us met.
Have a listen and keep the discussion going in the comments below. We hope this makes your journey a little brighter.
My video is at DLive