UPDATE: v0.12 - Text To Speech Alert Box - Steemitlabs.com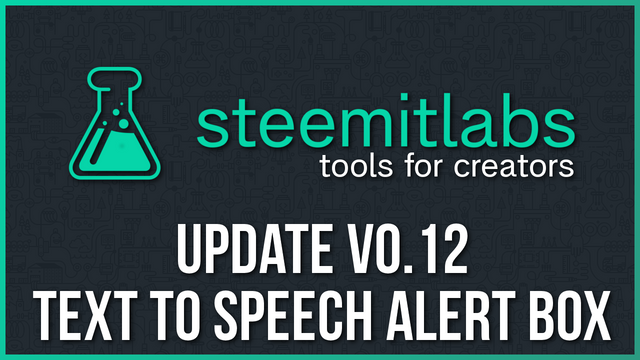 Text To Speech Alert Box :: UPDATE v0.12
In this update we added Text To Speech option in Alert Box. You can now choose one of 51 languages through 168 voices and customize text to read. Any alert have own variables that you can use to make even better result. We also changed many small things to improve user experience even more. you can read more in change log.


Change Log
v0.12
Front End

Optimized code
Fixed Delegation page refreshing
Fixed page not loading in certain situations
Added Delegation Rewards panel in Delegation page
Changed layout in Alert Box settings
All widgets are not showing display name instead of username

Back End
Alert Box

Fixed gift alert bug displaying only first gift of user
Fixed custom font undefined error
Fixed Message Layout not refreshing in streaming program
Fixed oppacity bug when using Custom Sound
Added Text To Speech. You can set volume, voice and custom text to read.

Event List
Labels

Rewrited code for better working
Fixed loading when there is no piervous upvote or follow in system
Fixed reload button not working
Fixed label display in preview

Chat Box

Avatars are loading now from dlive.io instead of steemit.com

Lista Zmian
v0.12
Front End

Zoptymalizowano kod
Naprawiono odświeżanie strony Delegacji
Naprawiono nie ładowanie się strony w określonych sytuacjach
Dodano panel Nagród Delegacji na stronie Delegacji
Zmieniono układ w ustawieniach Alert Box
Wszystkie widgety pokazują teraz wyświetlaną nazwę a nie nazwę użytkownika

Back End
Alert Box

Naprawiono błąd alertu gift który wyświetlał tylko pierwszy prezent wysłany przez konkretnego użytkownika
Naprawiono błąd undefined w przypadku czcionki innej niż domyślna
Naprawiono błąd nie odświeżania się niestandardowej wiadomości w programie do streamowania
Naprawiono błąd z przezroczystością podczas używania niestandardowego dźwięku
Dodano Zamianę tekstu na mowę. Możesz spersonalizować głośność, głos oraz tekst to przeczytania

Event List

Naprawiono błąd z zapisem

Labels

Przepisano kod dla lepszego działania
Naprawiono ładowanie kiedy w systemie nie ma informacji o poprzednich upvotach czy followach
Naprawiono przycisk przeładowania podglądu
Naprawiono wyświetlanie się etykiety w podglądzie

Chat Box

Awatary są teraz ładowane z dlive.io a nie z steemit.com

Our Delegators
Help our community growing, delegate your steam power to @steemitlabs. We will use your voting power to help our users creating good content. If you ever want to take your delegation back, you can always to that. More information here
@bigredd - 25.000 SP
@akcakocagaming - 20.000 SP
@rybsonstream - 15.000 SP
@pnr - 15.000 SP
@statyw - 10.000 SP
@tomekgalafighter - 1.697 SP
Delegate to be here.

Steem Chat , Steem Projects, Steemitlabs, DLive Group
I'm sorry for all grammatical mistakes, I'm trying hard to write as best as i can.