DogData: The One-stop Platform For Dog Owners, Breeders and Dog Welfare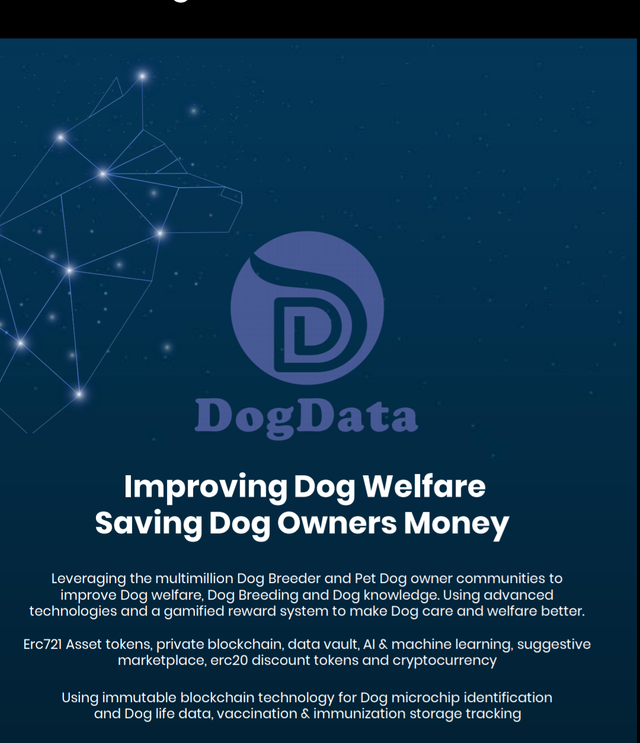 Introduction
The global economy is getting revolutionized at an alarming speed and all these revolutions tend towards digitalization and the internet of things. What this means is that if your business or your organization is not online, then you're so out of loop with the times.
The launching and adoption of the blockchain technology have played a major role towards the digitalization of the world businesses and this can be attributed to the decentralized and trustless ecosystem provided by the blockchain technology.
Now, since almost everything that has a semblance of organization is now online and most on the blockchain, it then makes one wonder why a niche as vast as the pet industry, specifically pet dogs, are not on the scene of things.
And for a start up project to be successful, it needs to identify a key problem and proffer workable solutions to it. This is exactly what the DogData team has done. Having pinpointed the lack of any form of organization when it comes to dog breeding, welfare, ownership, health and all round wellness, the team came up with this eureka-moment idea that gave rise to what is now known as the DogData project.
Now, let me take you on a short but enlightening journey on what DogData is all about.
What Is DogData?
As stated earlier, there is this glaring lack of organization when it comes to dog breeders and dog owners in terms of dog registration system, dog life data management system, missing or incomplete dog vaccinations, untrusted and unverified dog data, little or no use of big data and sophisticated science to breed better dogs, limited dog care and welfare information, guiding tools for new dog owners towards choosing an appropriate breed of dog and several other lacking but necessary dog related data.
The image below shows these issues in more details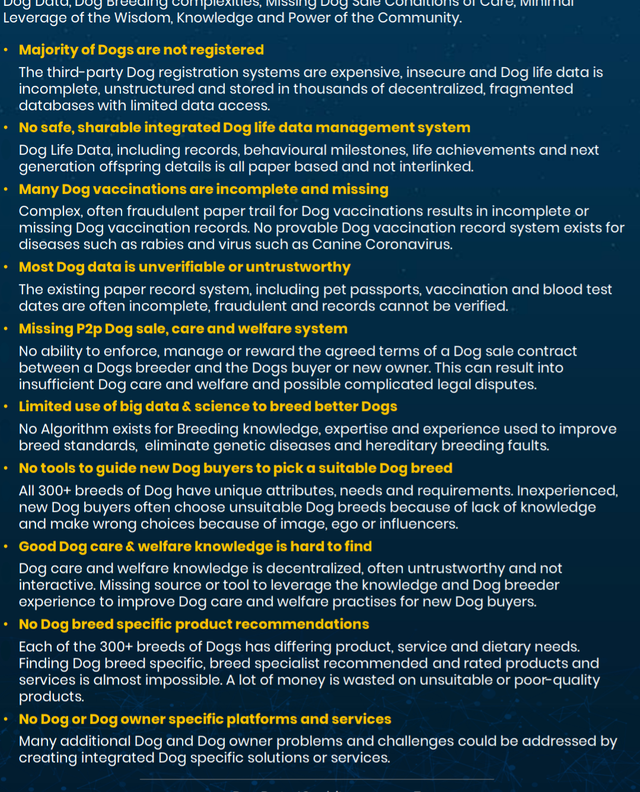 The DogData Blockchain Powered Solution
To solve all these issues and more listed above, DogData proposes an innovative solution on the blockchain fueled by smart contracts, coins and tokens. This is innovative in the sense that issues pertaining to dog breeding, welfare, care and ownership had never before been given such priority and attention. And also, this is the first of it's kind where dog data and information are being put on the blockchain.
The solutions offered by DogData include:
PedigreeChain: this is the first ever dog registration system on the blockchain. It is also the first dog ID asset tokenization and multidimensional international dog pedigree database. To encourage dog owners to help build up a robust and up-to-date dog database, they are adequately incentivized and paid for updating their dog data and information.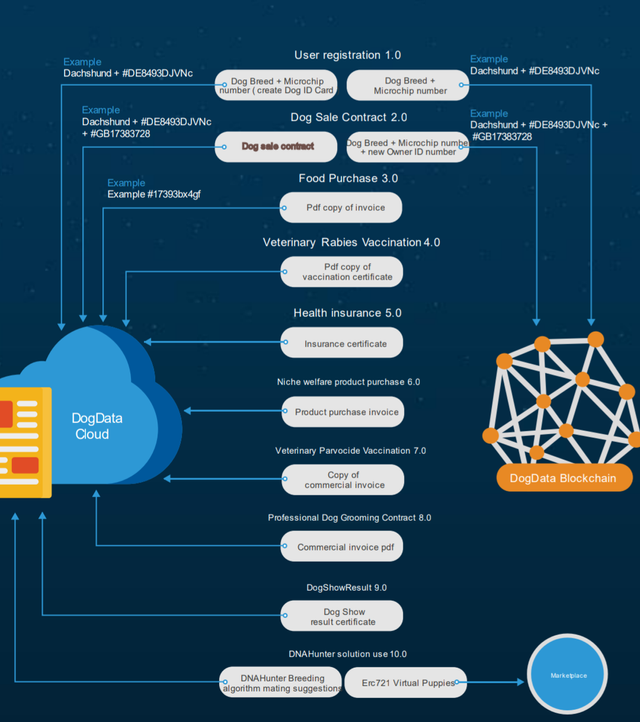 DogData Vault: this is the first completely immutable, secure time stamped database housing all of a dog's life data and vaccination details. The DogData Vault provides verifiable and accurate time stamped vaccination registrations for dogs and because it is on the immutable blockchain network, there will soon be Digital Blockchain DogID which will become equivalent to the paper dog passport.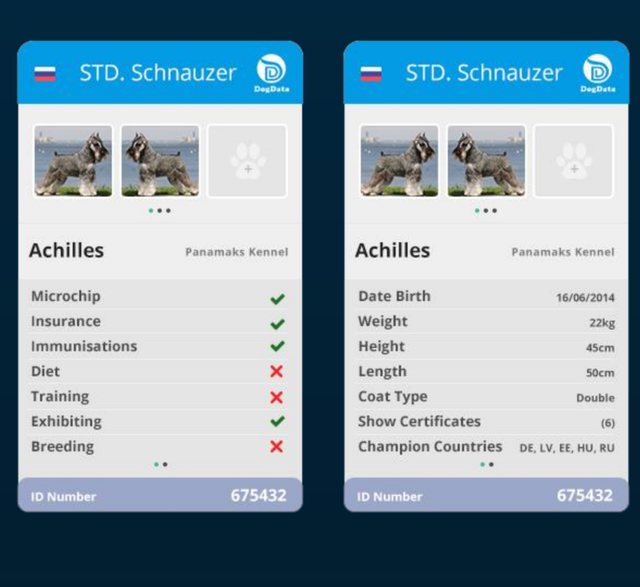 Dog Sale Smart Contract: this will ensure that only verified dogs are put up for sale. Here also, dog owners are paid for meeting up with certain milestones and welfare in the lives of their dogs.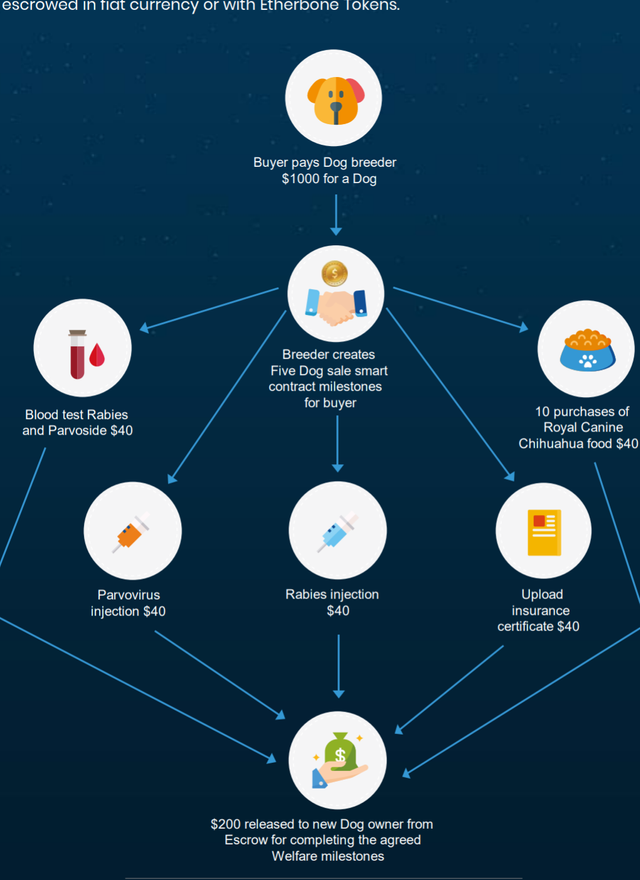 DNA Hunter: this solution is aimed at utilizing big data, machine learning and AI to build a smart prediction engine that will suggest the best mating matches that will result in the best possible breed of and healthy puppies with almost zero genetic birth defects.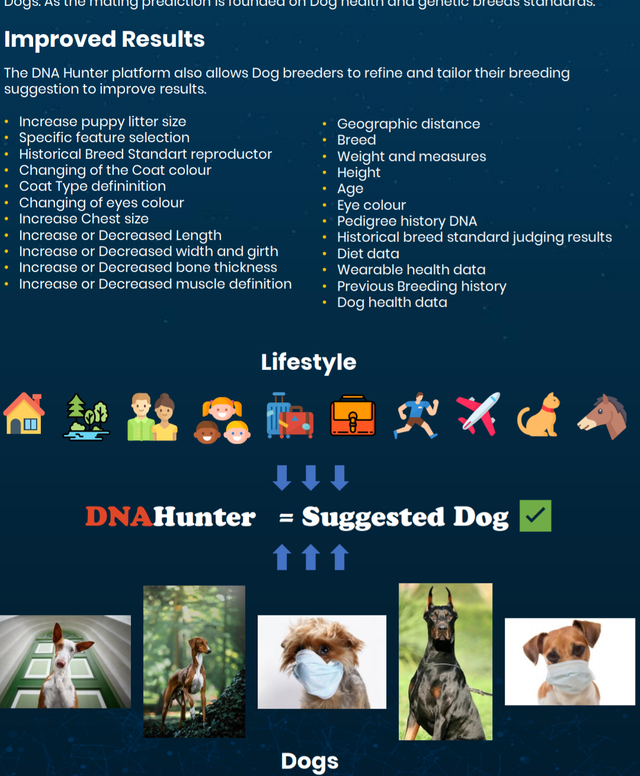 Other specific aim solutions include DogData Expert Knowledge Exchange, Dog Dates Mobile App, Dog Specific 4Dogs Marketplace, Etherbone Reward and Discount Token and finally, Etherbone Funding Coin.
In Summary
DogData is structured in such a way to provide the best welfare and care for dogs both pedigree and non-pedigree while at the same time, leveraging on the community to provide dog owners with access to valuable information beneficial to their dogs. It also creates avenues for expert dog breeders to use exciting tools on the blockchain network to work on getting better and improved breeds of dogs impervious to sicknesses and genetic defects.
Do not forget also that dog owners get paid for carrying out several operations on the platform like providing their fog data, achieving vaccination and related milestones and others.
To read more about the project, here are some helpful links
Website
https://dogdata.io/
Light Whitepaper
https://mydogdata.com/pdf/DogdataLitewhitepaper.pdf
Blockchain Whitepaper
https://mydogdata.com/pdf/Blockchain.pdf
Token Economics
https://mydogdata.com/pdf/TokenEconomics.pdf
Medium
https://medium.com/@dogsdata
Telegram
https://t.me/Dogdata
Facebook
https://m.facebook.com/DogsData
Twitter
https://twitter.com/FaceBook4Dog
Reddit
https://www.reddit.com/r/MyDogData/
LinkedIn
https://www.linkedin.com/company/dogdata/
Writer's BTT Profile Link
https://bitcointalk.org/index.php?action=profile;u=2047938
BTT Username
Ebykamsiokoro