Dogecoin and Bitcoin: Elon Musk reacts to allegations from Binance boss
Elon Musk doesn't seem to like what Binance CEO thinks of him regarding DOGE and BTC. Musk responds via Twitter.
Changpeng Zhao, Binance CEO, posted a statement on Bloomberg. It was about Elon Musk and his relationship with Dogecoin. He is very surprised that the Tesla CEO is such a huge Dogecoin enthusiast. Binance's CEO thinks Musk isn't seriously involved in Dogecoin. Rather, he assumes that Musk sympathizes with Dogecoin for unknown personal reasons. His statement suggests that Musk is primarily making fun of the Dogecoin hype. Especially since he invested in Bitcoin with Tesla and not in Dogecoin.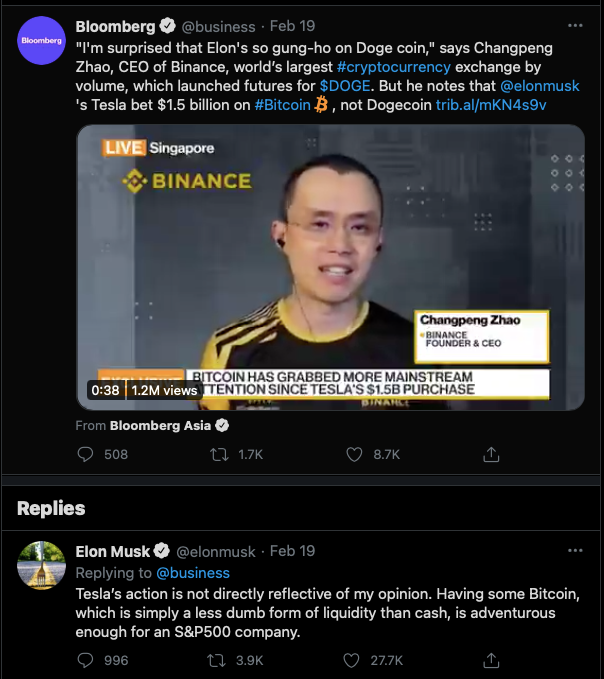 https://twitter.com/business/status/1362582677199622145
At the beginning of the year, DOGE was the victim or beneficiary of numerous pump & dump campaigns. The Tesla CEO couldn't stand idly by and called Dogecoin the "people's crypto" (via Twitter). However, he also expressed concern that DOGE's degree of centralization was too high. Musk's tweet has since stabilized the DOGE rate. It cannot be denied that the Tesla CEO has sympathy for Dogecoin. Finally, he announced via Twitter that he had bought the meme cryptocurrency for his son.
Samson Mow, CSO of Blockstream, commented on Musk's tweet: "You're just sad that you didn't buy sooner". Mow refers to the already relatively high entry price for which Tesla BTC purchased.
However, Musk also claimed it would be foolish not to seek alternative investments while "fiat money has negative real rates"
Microstrategy CEO Michael Saylor, who repeatedly questioned the US dollar this week, is of the same opinion. He had announced that he would exchange around another billion US dollars for Bitcoin.