Call To Action - Please, Help Family In Need [Report No. 2]
Dear friends,
the charity fundraising campaign to help the family in need continues and is gaining momentum. Great!
Three days ago I told you a sad story about the family in a dire situation.
Please, read the article about the family Štampek. They are forced to live in harsh conditions without proper electricity and running water. They need an amount of 16,000 Euros to pay for the power line to reach their house.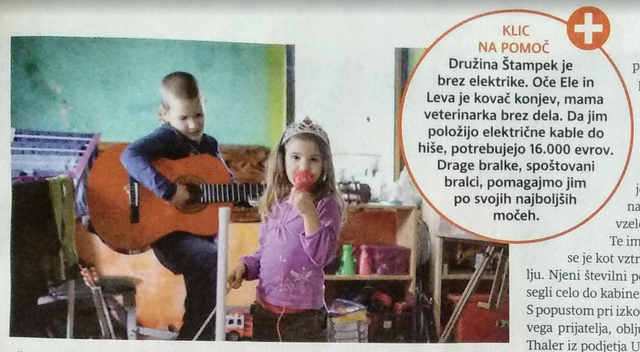 I decided to start a donation campaign here on Steem platform. I vouched to donate all liquid rewards that I will receive in the period from February 27th 2018 up to March 13th 2018.
This article is the second situation report about the funds collected so far.
You can read the first report here.
---
Your Latest Donations
Thank you very much, dear @asmolokalo and @adisrivastav. Your donations are embraced with gratitude.
As are all your generous upvotes and resteems.
---
Funds Collected So far
All collected funds are accounted for in this Google Spreadsheet.
After four days the total collected sum is $126.15.
#   Day         SBD     STEEM   SBD     STEEM   
    rewards by ervin-lemark     donations   by
----------------------------------------------------------
1   02/27/2018  10.458  0.050
2   02/28/2018  3.359   0.125   0.030       @zen-art
                                5.000       @seckorama
3   03/01/2018  3.147   0.041           
4   03/02/2018  2.952   0.065   10.073      @asmolokalo
                                0.756       @adisrivastav
5   03/03/2018                  
6   03/04/2018                  
7   03/05/2018                  
8   03/06/2018                  
9   03/07/2018                  
10  03/08/2018                  
11  03/09/2018                  
12  03/10/2018                  
13  03/11/2018                  
14  03/12/2018                  
15  03/13/2018                  
----------------------------------------------------------
funds raised    35.775  0.281           
price in $      3.50    3.34            
@ bittrex
value in $      125.21  0.94            
----------------------------------------------------------
total value in $        126.15              

---
The campaign is gaining momentum and will be gathering more funds in future days. @fabien, the mastermind behind Busy.org platform, the best Steem frontend there is, generously upvoted some of the articles. Thank you very much!
The first report was also heavily supported by several members. Thank you, all.
Here is the upvote allocation graph, produced by another splendid tool, SteemWorld.Org by @steemchiller. I fully recommend that you use this tool.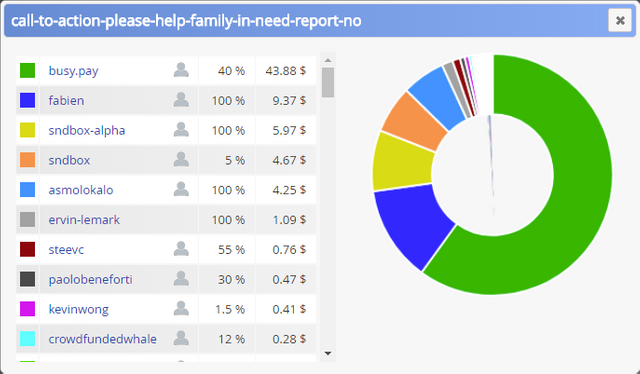 ---
Please, Think About It And Participate When You Decide
Now I will repeat the call to action from the original article. Thank you so much, everybody.
---
What Will I do?
I promise you that I will donate all liquid funds acquired through awards from articles on this platform in the period from today, February 27th 2018 up to March 13th 2018.
This means last week of rewards and all rewards from articles in the following week. 14 days! Included rewards received from @isotonic and @runningproject.
---
What Can You Do?
You can do many wonderful things!
Before I start numbering them, let me say that your participation is your decision alone. Nobody will force you into anything. You decide whether you will help.
You can donate SBD and Steem directly to my account.
I will make certain that every donated amount will be accounted for. In return I will resteem and fully upvote at least one of your articles. Please use memo #donation when you make a transfer. Thank you!
You can upvote and resteem this article and the forthcoming reports of this donation campaign.
This way you will spread the word and we will, hopefully, reach bigger audience and attract more donors.
You can donate directly via SEPA transaction
Details on how to do that are published in the footnotes of this article.
---
How Will I Conduct This Campaign?
I will publish regular reports on funds collected with all the details
I will maintain a publicly viewable Google Docs spreadsheet with all the funds collected and regularly publish the link to it
At the end of fortnight period I will, in a most profitable way possible at the time, convert collected funds into Euros and send them to a bank account where the funds for the Štampek family are gathered
I will document and publicize this transaction
In a word, it will be a 100% transparent #fundraising for a good cause!
---
Direct SEPA Transaction Data
When you are in the position to donate directly you can do this with the SEPA transfer to the following bank account:
       to: ZVEZA PRIJATELJEV MLADINE LJUBLJANA MOSTE
  address: PROLETARSKA CESTA 1, 1000 LJUBLJANA, SLOVENIA
     iban: SI56 3300 0000 1303 865
      bic: HAABSI22
     code: CHAR
  purpose: HUMANITARIAN HELP FOR ŠTAMPEK FAMILY
reference: SI00 624

This account belongs to a humanitarian organization which is well known for their efforts. They are respected and known as utmostly honest and efficient with the funds. I will send gathered funds to them too.
---
Thank You For Reading This!
If you came this far in the article you are a hero already. I know it is a lengthy post but I do want to make it real and believable that this is a real call for help.
Please, consider helping.
Thank you, thank you, thank you!
Spread the word, please.
---
The Article In Ona Magazine
The following article about the situation in which family Štampek finds itself was published in Slovenian weekly magazine Ona. It is in Slovenian, of course. I am certain that you will glean the meaning and the need from it even without knowing the language.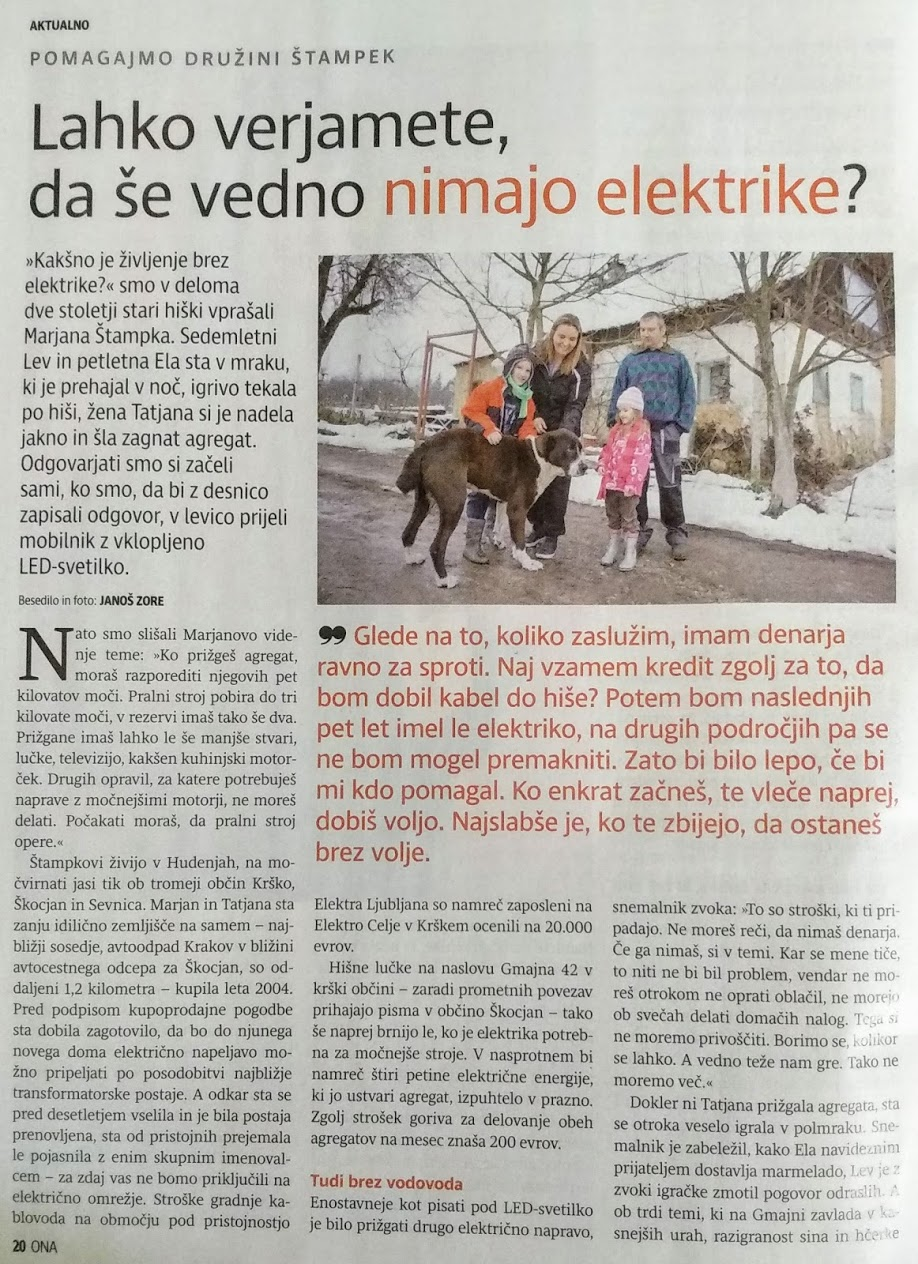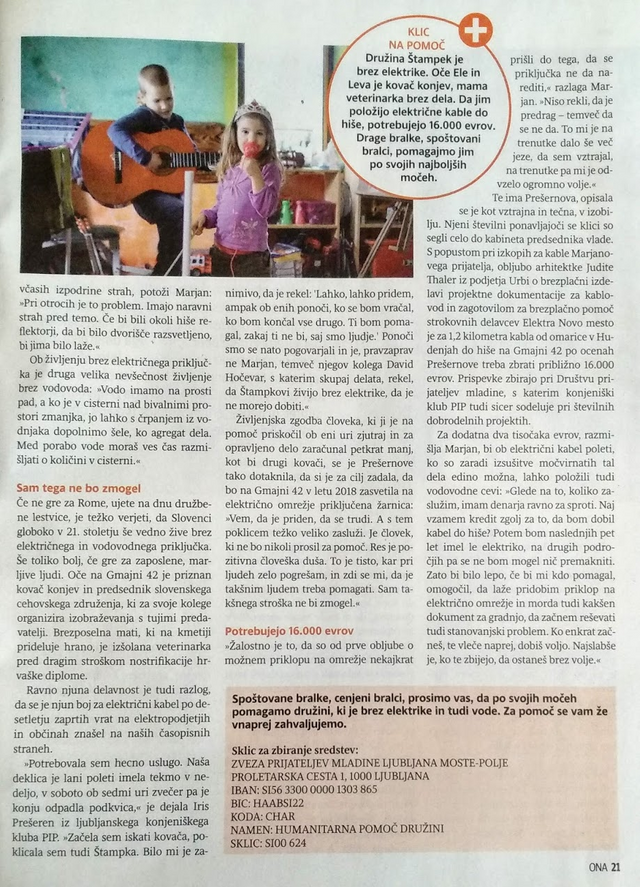 ---
Documents History
Call To Action - Help Family In Need
Call To Action - Please, Help Family In Need [Report No. 1]