Astonishing 100% Proof DON CHERRY WAS RIGHT!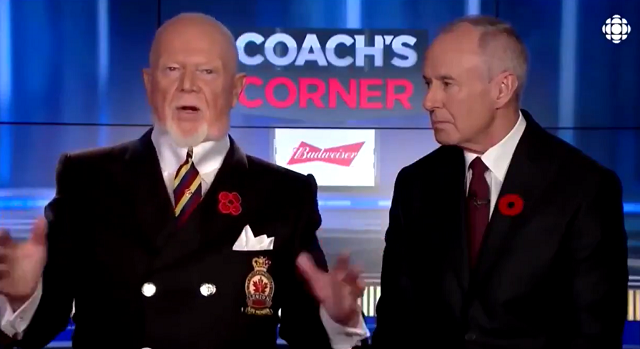 Truth & Consequences of Don Cherry Firing By Media Goons
The non-stop, disgraceful media frenzy following the cold, calculated firing of Don Cherry has proven effective thus far in distracting even staunch supporters of the patriot and hockey legend. Here is absolute proof of what Don what attempting to communicate. It was not racist. It was the truth. It's fitting that the source should be the same Canadian Broadcasting Corporation who employed Cherry for so long, the same organization who then ambushed and fired him based on absurdly false allegations.
Yes, Radio Canada International is part of the taxpayer funded CBC! Here's what they had to say in a 2018 study about the dwindling support for Remembrance Day and poppies in Canada.

……………………………………………..
Remembrance Day: Sacrifices of war, but do Canadians know?
By Marc Montgomery | [email protected]
Posted: Friday, November 2, 2018 08:52
Last Updated: Friday, November 2, 2018 09:23
The number of people who will mark Remembrance Day this year as well, declining to 80 per cent for 86 per cent last year.
Interest in wearing the poppy, the traditions symbol of Remembrance in Commonwealth countries, is down as well as only 59 per cent say they will purchase a poppy compared to 70 per cent in 2017. The Royal Canadian Legion distributes artificial poppies each year for a small donation which funds their many efforts to aid veterans.
Less than half will also observe the 2 minutes of silence at 11 am, which was the time when the Armistices took effect 100 years ago.
https://www.rcinet.ca/en/2018/11/02/war-wwi-wwiibattles-remembrance-100-years-centennial/

……………………………………………..
Excellent article, truly. Is it racist? They didn't
say
it was
newly arrived immigrants,
but surely they meant it! I encourage everyone to read the whole article and share this information widely.
……………………………………………..
Credit & Sources:
Title Image: SpencerFernado.com
Kindly Resteem, Comment & Vote. Thank You.


POPULIST CULTURE
Media Evolved