FIFTH WEEK REPORT! ONTO WEEK 6... and guessssss whaaaat! :)
CAN YOU BELIEVE IT!!!
We deposited enough this week to be MINNOWS! 110 STEEM got deposited this week! Check your numbers to see where you're at!
5 weeks to become minnows from dedicated savers! :) I'm proud of us! Just think - if steem goes up - wooo hoooo!
Make sure you check out the wallet, and also the report below! The voting will start to be adjusted proportionately next month, since we are gaining more savers! We only have 10 votes a day - so your percentage for votes will be determined by how much of the wallet you've contributed to.
This is the way it was originally set up - but, we've had enough votes to go around since our group was small! So we just gave everyone two daily 100% upvotes!
But now that our group is reaching closer to 10 members - the votes will need to be distributed proportionately! Exciting!!! :)
so feel free to keep your donations coming in to keep your vote up! Either way - your steem is YOURS! so if you choose to donate just less, that's fine! If you choose to donate more - thats fine too! :)
The reports will always show your holdings - any questions - just ask :)
FOR THE DRAWING this week for everyone who deposited at least 10 steem during the week!!!! (YOU CAN DEPOSIT MORE THAN 10 A WEEK! 10 is only the minimum for the drawing)
Those people are @shadowspub, @bluefinstudios, @snook, @prettynicevideo and @jayna! Good luck everyone!!!
drum roll please!
OUR WINNER THIS WEEK IS @snook!!!!! Congrats!!!!!!! Don't forget - bonuses are paid out at the END and can ONLY be kept if you attend the meetup. If you don't attend - no worries! You still get all your SAVINGS back - minus any bonuses :)
so to recall - our $5 bonus winners so far
6/30 @shadowspub
7/7 @prettynicevideo
7/14 @prettynicevideo
7/21 @bluefinstudios
7/28 @snook
---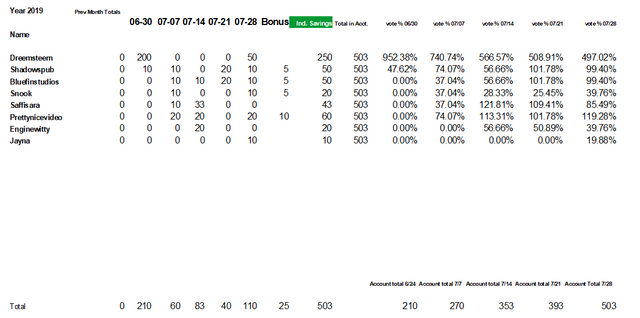 OUR ACCOUNT SHOWS THAT ONLY 503 HAS BEEN DEPOSITED, BUT WE HAVE 511.759 IN OUR WALLET! WOO HOO - THAT EXTRA 8.759 STEEM IS OUR BONUSES FOR AUTHOR REWARDS (THAT GOES BACK TO THE ACCOUNT TO SPLIT) AND CURATION REWARDS (THAT GOES BACK TO THE ACCOUNT TO SPLIT) YEP - I'M NOT TAKING ANYTHING FOR MYSELF - THIS IS ALL FOR US!!!
---
ENJOY!!! (As we gain more members - we will need to adjust the voting amounts accordingly - but until we have over 10 - we should all get at least one 100% upvote!!) yayyyyy! Most likely adjusting next week for August! so enjoy those 100% upvotes all this week everyone! if you want to keep them at 100% - make sure you check out the report to see how much you need to maintain (or gain) to 100% votes :)
I will be tagging the same people as last week - cuz whether or not you want to come - I want you to know you're loved and I would so WISH to see you there. So - just see the tag as a hug... hehehe (unless you don't like hugs. then see this tag as a high five. ) LOL Plus, you can cheer us on - even if you don't want to go! LOL
But really - if you want to stop getting the weekly updates, I will of course remove you from the list and not be offended in the LEAST!
2nd annual block party - here weeeeeeeeeeeee come! :)
In alphabetical order ;) @andysantics48, @bethalea, @bethvalverde, @bluefinstudios, @byn, @creatr, @crescendoofpeace, @davedickeyyall, @dfinney, @dwingsworld, @enginewitty, @eveningart, @guiltyparties, @jackmiller, @jayna, @katrina-ariel, @mariannewest, @michaeldavid, @monchichi23, @naltedtirt, @penderis, @prettynicevideo, @rakkasan84, @raybrockman, @saffisara, @scarletreaper, @shadowspub, @snook, @solominer, @thekittygirl, @zipporah