FOURTH WEEK REPORT! ONTO WEEK 5
GREAT JOB!
Only two people entered into the drawing this week!!! (so... yeah - pretty good odds for either @shadowspub or @bluefinstudios to win the $5 bonus since I don't join the raffle! hehehe)
I'm surprised to see how much is in our piggy bank in such a short amount of time!!! Its only been ONE MONTH... and... we have 398.5 steem (that has been powered up so you can all get votes!) from this account! Could it be that next week we have a MINNOW PIGGY BANK??? Don't forget to deposit your steem - and let's see!
Steem is so inexpensive right now - I might just buy $10 worth this week and drop it in for fun! That's 40 more steem for your piggy votes!
Steem keeps dropping in value (it is currently worth $0.25) but just think what a nice little bonus it will be if it goes up! Hopefully by the time we withdraw next year, it will be a nice chunk of change to send us to Block Party 2!!!
For this week - once again - no one new added to the account so EVERYONE is still getting 100% upvotes from the account, and if you do 2 posts - you get 2 upvotes! We will keep dispersing it that way, until more arrive. If no one else arrives - its ok! We can keep splitting it! :)
I am not taking any upvotes on posts - so enjoy! :)
FOR THE DRAWING this week for everyone who deposited at least 10 steem during the week!!!! (YOU CAN DEPOSIT MORE THAN 10 A WEEK! 10 is only the minimum for the drawing)
drum roll please!
OUR WINNER THIS WEEK IS @bluefinstudios!!!!! Congrats! Don't forget - bonuses are paid out at the END and can ONLY be kept if you attend the meetup. If you don't attend - no worries! You still get all your SAVINGS back - minus any bonuses :)
so to recall - our $5 bonus winners so far
6/30 @shadowspub
7/7 @prettynicevideo
7/14 @prettynicevideo
7/21 @bluefinstudios
Here is our little report! AND DO YOU NOTICE SOMETHING?????
---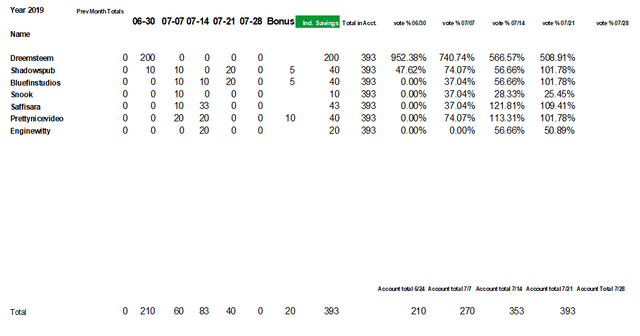 OUR ACCOUNT SHOWS THAT ONLY 393 HAS BEEN DEPOSITED, BUT WE HAVE 398.5 IN OUR WALLET! WOO HOO - THAT EXTRA 5.5 STEEM IS OUR BONUSES FOR AUTHOR REWARDS (THAT GOES BACK TO THE ACCOUNT TO SPLIT) AND CURATION REWARDS (THAT GOES BACK TO THE ACCOUNT TO SPLIT) YEP - I'M NOT TAKING ANYTHING FOR MYSELF - THIS IS ALL FOR US!!!
---
GOOD NEWS!!! You can see how much of an upvote you ACTUALLY should have this week on the report. HOWEVER, since there is only 6 of you getting upvotes - and we have ten 100% daily upvotes to spare - you will each get up to TWO daily upvotes at 100% this week!
ENJOY!!! (As we gain more members - we will need to adjust the voting amounts accordingly - but until we have over 10 - we should all get at least one 100% upvote!!) yayyyyy!
I will be tagging the same people as last week - cuz whether or not you want to come - I want you to know you're loved and I would so WISH to see you there. So - just see the tag as a hug... hehehe (unless you don't like hugs. then see this tag as a high five. ) LOL Plus, you can cheer us on - even if you don't want to go! LOL
But really - if you want to stop getting the weekly updates, I will of course remove you from the list and not be offended in the LEAST!
2nd annual block party - here weeeeeeeeeeeee come! :)
In alphabetical order ;) @andysantics48, @bethalea, @bethvalverde, @bluefinstudios, @byn, @creatr, @crescendoofpeace, @davedickeyyall, @dfinney, @dwingsworld, @enginewitty, @eveningart, @guiltyparties, @jackmiller, @jayna, @katrina-ariel, @mariannewest, @michaeldavid, @monchichi23, @naltedtirt, @penderis, @prettynicevideo, @rakkasan84, @raybrockman, @saffisara, @scarletreaper, @shadowspub, @snook, @solominer, @thekittygirl, @zipporah