THIRD WEEK REPORTS! ONTO WEEK 4
3 weeks down - onto 4th one!
This week - we had @bluefinstudios, @saffisara, @prettynicevideo and @enginewitty enter at least 10 steem! And most did 20! woo hooo That is a total of 353 shares of steem in our savings fund!!! :) Just think what happens if steem goes up when its time to withdraw! That will be nice! :)
Everyone is at least THINKING about Blockparty 2. Some people have even started writing stories about what will happen next year! hahahah Check out @chris-the-batman's post about horse back riding! LOLOL
For this week - everyone is still getting 100% upvotes from the account, and if you do 2 posts - you get 2 upvotes! We will keep dispersing it that way, until more arrive. If no one else arrives - its ok! We can keep splitting it! :)
I am not taking any upvotes on posts - so enjoy! :)
FOR THE DRAWING this week for everyone who deposited at least 10 steem during the week!!!! (YOU CAN DEPOSIT MORE THAN 10 A WEEK! 10 is only the minimum for the drawing)
drum roll please!
OUR WINNER THIS WEEK IS @prettynicevideo AGAIN!!!!! Congrats! Don't forget - bonuses are paid out at the END and can ONLY be kept if you attend the meetup. If you don't attend - no worries! You still get all your SAVINGS back - minus any bonuses :)
so to recall - our $5 bonus winners so far
6/30 @shadowspub
7/7 @prettynicevideo
7/14 @prettynicevideo
Here is our little report!
---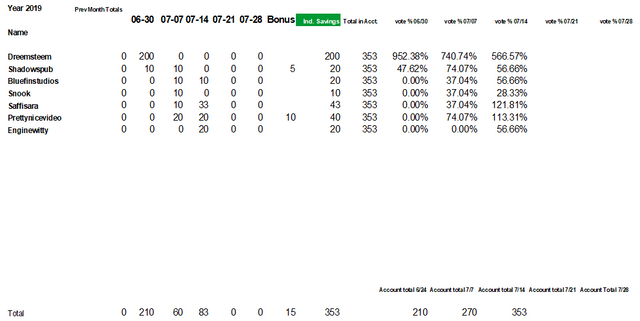 ---
GOOD NEWS!!! You can see how much of an upvote you ACTUALLY should have this week on the report. HOWEVER, since there is only 6 of you getting upvotes - and we have ten 100% daily upvotes to spare - you will each get up to TWO daily upvotes at 100% this week!
ENJOY!!! (As we gain more members - we will need to adjust the voting amounts accordingly - but until we have over 10 - we should all get at least one 100% upvote!!) yayyyyy!
I will be tagging the same people as last week - cuz whether or not you want to come - I want you to know you're loved and I would so WISH to see you there. So - just see the tag as a hug... hehehe (unless you don't like hugs. then see this tag as a high five. ) LOL Plus, you can cheer us on - even if you don't want to go! LOL
But really - if you want to stop getting the weekly updates, I will of course remove you from the list and not be offended in the LEAST!
2nd annual block party - here weeeeeeeeeeeee come! :)
In alphabetical order ;) @andysantics48, @bethalea, @bethvalverde, @bluefinstudios, @byn, @creatr, @crescendoofpeace, @davedickeyyall, @dfinney, @dwingsworld, @enginewitty, @eveningart, @guiltyparties, @jackmiller, @jayna, @katrina-ariel, @mariannewest, @michaeldavid, @monchichi23, @naltedtirt, @penderis, @prettynicevideo, @rakkasan84, @raybrockman, @saffisara, @scarletreaper, @shadowspub, @snook, @solominer, @thekittygirl, @zipporah