You're kind of a jerk, aren't ya?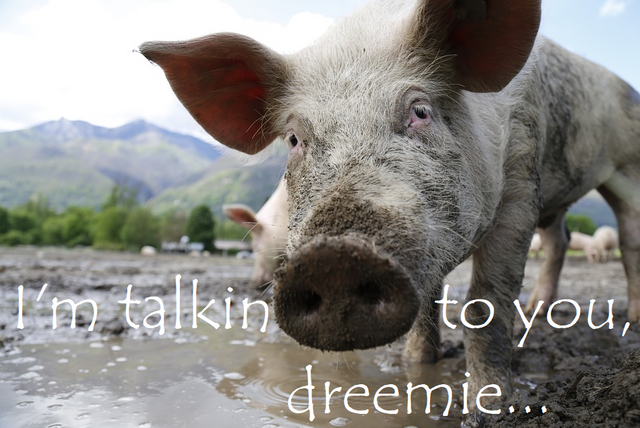 My husband and I have sick senses of humor.
We always find the most random, hilarious phrases in movies (and they die laughing at them) Do you remember that movie with Will Smith and Gene Hackman - Enemy of the State? At one point, Will's character is trying to run away from the government and has no idea why he's being hunted.... and Gene - tired of telling him over and over again how futile it is - just looks at him and says, "You're kind of a jerk, aren't ya."
hehehe We died laughing and to this day, we still love that line (and use it one another when we are feeeling froggy. LOL)
So why is that line in my head?
Cuz i'm feeling like kind of a jerk. LOL I'm getting these reports out twice a month instead of once a week and I could just kick my own arse. But... the good news is... money money money. hehehe We are doing awesome on our savings - closer and closer to 3000 :)
---
Onto the savings!
HERE IS HOW MUCH EVERYONE HAS DEPOSITED AS OF TODAY!
You can check the wallet on the @dreemsavingsfund and you can also go through each of the previous posts to make sure that my Excel skills are correct! LOL I've got an entire sheet that is all formulated and wonderful! All I need to do is add in your weekly deposits and it calculates EVERYTHING immediately for me! :)
But - if you wanna see quickly! here ya go!
@enginewitty - 190
@saffisara - 63
@snook - 68
@dreemsteem - 1000
@shadowspub - 270
@prettynicevideo - 80
@bluefinstudios - 238.99
@jayna - 190
@ange.nkuru - 10
@crescendoofpeace - 170
@bethvalverde -50
So far - that's what you've all deposited!
By the time we withdraw, you will be able to take out that PLUS any rewards that we will all split evenly - PLUS of course any more that you deposit from here on out! :) and lots of prayers that it's worth $10 by the time we pull it out for the block party!!! hehehe
We STILL have enough to give everyone 100% upvotes. (since i don't post) so - keep enjoying those 100% upvotes for JUST a little while longer! :)
The reports will always show your holdings - any questions - just ask :)
DRAWING TIME!!!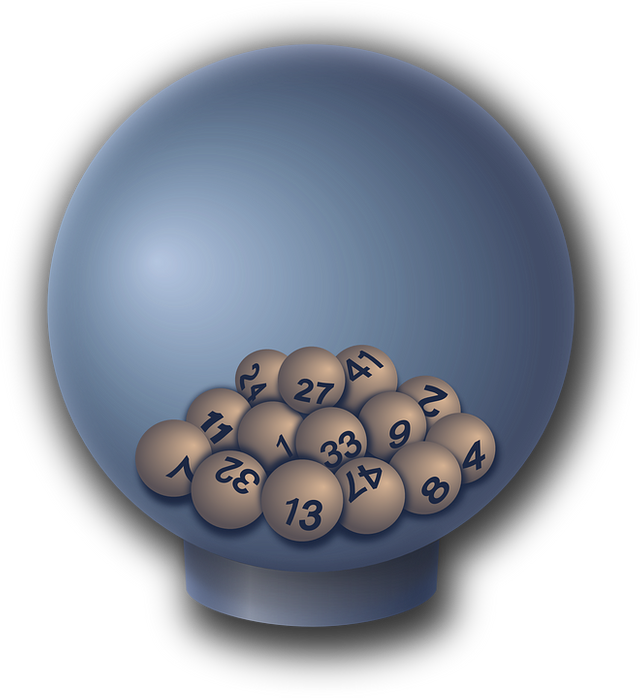 FOR THE DRAWING of 10/27 -yep... she was the only one! no luck needed hehehe The QUEEN. @shadowspub! nice job - you're up to $30 in bonuses to collect at the Block Party! :)
FOR THE DRAWING of 11/3 - dang it! @shadowspub and @snook deposited yesterday (which is a day too late!) so.... no one gets the bonus for 11/3. or.. I guess.. I get it hahahaha It will stay in my pocket :) But don't worry you two! You're in the drawing for THIS week :) Good luck!
so to recall - our $5 bonus winners so far
6/30 @shadowspub
7/7 @prettynicevideo
7/14 @prettynicevideo
7/21 @bluefinstudios
7/28 @snook
8/4 @enginewitty
8/11 @ange.nkuru
8/18 @shadowspub
9/1 @shadowspub
9/8 @bluefinstudios
9/15 @shadowspub
9/22 @shadowspub
9/29 @snook
10/6 - @crescendoofpeace
10/13 - @bluefinstudios
10/20 - @jayna
10/27 @shadowspub
11/3 - no one - forfeited bonus
---
REPORT FOR OCTOBER 27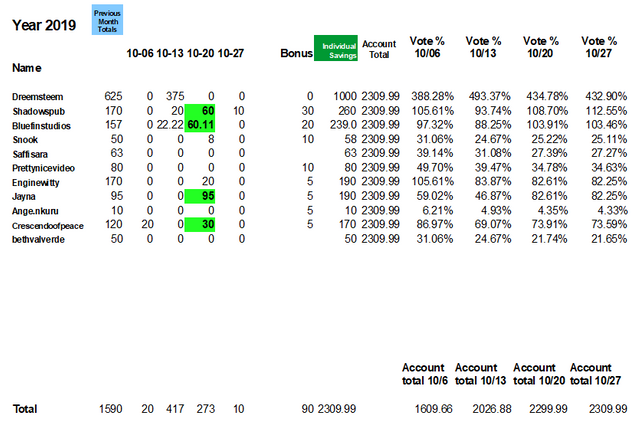 @bluefinstudios - I just noticed that your individual savings was rounded to the nearest tenth for the last week of October's individual savings. I would say sorry... but I'm not. LOL That's what you get for making it difficult with sending hundredths of steem instead of being normal like everyone else hehehehehe You'll see its back to "normal" (for you lol) in the November report.
---
And we can't forget the report for 11/3!
REPORT FOR NOVEMBER 3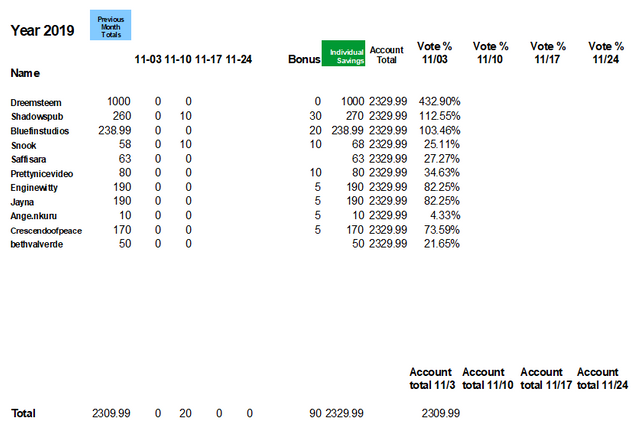 ---
AS OF TODAY, OUR ACCOUNT SHOWS THAT ONLY 2329.99 HAS BEEN DEPOSITED (well 2309.99 for the 11/3 report - but I included @shadowspub and @snook's early deposits for next week too!), BUT WE HAVE 2375.958 IN OUR WALLET! WOO HOO - THAT EXTRA 45.968 STEEM IS OUR BONUSES FOR AUTHOR REWARDS (THAT GOES BACK TO THE ACCOUNT TO SPLIT) AND CURATION REWARDS (THAT GOES BACK TO THE ACCOUNT TO SPLIT) YEP - I'M NOT TAKING ANYTHING FOR MYSELF - THIS IS ALL FOR US!!!
---
ENJOY!!! (As we gain more members - we will need to adjust the voting amounts accordingly - but until we have over 10 - we should all get at least one 100% upvote!!) yayyyyy! Most likely adjusting this month for August! so enjoy those 100% upvotes all this week everyone! if you want to keep them at 100% - make sure you check out the report to see how much you need to maintain (or gain) to 100% votes :)
I will be tagging the same people as last week - cuz whether or not you want to come - I want you to know you're loved and I would so WISH to see you there. So - just see the tag as a hug... hehehe (unless you don't like hugs. then see this tag as a high five. ) LOL Plus, you can cheer us on - even if you don't want to go! LOL
But really - if you want to stop getting the weekly updates, I will of course remove you from the list and not be offended in the LEAST!
2nd annual block party - here weeeeeeeeeeeee come! :)
In alphabetical order ;) @andysantics48, @ange.nkuru, @bethalea, @bethvalverde, @bluefinstudios, @byn, @creatr, @crescendoofpeace, @davedickeyyall, @dfinney, @dwingsworld, @enginewitty, @eveningart, @guiltyparties, @jackmiller, @jayna, @katrina-ariel, @mariannewest, @michaeldavid, @monchichi23, @naltedtirt, @penderis, @prettynicevideo, @rakkasan84, @raybrockman, @saffisara, @scarletreaper, @shadowspub, @snook, @solominer, @thekittygirl, @zipporah
kind of a jerk, aren't ya