Your bonuses have been awarded! Great job SAVERS!!!
The update on the savings bank is coming!! but just another update from me first....
Life has a way of sneaking up on you, doesn't it?
Death is not always so sneaky. It usually just slams into you - no matter how much you know it's coming.
This week has been a difficult one. My hubby has been spending as much time as possible with his sister, who is very ill. There might be another last minute opportunity for him to fly back out to see her- I hope so.
Made me think - this disease she has is a degenerative neurological disease. Rare. No cure. There is only two of them. It could have just as easily been my husband who got the genes for it. Deep sigh.
Yesterday we went to pick him up from LAX, and all of California drives at 80 mph down the highway. (or more) but 80 seems to be the accepted speed, even though the speed limit signs clearly say 70.
Made it there, back - safely- and with only 2 hours left in our trip after picking up my husband - the clanging car decided to throw a wrench into the plans.
Thank God we all made it back safely home - (after another 4 hour extension to our trip on the side of the road- waiting for a tow truck that could bring all 4 of us home). And at midnight, as we walked into our beautiful, immaculate home that I had deep-cleaned the past few days so my hubby could come home to a nice welcome... I looked over at our fireplace - and said a prayer of thanks that it was newly fixed. I got into my bed, and said a prayer of thanks that we were all cozy. I thought about how we all WALKED into the house, something that my sister in law can't do now without falling often and hard, and thanked God for our health. I had a shiver as I thought about traveling at 80 to LAX - (or even 60!!!) and having the axle snap in half and how that would have most likely ended three of our four lives. (not sure if it IS the axle - but whatever it is would NOT have been good in LA traffic)
and.....
I just realized that we have a lot of things that go wrong. A lot of things that just don't go according to plan. A lot of things that tempt us to complain and worry and get anxious.
But there are so many more for us to be thankful for - if we just stop and take the time to appreciate every single detail.
whew.
Just a little encouragement for you all. and now... onto savings :)
HERE IS HOW MUCH EVERYONE HAS DEPOSITED SO FAR!
You can check the wallet on the @dreemsavingsfund and you can also go through each of the previous posts to make sure that my Excel skills are correct! LOL I've got an entire sheet that is all formulated and wonderful! All I need to do is add in your weekly deposits and it calculates EVERYTHING immediately for me! :)
But - if you wanna see quickly! here ya go!
@enginewitty - 170
@saffisara - 63
@snook - 30
@dreemsteem - 625
@shadowspub - 150
@prettynicevideo - 80
@bluefinstudios - 145.55
@jayna - 95
@ange.nkuru - 10
@crescendoofpeace - 120
@bethvalverde -50
So far - that's what you've all deposited! AND YES... @shadowspub, @enginewitty, @bluefinstudios and @crescendoofpeace - you can see you EXTRA 10 has been deposited for your awesome saving bonus!!!!
By the time we withdraw, you will be able to take out that PLUS any rewards that we will all split evenly - PLUS of course any more that you deposit from here on out! :) and lots of prayers that it's worth $10 by the time we pull it out for the block party!!! hehehe
Ok - and remember - this month, the votes will adjust! I think we STILL have enough to give everyone 100% upvotes. (since i don't post) so - keep enjoying those 100% upvotes for JUST a little while longer! :)
The reports will always show your holdings - any questions - just ask :)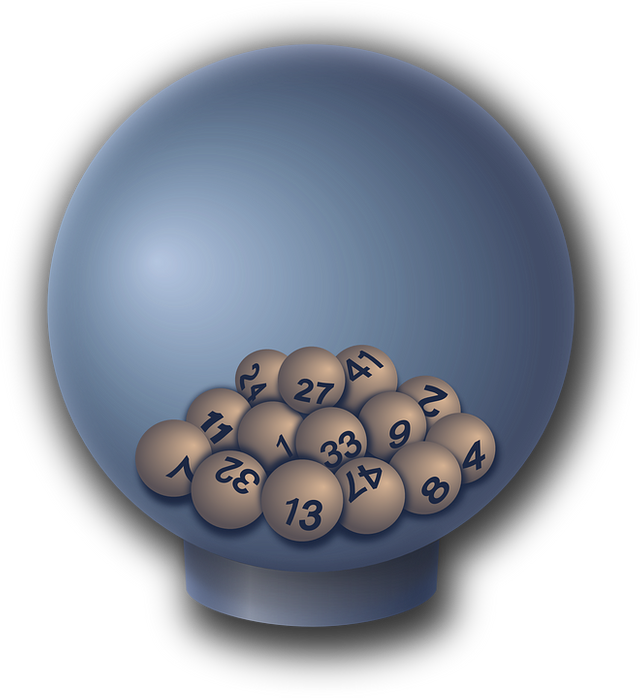 FOR THE DRAWING this week for everyone who deposited at least 10 steem during the week!!!! (YOU CAN DEPOSIT MORE THAN 10 A WEEK! 10 is only the minimum for the drawing)
Those people are @shadowspub, @bluefinstudios, @enginewitty and @crescendoofpeace Good luck you four!!!
drum roll please!
OUR WINNER THIS WEEK IS @shadowspub!!!!! Congrats!!!!!!! (um.... I don't know what kind of MOJO you have on my google random number generator.... but.... wow! you've won four TIMES! lolol) Don't forget - bonuses are paid out at the END and can ONLY be kept if you attend the meetup. If you don't attend - no worries! You still get all your SAVINGS back - minus any bonuses :)
so to recall - our $5 bonus winners so far
6/30 @shadowspub
7/7 @prettynicevideo
7/14 @prettynicevideo
7/21 @bluefinstudios
7/28 @snook
8/4 @enginewitty
8/11 @ange.nkuru
8/18 @shadowspub
9/1 @shadowspub
9/8 @bluefinstudios
9/15 @shadowspub
---
REPORT FOR SEPTEMBER 15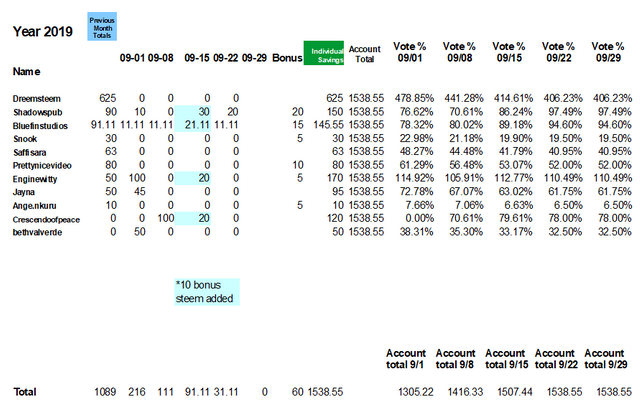 ---
OUR ACCOUNT SHOWS THAT ONLY 1538.55 HAS BEEN DEPOSITED, BUT WE HAVE 1567.455 IN OUR WALLET! WOO HOO - THAT EXTRA 28.905 STEEM IS OUR BONUSES FOR AUTHOR REWARDS (THAT GOES BACK TO THE ACCOUNT TO SPLIT) AND CURATION REWARDS (THAT GOES BACK TO THE ACCOUNT TO SPLIT) YEP - I'M NOT TAKING ANYTHING FOR MYSELF - THIS IS ALL FOR US!!!
---
ENJOY!!! (As we gain more members - we will need to adjust the voting amounts accordingly - but until we have over 10 - we should all get at least one 100% upvote!!) yayyyyy! Most likely adjusting this month for August! so enjoy those 100% upvotes all this week everyone! if you want to keep them at 100% - make sure you check out the report to see how much you need to maintain (or gain) to 100% votes :)
I will be tagging the same people as last week - cuz whether or not you want to come - I want you to know you're loved and I would so WISH to see you there. So - just see the tag as a hug... hehehe (unless you don't like hugs. then see this tag as a high five. ) LOL Plus, you can cheer us on - even if you don't want to go! LOL
But really - if you want to stop getting the weekly updates, I will of course remove you from the list and not be offended in the LEAST!
2nd annual block party - here weeeeeeeeeeeee come! :)
In alphabetical order ;) @andysantics48, @ange.nkuru, @bethalea, @bethvalverde, @bluefinstudios, @byn, @creatr, @crescendoofpeace, @davedickeyyall, @dfinney, @dwingsworld, @enginewitty, @eveningart, @guiltyparties, @jackmiller, @jayna, @katrina-ariel, @mariannewest, @michaeldavid, @monchichi23, @naltedtirt, @penderis, @prettynicevideo, @rakkasan84, @raybrockman, @saffisara, @scarletreaper, @shadowspub, @snook, @solominer, @thekittygirl, @zipporah