Don't invest any more STEEM into Drugwars, and especially don't think you'll earn STEEM by sharing fights!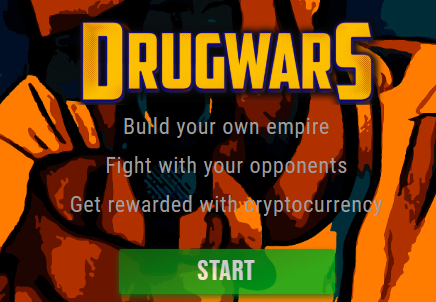 I tried the share fight option last week
Without knowing they'd post it immediately, I was stupid enough to drop the post from my main account. As I don't like to share just a screenshot without any text, I added the post a bit afterwards. Then @canadian-coconut decided to vote that post, which made the post value go up quite a bit:

As you can see, her vote was $ 1,40 while the @fundition vote was only $ 0,19. This is what got paid out after the 7 days:

As you can see that's a pretty nice profit for using their button, that is very easy to click on. While they only gave away a small $ 0,19 vote they more than doubled their effort by receiving $ 0,453 of the total post payout! Now that's how you build your account, right? I think you're a bunch of thieves!

It can be even worse!
While I instantly decided that I would never push that button again on my main account, taking the risk they'd take a big chunk of my earnings there, I decided to try it out on my alt accounts. Yes, I have alt accounts in the game, and yes I've invested with those accounts too. Not much, but I invested a bit to get started. These accounts either got a $0,07 vote or even NO vote at all, while they STILL take 35% of the earnings!

Now, in this case it's not that bad for the account, as no other votes followed either, so they get 35% out of nothing, which leaves them (and me) with nothing in the end. But I call it thievery that they don't even drop a vote on a post when they do take more than 1/3 of the post payout. Because while I tied this with my alt account, I'm quite positive that there must be people out there not getting their vote while they still have trails voting on their posts. That means @drugwars and @drugwars-dealer is stealing 35% while not giving back a damn thing! Way to go guys! That's how you make friends! Oh, I forgot you're not here to make friends, you're a bunch of gang members. That's clear now.

Where I was spreading my ref before I'm now advising people to be careful
Don't invest any STEEM from now on, because they've made an announcement trying to make it look as it's a positive thing, introducing their "Future" token, giving us only 48 hours notice of the STEEM payouts coming to an end. Of course they didn't announce this earlier, because that would mean they are losing STEEM investments by their players.

While most of us knew their system wasn't going to be sustainable for a long time, I'm quite surprised (like I also read someone say in the comments below their post) how they manage to keep fucking up the game and pissing off the players. Well done guys! Glad to see at least you guys get a huge @fundition upvote for a post making the biggest part of the players mad, good thing that there is no beneficiary there ;)


To be clear
I have absolutely no problem in accounts like @utopian-io taking a part of the earnings as a beneficiary, as they also give back to the community and authors. They actually give you a nice vote for your contributions on Utopian, and that's only fair. In the end the account will grow, and your vote from them will grow, but this isn't the case with @drugwars.
They take more than they give, and I think people should be aware of it. You can't just set up this system taking a huge cut like that, while you only give pennies away. And even worse, in a lot of cases you aren't even giving any vote! Not a cent, while you do get the 35% of the post payout. It makes me quite mad, and you are playing God here, come on, what did you expect that people would just take this, without speaking up!

And then there's this too, which I needed to address also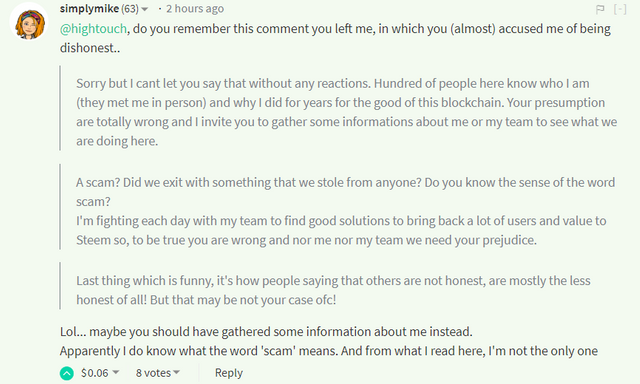 I think a lot of people know @simplymike on Steemit, and know her personality, she does nothing but good things for people. That's what I responded below her comment to back her up too. And actually @hightouch it sure does seem like you guys are running off with people's STEEM now! While you let people know long before battles started, you guys decided to through this out there with a short notice, without disabling the option of people upgrading with STEEM. There is no info in the game about this new change, and I'm sure you guys hope for people to notice this change too late, after purchasing instant upgrades. You guys really messed up here. Lot's of people already talked about putting everything in the heist, and leaving it as is after the change. And as you sure have read in the comments of your own post, most of the players feel betrayed.
But I'm sure that's all because us players are a bunch of dishonest people, right?