The STEEM Engine Express Episode 27
Welcome to Episode 27 of The STEEM Engine Express podcast.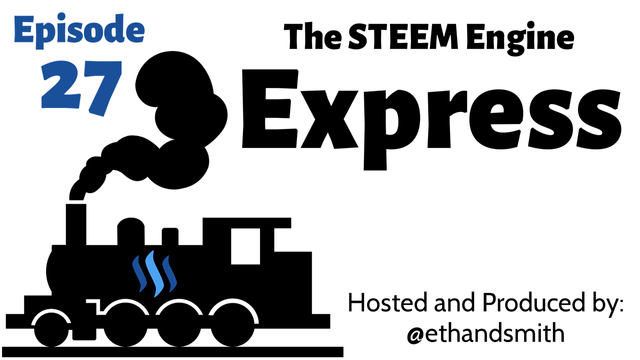 The STEEM Engine Express is a podcast produced by Ethan D. Smith that normally features short summaries of five posts recently shared in the Discord community, The STEEM Engine. This episode will highlight some fantastic live curation segments that may interest listeners.
For more information about the group, visit the Steemit account @thesteemengine.
Listen to the podcast in one of the following ways:
► Listen on DSound
► Listen from source (IPFS)
► Download mp3 Version
Listen on YouTube:
Intro music is "Biking in the Park" by Lee Rosevere. Used under a Creative Commons Attribution 4.0 International License
Background tracks are "Crushin'" and "Wheels" by Jason Shaw. Used under a Creative Commons Attribution 3.0 Unported License
Other audio clips obtained via the Internet Archive and also used under a Creative Commons Attribution 3.0 Unported License
Read more about the making of the intro HERE.
Today's featured initiatives:
Full transcript:
I'm Ethan Smith, and this is the STEEM Engine Express.
---
Today's episode will deviate slightly from the usual format, as I'd like to take a moment to turn the spotlight onto several other Steemians who either create voice-based content like this podcast or host live shows across various platforms. All of the Steemians highlighted here today are members of The STEEM Engine community, and it has been my pleasure to support their efforts over the past weeks and months. I hope you'll take the time to check out each of these Steemians and support their fantastic content.
---
@ShadowsPub is a familiar name to our listeners, as she has been with The STEEM Engine almost since it began in the fall of 2017. ShadowsPub has recently begun her own network of live shows on the Steemit account @ramblingradio. There are several great shows hosted there each week, and I'll be mentioning a few of them later in the podcast, but for now, I want to focus on the main show that ShadowsPub has been the host of: Pimp Your Post Thursday. The idea is simple. Users join a voice channel in Discord, place their names in a queue, and then each have the chance to say a few words about their latest blog post to a large audience. The show has grown in popularity during its run, and ShadowsPub still allows anyone to come on the show and present, regardless of their experience or notoriety. It remains one of my favorite segments to attend and to refer new Steemians over to. The show airs on Thursdays at 3:00 p.m. UTC (11:00 a.m. EDT) and again at 11:00 p.m. UTC (7:00 p.m. EDT), so there are two opportunities to present. If you would like to participate, you can head over to The Steemit Ramble Discord server by visiting @ramblingradio on Steemit.com.
---
Pimp Your Post Thursday has given rise to plenty of other shows, but a special project that stemmed from the Steemit Ramble is the Creatives Coffee Hour, a show hosted by @ShadowsPub's sister @artemisnorth. Each Monday at 5:00 p.m. UTC (1:00 p.m. EDT), ArtemisNorth invites everyone to come on the show and talk about their creative projects. These projects may be anything creative such as sewing, knitting, art, crafts, and many other things. I am usually busy during this time slot, so I have not had the privilege of attending, but if you enjoy arts and crafts and want to share your latest projects with a group of like-minded individuals, look no further than the Creatives Coffee Hour, which is also hosted in the Steemit Ramble server, which you may find by visiting steemit.com/@ramblingradio.
---
@crazybgadventure has hosted a variety of shows during his time as a Steemian, including cohosting Talk of the Line alongside me, but we'll get to that. Today, I want to highlight his most recent show The STEEM Adventure, which airs each Wednesday from 6:00 p.m. to 7:00 p.m. UTC. @crazybgadventure uses the show as a place where new Steemians can come learn about topics relevant to how Steemit works and what they can do to succeed. If you know someone new to the platform who has questions, be sure to have them tune in to the STEEM Adventure each week!
---
Our Croatian friend @whack.science has recently begun hosting live sessions on DLive where he plays various PC games. DLive has quickly become a popular platform for streaming due to its potential to reward the users via the STEEM blockchain. @whack.science broadcasts at various times during the week and plays games such as Overwatch, Kerbal Space Program, and PlayerUnknown's Battlegrounds. If you're interested in game streaming or would like to learn more about DLive, be sure to head over to @whack.science's profile and check out his streams. He's always up for having guests on his streams as well, so be sure to let him know if you want to play along.
---
Finally, we arrive at The STEEM Engine's own live curation segment, Talk of the Line. Airing each Tuesday at 8:00 p.m. UTC in the STEEM Engine Discord server, the show is now broadcast via DLive on my Steemit profile as well. The show is structured very similarly to Pimp Your Post Thursday, however participation is limited to the members of the STEEM Engine group. I host the show alongside my regular cohost @AwakentoLife, who helps keep the atmosphere light and the discussion fun. Each member has an opportunity to present, so it's great hearing from our members every week. The show also features frequent giveaways, including upvotes, SBDs, and STEEM Basic Income shares, so if you are a member of the STEEM Engine, I encourage you to stop by on Tuesday to participate! Not a member yet? Head to steemit.com/@thesteemengine to find out more about the group and submit your application today!
---
The STEEM Engine Express features five of the best posts curated by the STEEM Engine each week across the Steemit platform. The Express is produced by Ethan D. Smith exclusively for The STEEM Engine initiative on Steemit.com, and is featured throughout the week on the SteemStar.net radio network.
That's all for this week's episode! To read posts mentioned in today's Express or to listen to past episodes, visit steemit.com/@ethandsmith. I hope you'll catch the next Express!
---
► Listen on DSound
► Listen from source (IPFS)