BuzzSteem Ep 10 - [Crypto Safety, Ponzi Schemes, Jerry Banfield exposed and more!]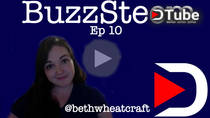 ---
Hey guys,
So tonight I talked about:
The Japanese exchange hack, and I give you five helpful suggestions on how to keep your cryptocurrency safe!

The Robinhood app and their plan to implement fee free exchange come February! (What a time to be alive!)

User @mrpuzzle and his fantastic expose on Jerry Banfield. This is a must-read for anyone considering voting
for him as a witness. It can be found here:
https://steemit.com/news/@mrpuzzle/newsflash-jerry-banfield-upvotes-latest-by-over-usd1200
User @troglodactyl and his latest blog on Steemit becoming a Ponzi Scheme. This is truly a must-read for
every single person on Steemit. It can be found here:
https://steemit.com/steem/@troglodactyl/is-steem-a-ponzi-scheme
User @just2random and his spot on analysis of the dangers of the Bitconnect YouTube fanatics now singling
out and supporting Steemit.
Also, I am still on some serious pain meds and not running on much sleep, so my verbage is a bit sloppier than usual. I hope I still got my main points across okay though!
Oh and help me start the tag: #fight4steemit won't you? If you have a post related to any of today's topics (or rather the ones that pertain to Steemit's future, consider using #fight4steemit in your tags, that way I can find your posts and videos more easily!
Steem on my friends.
---
▶️ DTube
▶️ IPFS