Steem Monsters: a behind-the-scenes look at recording the Daria Dragonscale quips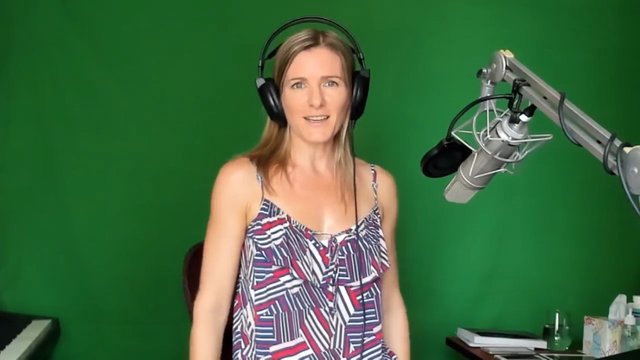 ---
Well, it seems that I'm such a good voice actor that I landed another role in the Steem Monsters game. (Or the powers that be like that I have access to a professional recording studio, but let's go with the first one, shall we?) This time, I have been cast as Daria Dragonscale.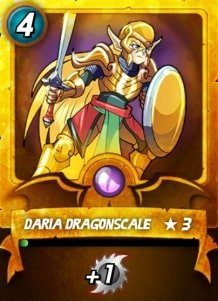 I'm not going to lie, I have zero interest in gaming, even Steem Monsters; I'd rather just watch Netflix. But!!! That doesn't mean I don't get excited about being IN games. I really like learning about the characters and thinking up ways to deliver the quips.
Since I didn't really know anything about Daria Dragonscale, my first course of action was to call upon Steem Monsters guru @mattclarke to get the skinny. And although this is a bit off topic, here's some bonus footage of Matt and I opening Steem Monsters cards at the Team Australia Christmas party back in December. And even more off topic, how good does my hair colour look here? 😁
Anyway, this is what I learnt.

Then @aussieninja concurred in a separate conversation, that she is indeed quite awesome.
With this newly found knowledge, I lined up a visit to @globocop's studio. Unfortunately, Panama doesn't have super reliable electricity and his building was experiencing a lot of power cuts last week. His building's back-up generator is only good for the communal areas, unlike my building where we only lose power for about a second before it kicks in. So we had to wait a few days for whatever problems his part of town was experiencing to be resolved.
Globo gave me some coaching before we started. He used to work professionally in radio, which is SO helpful when doing voice acting. That being said, my first takes are bloody awful but make for good video. There's always one line in particular I seem to struggle with, as you'll see. The same thing happened when I recorded Medusa. I've left the dialogue between Globo and myself in so you can see our process. Plus he has a cool accent which needs to be heard!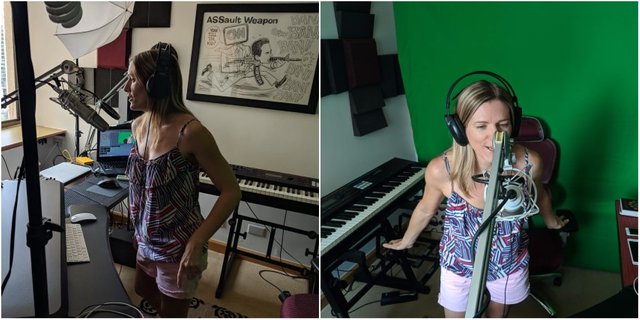 The actual video was quite long so I've cut it down to mostly outtakes and the final reading. There were more versions of each line that we were happy with, but in the interest of not being repetitive and the fact that most people have short attention spans, the video now lasts about five minutes.
I'm also uploading to youtube since the Australian Federal Police are apparently blocking Aussies' dtube access in the Wellington aftermath.