HF20 Activated. DTube lowers beneficiary rewards to 10%!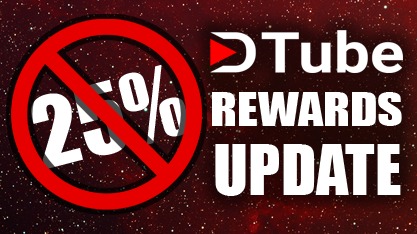 Hello everyone,
Hard Fork 20 has just hit the entire steem network, and a large majority of the user base could not post nor upvote while the new bandwidth system stabilized. This now seems to be past us! To celebrate the first big upgrade of this blockchain in a long time, DTube has decided to change the beneficiary rewards (aka platform fees) from 25% to 10%.
Our last economic changes for DTube have not been well received. While this system of redistribution to curators was interesting, it really wasn't understood by the majority, and we continued to hear comments of DTube taking 25% of the rewards, which wasn't the case. Consequently, all the @dtube.rewards will keep on getting paid for the week, but will stop after.
While I know many people enjoyed these extra curation rewards, they needed a bit of stake to really start producing. The experiment gave us some data, but ultimately not the results we expected. 50% curation is certainly more fair, but isn't enough for a human to get interested in full-time curation in the current metagame of steem.
Finally, but probably the most important reason for this drop, is that Ned has announced publicly, and has personally told me he is confident on the release date of March 2019 for the SMTs. This date represents a certain date where DTube would finally be able to create its own token and start giving value to the token, and monetize from it.
SteemFest is also coming very close. At least two members of our team are attending and I'm still hoping to convince @Nannal to come. In addition, 4 curators and countless video creators will be there. Hope to see you!

---