Litecoin Flappening. Litepay Price Boost. Litecoin Cash is Junk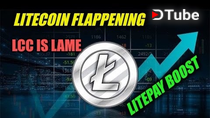 ---
Don't forget to follow. The Flappening is a term that has been coined to mark the future event of Litecoin overtaking Bitcoin Cash in market capitalization.
You can track it at http://flappening.watch/
Litepay will be a great avenue to get the velocity of Litecoin up. Merchants do not want to take on the risk of volatile LTC prices. They want to focus on selling. This will drastically increase the adoption of Litecoin by increasing liquidity and future userbase.
Litecoin never needed to be forked. Forking can be a method of governed development or a method of riding coat tails and shady marketing tactics. Litecoin Cash is a flop and users should stay the course with Charlie.
SPREAD the WORD about DTUBE!!
Happy Investing C# HODLCREW
http://connorkenny.com
https://youtube.com/c/ConnorKenny
https://www.facebook.com/ConnorKennyInvesting
https://twitter.com/ConnorLKenny
Find me on steem platforms, @investing
5 steem giveaways! Sub and comment on YouTube vid to win with your steem handle/name.


---
▶️ DTube
▶️ IPFS