Cruising through Rotterdam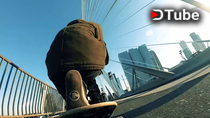 ---
So I decided to go longboarding today, because it was an amazingly fresh and sunny day. Still cold though.. like 0 degrees. But while longboarding you get it warm enough.
While I went outside, I thought.. "Heck, why not film my trip and show it to steemit". Could be some fun content. And I didn't post in a like a week. So I decided to search for my GoPro, wich I haven't used in like a year!
I always wanted to film longboarding while my GoPro is hanging on my board and it created a pretty amazing shot.
So I got some ductape and sticked it to my board. While I was riding outside people were looking weird at it. It was pretty funny. Like the instant I go outside immediately a guy walked up to me and said, "what are you doing haha that's great!". Then he said: 'you know they have special equipment for that right?" And I responded: "yeeah.. I'd rather choose for the ductape".
While after, my little trip began. From Rotterdam North, to the Central Station. Then to the big bridge "Erasmus Brug". From there to the South of Rotterdam.. back to the bridge again and ended up at the shopping area the "koopgoot" wich translates to "Buy Gutter" haha.
Hope you enjoy it and if you liked it hit that follow button!
Have a great day!
---
▶️ DTube
▶️ IPFS