EFTG presentation at Blockchain Expo Europe 2019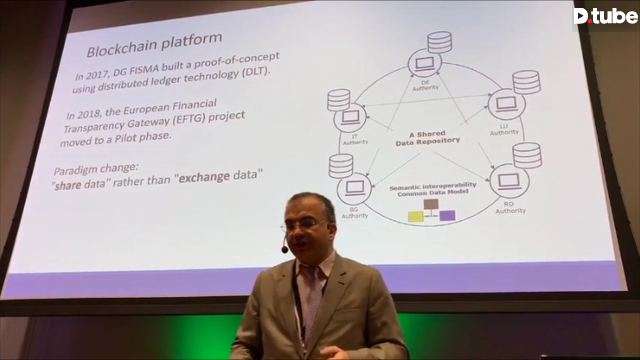 ---
Watch my talk in Amsterdam in June 2019. Talk description:
The European Financial Transparency Gateway (EFTG) is a pilot project at the initiative of DG FISMA, funded by the European Parliament, and with the objective of furthering the Capital Markets Union by increasing financial transparency and facilitating investor access to regulated financial information, in line with the Transparency Directive (Directive 2013/50/EU) and the EEAP regulation (Commission Delegated Regulation 2016/1437).
DG FISMA, supported by DG CNECT, decided that blockchain technology could bring distinct benefits and help address specific challenges facing this initiative, especially by clarifying concerns related to data control, liability and access rights.
Unlike classical IT architectures, a blockchain-based solution was expected to provide and maintain a secure, trustable link between data and actors in the system.
Find out how, beyond unique business functionalities, the blockchain-based implementation proved to also be cheaper and faster to develop and deploy than a custom-built system.




If you know what witnesses are and agree that people commited to keeping this blockchain ticking play an important role ...



(by simply clicking on the picture - thanks to SteemConnect)


Related posts
The outcome of the Pilot Porject analysed:
The original post introducing the background and the challenge:
Blockchain, Crypto and Society
Other posts you might enjoy:
Blockchain and Europe
Steem ecosystem