60 REP ! Time To Give Back And Help The Newcomer!!! SBD PRIZES!!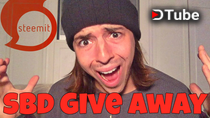 ---
Good Evening Fellow Steemians! I am rewarding the newcomer with SBD PRIZES.
The Rules:
RE-STEEM this post for the newcomers to be rewarded.
Must have a 45 and under rating and a positive attitude!
Must be within the first 8 Re-Steems to be rewarded.
Once You've Re-steemed, Leave a comment introducing yourself and let me know you've re-steemed it.
So in todays video I will be doing somewhat of a tutorial for anyone who is relatively new and unfamiliar with certain tools. Steemit has a wide variety of features which can sometimes get quite confusing.
Hopefully I can help and share some of what I've learned!
I'll drop the link for the video below in case you cannot work dtube.