Indian Spice Pineapple Carrot Smoothie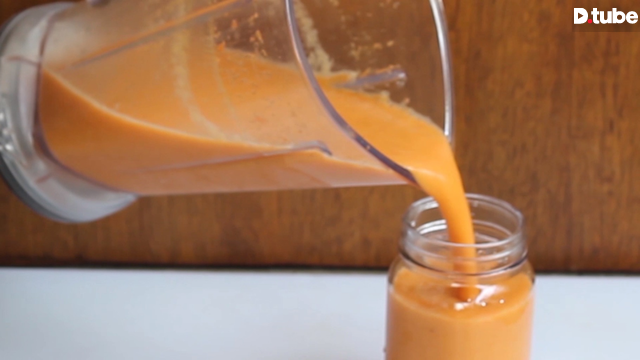 ---
As I was editing the DTube version of this video, I noticed that some of the cuts coincidentally matched the tempo of the royalty free music I chose. I continued editing it and made more cuts which matched the music, and I thought it turned out so well that I decided doing a voiceover would kinda ruin it if I talked through it; so I skipped it. I unintentionally made the YouTube version (longer YouTube versions of all my videos are linked/embedded at the bottom of all my posts) 8 minutes long. I didn't plan on making it that long. It just happened. The cutting of the fruits and vegetables looked horrible at a higher speed. That's mainly why it's so long. I only have 8 gigs of RAM to work with, and my editing app, Adobe Premiere Pro, is designed very poorly for editing voiceovers. I actually cut out every frame where I'm not talking since I don't have a soundproof studio and live in a town with lots noise. You can't render or compress audio edits, so long story short; it took over 12 hours of trial and error and crashes just to export the video. After dealing with that stress and aggravation, I was indeed very happy not to do a second voiceover. Since the DTube videos are all much shorter edits of the YouTube source with new audio (mostly), that isn't nearly as difficult as the longer videos. Also, it's not really necessary to say what I'm using in the video since it's obvious which fruits and veggies I used; and the approximate recipe is right here anyway.
INGREDIENTS
1 1/2 cups of frozen pineapple
2 frozen bananas
3 medium carrots
1 tablespoon of fresh ginger
1/2 a teaspoon of ground turmeric
2 cups of filtered or spring water
1 cup of almond juice
DIRECTIONS
Cut pineapple and bananas, and freeze in baggies for at least 1 hour.
Cut the carrots.
Slice the ginger.
Pour water in a blender and add carrots on top.
Blend on high for at least 2 mintues.
Add almond milk and turmeric to the blender with the frozen fruit on top.
Blend for at least 2 more minutes, and it's ready to drink!
This is like the 4th or 5th smoothie video I've made so far. I'm planning on making 1 smoothie video for every 2 or 3 videos for the rest of the summer. This smoothie is the most unusual I've made so far. Ginger and turmeric really give it flavor! I did regrow all the fruits and veggies I made in the video. I will be blogging all about my garden soon on my personal Steem account soon.
**Longer videos on my YouTube channel