DtubeSnap #1 Video Response: How has parenting changed my life?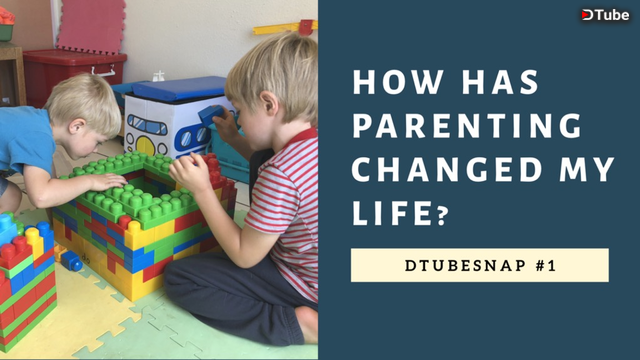 ---
I've only just started noticing the DtubeSnaps and have been enjoying them so much - especially on the #SteemitMamas community!
I decided to make my first DtubeSnap (as challenged by @happycrazycon and @alimamasstory) as a video response to @iamjadeline's question of:
Is there ONE thing that has changed in you ever since you become a parent?
My response to that is: What hasn't changed?! Heehee! Sometimes as a parent you can feel quite overwhelmed by this new label and feel like it has changed who you are completely.
But has it changed you? Or has it just challenged you to be better?
I'd like to echo Alfie Kohn:
"Even before i had children, I knew that being a parent was going to be challenging as well as rewarding. But I didn't really know.
I didn't know how exhausted it was possible to become, or how clueless it was possible to feel, or how, each time I reached the end of my rope, I would somehow have to find more rope.
I didn't understand that sometimes when your kids scream so loudly that the neighbors are ready to call the Department of Child Services, it's because you've served the wrong shape of pasta for dinner.
I didn't realize that those deep-breathing exercises mothers are taught in natural-childbirth class don't really start to pay off until long after the child is out.
I couldn't have predicted how relieved I'd be to learn that other peoples children struggle with the same issues, and act in some of the same ways, mine do. (Even more liberating is the recognition that other parents, too, have dark moments when they catch themselves not liking their own child, or wondering whether it's all worth it, or entertaining various other unspeakable thoughts).
The bottom line is that raising kids is not for whimps."
― Alfie Kohn, Unconditional Parenting: Moving from Rewards and Punishments to Love and Reason
Another comforting thing I read before, was that parenting should just amplify who you are and what your values are.
Parenting can be seen as a tool to challenge your core beliefs and refine your values. In order to truly embody a value, it needs to be challenged, it needs to be pushed against and put to the test. Children are AMAZING at this!
What we need to do is exactly define these values so when we are enraged by our children for not listening to us or breaking something that we can draw on these values and resourceful states to not only be a better parent, but a better human!
Never before being a parent have I felt anger and rage and frustration like I have when challenged by a 2 year old - or even worse, a 5 year old that really should know better by now.
I have noticed, way too many times in the past, that when I explode in my anger and resort to punishment that my kids just shut down. The relationship is damaged, our trust is broken and I've completely missed an opportunity to teach and to empower my children, and therefore also miss my own opportunity for growth and compassion.
So, I managed to call my kids upstairs and reason with them that throwing molding sand all over the playroom can be a lot of fun in the moment but then creates great disruption to our day to clean it up and that it makes that whole room uncomfortable to be in and play in. When they feel like making a great big mess it is best to go outside where there is less cleaning to do. I explained to them that I will only be making the molding sand available to them when they ask and then it will only be allowed outside on the table because that, too is not cheap sand that can just be thrown around willy nilly.
So my approach to discipline has completely evolved from disciplinarian, authoritarian and coercion to compassionate, kind and empowering. This aligns with my values and amplified them. And each time I respond with compassion instead of react with anger, I feel myself embodying my highest values.
Happy parenting!!
---
▶️ DTube
▶️ IPFS
WHAT IS DTUBESNAP?
This idea is initiated by @nathanmars, you can check it out here. And, don't forget to check out his other videos for more motivation.
Very easy steps:
Take out your phone.
Press play and record for 1 minute your video.
Use tag "dtubesnap".
Upload at https://d.tube (no editing is required)
Easy Peasy!
Come and join us. You can check out so many other DtubeSnap videos by many other Dtubers and get inspired to hop in the fun. Join Dtube now and add value to your STEEM journey.
I invite @ladyofavalon to give it a bash :)