DUSTSWEEPER UPDATE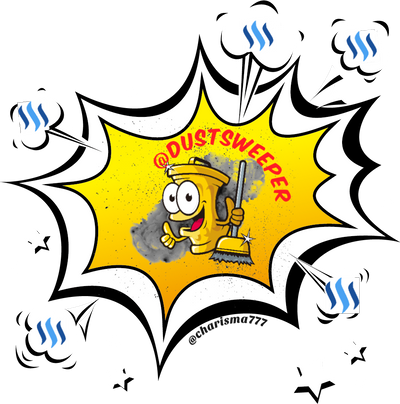 Click here for Dustsweeper's announcement post
Initial issues and bugs - What the future has to bring.
We had an initial high spike of new users which made it difficult to predict the required SP needed to operate the service. Now, after 2 weeks we have reached around 7K SP, which for the moment is sufficient. Going forward, by allowing the Voting Power to drop to about 50% we will have enough room to maneuver and adjust SP as demand changes.
Double bugs
Dustsweeper had two initial bugs which had an impact on the calculated voting values.
The first one was linked to the bot's voting power which didn't refresh properly after each vote. This caused the bot to sometimes vote with a lower than expected value.
The second bug had to do with the steem rounding algorithm. Due to this rounding, small changes in the voting weight will not have a visible change in the vote value. As I had the rounding wrong I was expecting different values.
The combination of these bugs caused @dustsweeper to sometimes vote with a lower value and sometimes with a higher value. I compared @dustsweeper's value with both the steemnow.com calculator and the value from GINAbot and I got contradicting results. I even pinged GINAbot's Discord support group to confirm that their values were correct. Apologise for that @neander-squirrel. 😉
Recovering and payback
The two bugs are fixed and it didn't cause too much harm. A number of votes received a lower value than expected, and in total 8 comments failed to stay above the dust payout threshold. This had also partially to do with the price drop a few days ago. For all those impacted I have compensated by increasing the outstanding balance.

Designed by @charisma777
Dustsweeper Upcoming Changes
Interested to know what is coming next? Here is a couple of things that we have in the pipeline and will introduce shortly. Please stay tuned!
Send gifts to other users.
Opt-in for outgoing votes to reward other users.
Discord Support server and a Discord Dust-Bot.
Dustsweeper Stats
The aim is to release some regular updates with Dustsweeper statistics. This might start in the upcoming week or so. Here is a brief overview for now:
Just a bit over 200 Users are registered.
$400 in total outstanding upvote balance for all users.
A total of $25 saved from turning into dust.
---
---
ps. If you wonder about the cool @dustsweeper graphics above, they were all designed by @charisma777. Please check out her post: https://steemit.com/dust/@charisma777/a-gift-for-dustsweeper
---
Please consider voting me as a Witness.