10 things you can do to reduce Global Warming [4/365]
Global Warming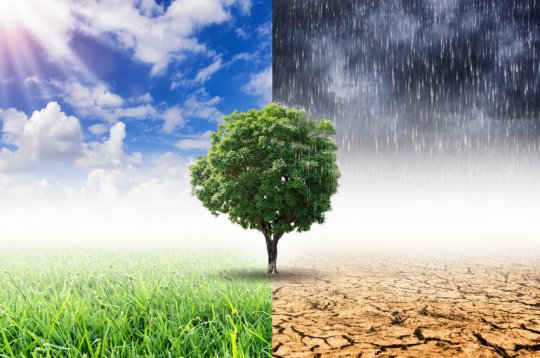 Resource
What is Global Warming?
Firstly, let me tell you what global warming is... Global warming presents a gradual increase in the overall temperature of the earth's atmosphere. Experts say that 15 hottest years in NASA's 134-year record have occurred in 21'st century.
What causes global warming?
Now when we know what global warming is, next question is what causes it?
The causes of global warming are divided into two categories Natural causes and Human Influences
Natural causes
Rotation of the sun that changes the intensity of sunlight and moving closer to the earth
Greenhouse gases
Volcanic eruption.
Human Influences
Industrial Revolution
Mining
Deforestation
What are the effects of global warming?
Effects of global warming are next:
Heavy rainfall with floods
Droughts
Ocean acidification
Species extinctions due to shifting temperature regimes
Heat waves
Melting glaciers
Heavy snowfall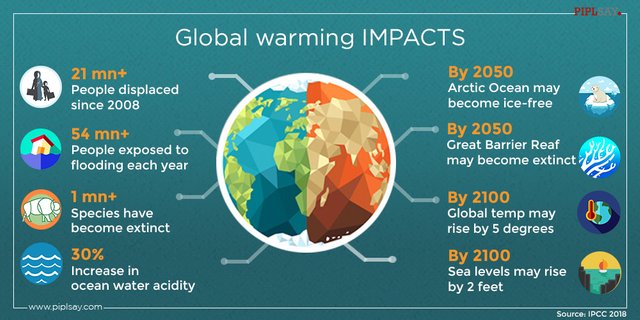 Resource
---
Now when we know everything we should about Global warming, here are 10 things we should do to reduce global warming
1.Recycle
Take over your part of your obligations to reduce the amount of waste by choosing products that can be reused multiple times instead of one. Buying a product with a minimum of packaging (including the purchase of large, savings packages when it seems reasonable to you) contributes to reducing the amount of waste. Whenever possible, recycle paper, plastic, newspapers, glass and aluminum cans. If there is no recycling system at your workplace, school, or community, try to get it started. By recycling half of our household waste, you can reduce emissions of 1100 kg of carbon dioxide per year.
2.Less usage of heating and cooling systems
By installing isolation on walls and ceilings and installing isolation strips or gaskets around your door and window, you can reduce your heating costs by more than 25% and reduce the amount of energy needed to heat and cool your home.
Reduce heat at night when you are sleeping or are absent during the day and keep the temperature moderate all the time. Setting the thermostat settings only 2 degrees below winter and more during the summer could save 900 kg of carbon dioxide each year.
3.Change light bulbs
Whenever practicable, replace the ordinary bulb with the LED bulb. By replacing only one bulb with a 60 W LED bulb, you will save over 20$ over the lifetime of the bulb. LED bulbs last much longer than ordinary, use two-thirds less energy and emit 70% less heat.
If every North American family replaced a regular bulb with an LED bulb, it would eliminate 4 million tons of greenhouse gasses, which is identical to removing 7.5 million cars from traffic.
4.Buy more economical devices
When the time comes for buying a new car, select the one that has low fuel consumption. Home appliances are now available in various energy classes, and LED bulbs are designed to provide stronger lighting while using far less energy than standard bulbs.
5.Drive less and drive safe
Less driving means less emissions. In addition to gasoline savings, walking and cycling is a great activity as well as exercise. When driving, make sure the car is functioning efficiently. For example, maintaining a proper tire pressure can reduce fuel consumption by more than 3%. Every 4 liters of petrol you save will not only help your budget, but will not release 9 kg of carbon dioxide into the atmosphere.
6.Use less hot water
Place your boiler at 48ºC to save energy and wrap it with an insulation layer if it is older than 5 years (ignore this if you have a gas appliance). Use the shower enclosures to save warm water and 160 kg of carbon dioxide per year. Wash clothes in warm or cold water to reduce the amount of hot water and energy you need to produce it. Only this change can save at least 230 kg of carbon dioxide per year in most households. Use the saving settings on your dishwasher and let the dishes dry in the air.
7.Plant a tree
If you have the conditions for planting wood, start digging. During photosynthesis, trees and other plants absorb carbon dioxide and release oxygen. They are an integral part of the natural cycle of gas spinning in the atmosphere on Earth, but they are too small to completely transform carbon dioxide caused by automotive, manufacturing, and other human activities. Only one tree will process about one ton of carbon dioxide throughout its life cycle.
8.Use switches
Save electricity and reduce global warming by turning off lighting when you are not in the room and only use as much light as you need. Remember to turn off your TV, video player, stereo device, and computer when you are not using them. It is also a good idea to close the water when you are not using it. As you are brushing your teeth, bathing, or washing your car, close the water while you do not need it. This will reduce your water consumption bill and help preserve vital resources.
9.Request a report on energy efficiency
Many Efficiency Research companies offer free home-based devices to help consumers identify areas in their homes that are not optimally energy-based. Many companies of these types also offer a discount program to help with the payment of changes made to improve energy efficiency.
10.Encourage others to action
Share information about recycling and energy conservation with your friends, neighbors, and associates, and take advantage of opportunities to encourage public employees to launch programs that are environmentally friendly.


---
These 10 steps will take you far in saving energy and your resources. Remember, less energy means less dependence on fossil fuels that create greenhouse gases and contribute to global warming.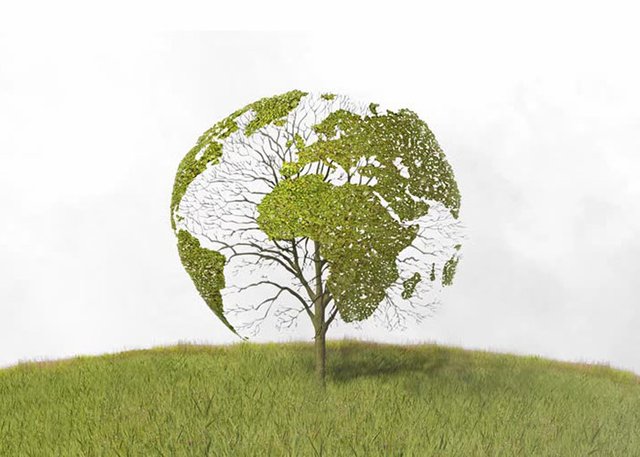 Resource
Text sources: