ECOMI - Introducing a credit card-sized crypto hardware wallet
What does ECOMI offer?


If you have been in the cryptocurrency space for at least a few months, you will be well-aware of the risks of having your tokens on the exchanges or even the security of your private keys without a hardware wallet.
ECOMI aims to create a digital finance management platform that will enable people to spend cryptocurrencies anywhere in the world. In addition, it will offer a secure wallet (ECOMI One) that will offer P2P exchange of digital assets, low transaction costs and other benefits. With this, ECOMI intends to target the issue of security as well as providing a platform for easy conversion of crypto to fiat to enable mainstream adoption.
By the way, this wallet is Bitcoin ATM compatible! Read on for more info:
Primary products
Secure Wallet
ECOMI will offer a credit card-sized crypto hardware wallet - this is paired via an encrypted wireless connection to a host device (Apple / Android) - the interaction with the wallet is through the ECOMI app in a user-friendly manner. At launch, the wallet will support 5 currencies - BTC, ETH, LTC, BCC, XRP and aims to support 30+ currencies by Q42018.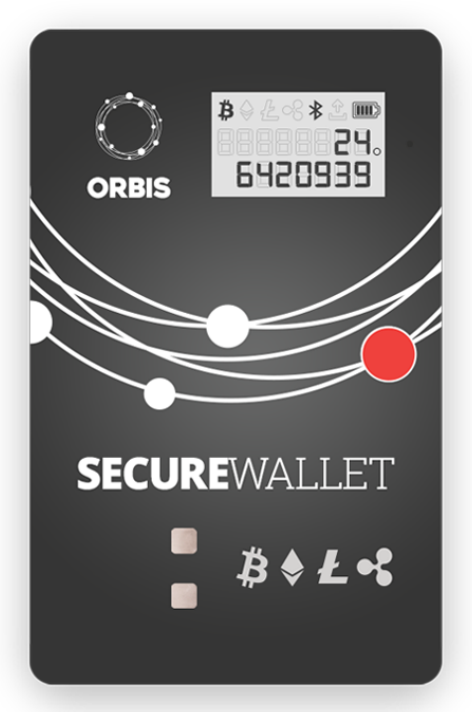 ECOMI One
This card is built on top of the Secure Wallet technology - it can hold fiat, crypto and your NFC enabled debit, credit and loyalty cards - this brings in amazing convenience so you don't need to carry multiple cards and have everything on a secure ECOMI card that can be used for payments anywhere in the world

ECOMI Exchange
The exchange will enable users to spend crypto in a simple way - at PoS, the merchant will receive money in local fiat currency and the user can choose which crypto to spend as default. Users will also have the option of converting crypto to fiat anytime and store it on ECOMI one for later use
ECOMI App
The users will have access to all ECOMI products and services from within the app (mobile / desktop) as well as through browser extensions. ECOMI will use a portion of its long-term initiatives fund to drive community driven DApp incentives to build dapps for its market place
ECOMI Vault
For protection of your data, whether its personal data or music or IP, ECOMI vault will offer a vault where users can upload files and keep their data securely on the blockchain with a record of proof with a timestamp - the real world applications are so many with such a feature - this vault will be free for token holders or $24 for non-token holders
ECOMI Collect
Digital collectables is a growing market - ECOMI intends to take a part in this market by offering a Non Fungible Token i.e. a digital asset that has a verified owner - and offer them through ECOMI Collect
Token Use
Staking the tokens will provide access to all services offered. If tokens are moved out of the address, the user will need to use another payment method like a subscription fee to continue the service or replace the minimum OMI tokens to regain access - the token will be used for application and content access throughout the ECOMI ecosystem
What makes the project interesting?
Contribute $500+ and you can receive a free Secure Wallet (worth $189)
The private keys created in the ECOMI ecosystem will be held offline - in later stages, ECOMI will implement biometrics into the cards to offer a higher level of security - the whitepaper claims that the Secure Wallet is certified CC EAL5+ - the highest security standard for government level deployments
The most attractive thing here is portability - ledger and Trezor are fairly good size but you cannot really travel with them in your pocket without the risk of losing them - in addition, they function in a wireless mode which no other hardware wallet currently offers. To address some other concerns, it is also waterproof and can bend up to 15 degrees
Another great feature which users in some parts of the world will love -- it is Bitcoin ATM compatible
Michael Ou, Founder CEO of CoolBitX (a hardware wallet manufacturer since 2014) is on the advisory board and will play a key role in bringing the product to life
Ward Stirrat, Founder and CMO of Coinpayments and ECOMI board member will work with the team to integrate the various currencies and fiat options
They have a detailed roadmap until 2019 on the whitepaper with various releases in 2018 Q3-Q4
Token Summary
Tokens for sale: 500 MN
Token price: 0.05 USD per OMI
65% of the funding will be for product development, 15% for marketing and business, 15% for operational expenses, 5% for legal
Crowdsale begins on June 30 - Sep 30, 2018 or once hard cap is reached
Overall, I think there is a need in the market for such products that can enable easy adoption and wide usage of crypto. A lot of course depends on how well this is executed and whether it matches everything on the paper. I suggest you to read the whitepaper and look up the founding team before you make an investment decision.
Happy investing!