ecoTrain QOTW JOIN US! "With All the Craziness in the World How Do You Maintain Your Sanity?"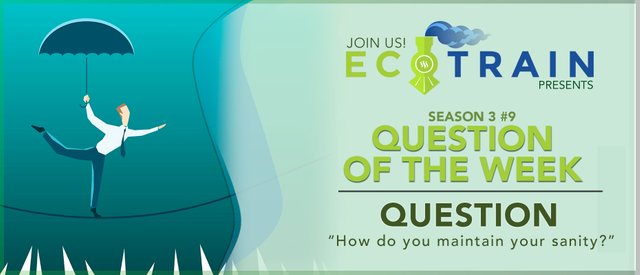 Happy Monday Everyone! I hope you all have been keeping your cool with all the turmoil going on in the Steemiverse and around the world. How easy it is to get caught up in all the going ons, and there is a lot in these tumultuous times. So much so that it can begin to drive folks crazy! Send them over the deep end!
So with all this turmoil and "craziness" going on in the world, how is it some people can remain calm and unaffected? Do they have a special way that allows them to move through it unscathed? What does it take to be able to chose whether you go with that flow or can take the path of your choosing? Perhaps with the aid of a special retreat or sanctuary they can somehow recharge and be better able to face all this. We'd like to know how you handle this. Do you have a way to retreat from it - a sanctuary? Do you have a means of moving through it unscathed? Are you able to choose going with that flow or taking another path? Or is it not an issue for you? Let us know.

POSTING GUIDELINES
"Q. With all the craziness in the world how do you maintain your sanity?"

- We welcome everyone to join us and post your answer to this QOTW.

- Your answer can be a written post, a video, or any way you wish to express yourself.

- You can post anytime from now until March 15th

- You must Subscribe and Post to the ecoTrain Community to post.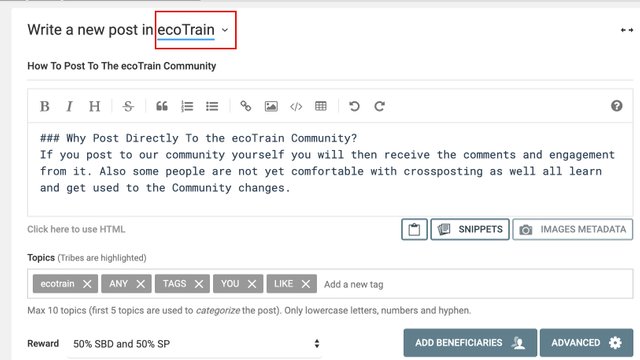 - Please also post a link to your post in the comments so that I will be sure to find it and add it to the weekly tie-up post.
---


HOW TO SUPPORT THE ECO VILLAGE PROJECT
Disrupting the "Cost of Living" Industry

RE-STEEM THIS POST
https://steempeak.com/ecotrain/@eco-alex/steem-ecovillage-update-land-aquired-in-portugal-website-launch-ecovillage-token-is-live
SHARE ON SOCIAL MEDIA
https://steempeak.com/ecotrain/@eco-alex/steem-ecovillage-update-land-aquired-in-portugal-website-launch-ecovillage-token-is-live
JOIN US AT THE COMMUNITY NETWORK WEBSITE
https://www.ecovillages.io/communitynetwork/
DELEGATE TO ECOTRAIN
https://steembottracker.com/delegation.html

BUY ECOVILLAGE COIN
https://steem-engine.com/?p=market&t=ECO



The 8 Pillars of @TribeSteemUp

Supporting People Who Help
Make The World A Better Place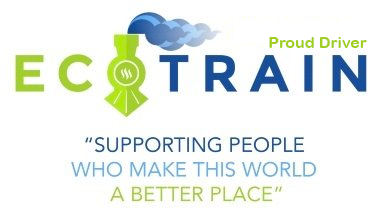 CLICK HERE TO SUBSCRIBE TO THE ECOTRAIN COMMUNITY