CONCEPTS OF LISTENING SKILLS PART 2
Things to note about listening;
Listening is a conscious process as opposed to hearing.

Selecting what to listen to is a step towards effective listening.

Interest is a factor in determining the levels of listening.

Listening involves the following processes: receiving, focusing, deciphering, accepting and storing.

Listening can be at marginal, appreciative attentive and analytical levels.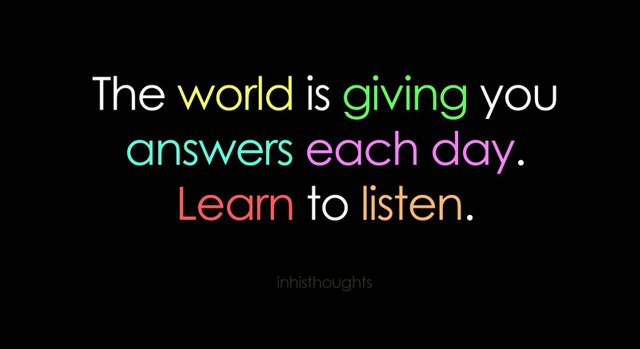 Listening in a classroom
Unlike in a crowded place like the school walkways, dining areas and the compound generally, listening in a classroom involves deciphering, receiving, accepting and storing processes because receiving and focusing are preparatory activities done by you and the lecturer.
Receiving occurs when you choose a programme, an area and a course of study out of the numerous options available. Focusing refers to the lecturer's pre-class activities as he plans what to focus on in a given lesson. Thus, the process you begin with while listening to a lesson in a class is that of deciphering .
However, once in a while other sounds which are not relevant to the lesson may be uttered lecturer. They may as well be a result of other activities in the class; then receiving and focusing come handy to arrest the situation.
Essential Pre-listening Habits in the classroom
To listen well is a task which requires adequate preparation because unlike reading, listening in the classroom gives you a slim chance of recapturing what has been lost. Thus, you have to rely on your ability to:
Predict the direction a teacher is likely to take through acquisition of a working knowledge on the topic.

Use previous knowledge from related discourse.

Identify repetition, itemisation, stress, etc. as signs of emphasis.

Read teacher's facial expressions and other body languages;

Draw inferences from statements which may not be too obvious.

Know that speech patterns could, at times, be incoherent due to digressions, interruptions, interjections, etc.

Note the idiosyncrasy of the lecturer and

Waste no time on new vocabularies or in seeking the deeper meanings of words.
DEVELOPING EFFECTIVE READING SKILLS IN THE CLASSROOM
Having acquainted you with the right attitudes to the entry point of listening in the classroom, I Will discuss what you should do to ensure effective listening in the classroom. As earlier mentioned, the classroom is an environment conducive for listening, unlike a noisy open place, it is serene and comfortable.
However, these alone do not guarantee a successful listening process. An effective listening in this 'quiet' atmosphere requires certain tasks on your part as a listener:
The distractions may be minimal, you, as a listener still have your mind to contend with.
Therefore, you should free it from myriads thought that may Preoccupy it. In other words, do away with any thought outside the lesson such that you will be present in the classroom both physically and mentally.

Choose a strategic place where you can see and easily hear the voice of the lecturer.

Avoid sitting near someone who is talkative who may easily cause distraction.

Identify relevant points only and jot them down.

Note discourse markers and pay attention to cohesive devices.

Associate verbal ( words ) and non-verbal ( body language ) cues to draw your meaning. This is because more often times than not, non-verbal cues corroborate the verbal cues in a communication act.

Develop your jottings into note form immediately after the class. At this time, the lesson is still fresh and this will facilitate easy recall of things you could not write down during the lesson.