Did I Pass My First College CLEP?
Analyze and Interpret Literature.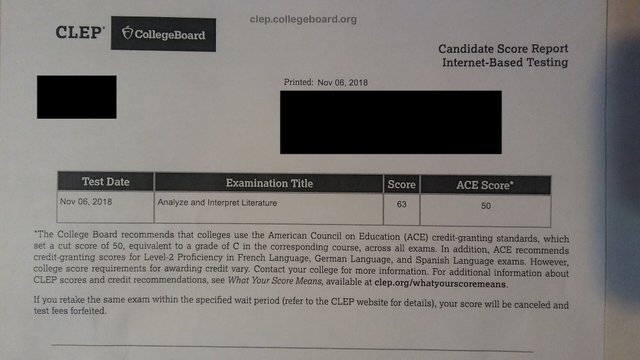 The other day I announced that I was starting down the path towards a 2-year college degree at the age of 37. I just had never needed one before and you could say I still don't. However, I am close to a lean FIRE (lean FIRE means to retire early without much more income than expenses) and believe that having a degree - even a two-year one - is something like an insurance should I ever need to find a job for income.
The most efficient way for me to complete the degree was to take knowledge tests in lieu of classes. I decided that my first test should be Analyzing and Interpreting Literature. I read that it is not too difficult and figured that it would be a good place to start to ease me into it and let me see what the testing process was like. The Community College that runs the tests gave me a sheet that stated it a 60% pass rate from those who took the test last year. That was one of the higher ones.
I can tell you that I was getting pretty nervous while standing outside the facility waiting for them to open. Once the test got started I fell into my groove. The real test had a better interface than the one on my practice test! As an example, the practice test said stuff like "on line 42..." and while sometimes the writing had line markers, I still had to count to regain the line I needed. But the real test highlighted the appropriate lines for me! So much easier that way, let me tell you.
Anyways, after about an hour or so I finished and ended up with a 63 on a scale of 20-80. A score of 50 would mean a 'C.' So I was in the 'B' grade range.
The first step has been taken.
What about you? Are there any educational goals that you want to accomplish but haven't yet? Let me know!