Impact of Distributed Ledger Technology on European Policy-making
2016: "Distributed Ledger Technology: beyond blockchain"
Back in 2016, governments had started talking about the potential of the blockchain to transform economies, society and politics. The preferred term then was the more generic "distributed ledger technologies".
The UK's "Government Office for Science" had published a well-received report noting:
"Distributed ledger technologies have the potential to help governments to collect taxes, deliver benefits, issue passports, record land registries, assure the supply chain of goods and generally ensure the integrity of government records and services"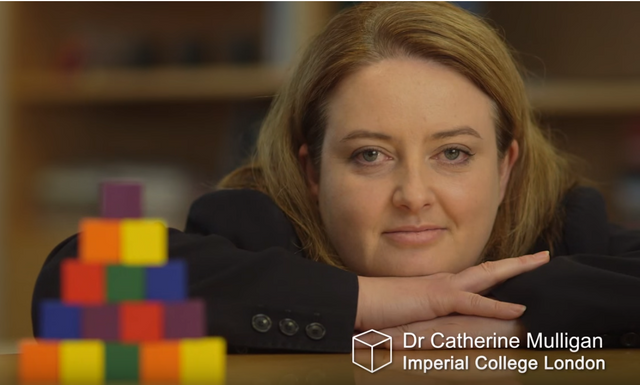 Click on the picture to watch the short movie on YouTube
2017: IDiLeTech EP
In this context, as the European Parliament and the European Commission were abuzz with the soon-to-be-launched "European Blockchain Observatory and Forum" call-for-expressions-of-interest, I proposed a study to my Directorate General for IT (DIGIT), called "Impact of Distributed Ledger Technology on European Policy-making" (in short: IDiLeTech EP, an admittedly clumsy pun)
In the introduction to the request, I was writing:
[...] as Gartner points out ("Top 10 Mistakes in Enterprise Blockchain Projects") , there are currently over 70 options in blockchain technologies and aside from bitcoin and Ethereum, none is proven at any kind of scale. Blockchain platforms are immature, and lack standards and well-established deployment best practices ("A Technical Primer for Assessing a Blockchain Platform").
Objectives
The objectives of the study were:
perform a readiness assessment to identify the typology of processes suitable for decentralization and shared ledgers;
select an appropriate architecture strategy and compare candidate platforms;
analyse in this context the technology building blocks used in the candidate platforms:
recommend a system for managing, transferring, communicating knowledge and skills in this area in the specific context of the Commission.
Team
The study was carried out by Deloitte in the framework contract "Advice, Benchmarking, Consulting IV"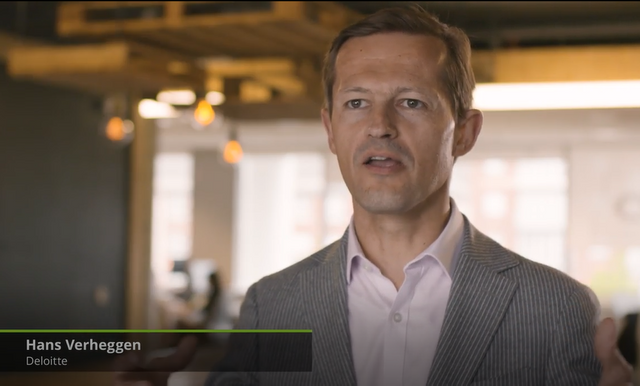 The Partner in charge was Hans Verheggen and he put forward a strong team, including Jean-Luc Verhelst, a well-known Belgian consultant, trainer, speaker and book author who at that time (we are already in late 2017) was working for Deloitte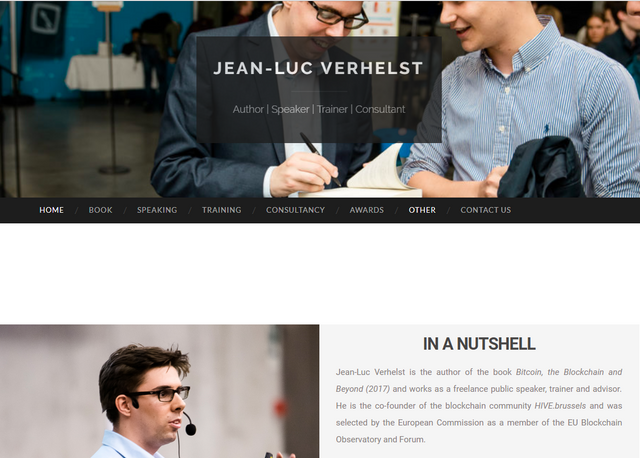 Types of processes
In their study report, Deloitte wrote:
In the Tallinn Declaration of eGovernment, it was recognized that there is a need for an open but secure, user-centric, digital-by-default, reusable and accessible technology that would reduce redundant administrative burden in public services and promote the uptake and reuse existing technologies.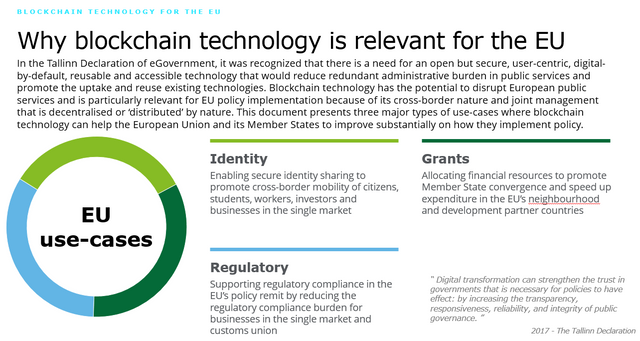 Blockchain technology has the potential to disrupt European public services and is particularly relevant for EU policy implementation because of its cross-border nature and joint management that is decentralised or 'distributed' by nature. This document presents three major types of use-cases where blockchain technology can help the European Union and its Member States to improve substantially on how they implement policy.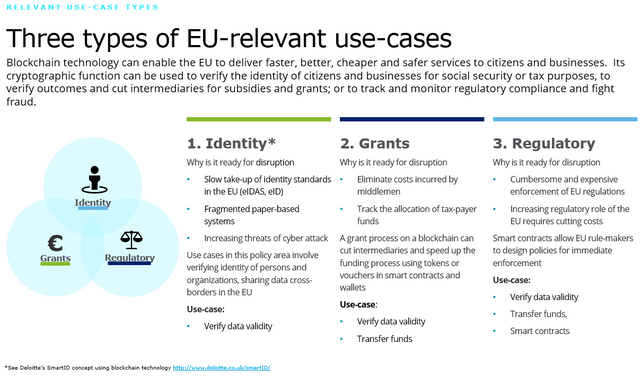 Architecture Strategy
To identify a platform for a proof-of-concept or pilot the Commission and its stakeholders need to find a balance between "best fit" and "flexibility". In the current landscape, it is advised to select a platform that fits at least two of the three use-case types identified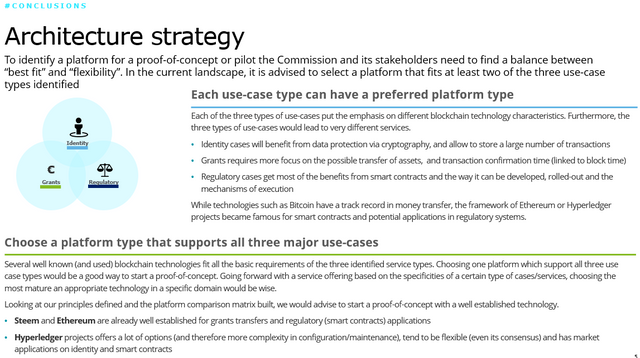 2018: European Financial Transparency Gateway
I have written at length about this first pan-European blockchain network, run by the European Commission in a consortium with 6 European "Officially Appointed Mechanisms" (OAMs) and on which a total of 10 OAMs contribute data to a shared platform dedicated to financial transparency and growth in investment.
This pan-European blockchain network runs a permissioned clone of steem.
Steem
As you can see in the slide above, we are in early 2018 and the Deloitte team outlines that, in the scope of the EU-relevant process classes ("identity", "grants", "regulatory"), alongside Ethereum and Hyperledger, Steem might be an appropriate platform to trial out!
Deloitte's "IDiLeTech EP" report has fed into the platform selection work done by DIGIT's "Blockchain Competence Centre" and gave us confidence in choosing the steem blockchain to implement the "European Financial Transparency Gateway" pilot project.


Related posts
EU-citizens-blockchain-in-a-box

If you know what witnesses are and agree that people commited to keeping this blockchain ticking play an important role ...

(by simply clicking on the picture - thanks to SteemConnect)
Other posts you might enjoy:
Blockchain and Europe


You might also want to check out