PomeloPro-World's Longest Range Electric Longboard
38 Km Range | 42 Km/h Top Speed | Swappable Battery | 17° Hill Climbing | Advanced Design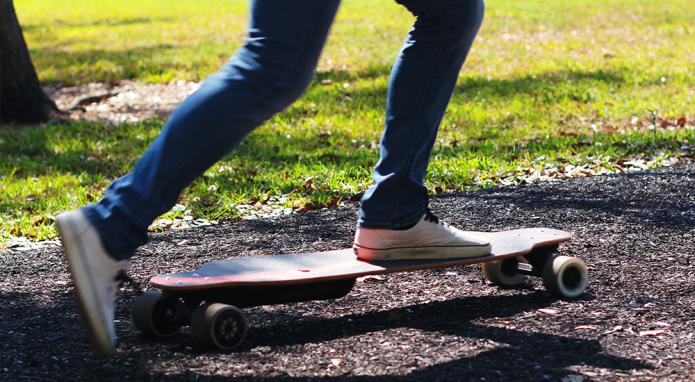 Go on long cruises and adventures with the Pomelo Pro, the world's longest range electric longboard.
✅38 Km Range
✅42 Km/h Top Speed
✅3 Speed Modes
✅17° Hill Climbing
✅Swappable Battery
✅Regenerative Braking
✅High Endurance
✅Longboard Look
✅USB Charging Port
Loaded with exciting features, the Pomelo Pro is the electric longboard pushing the limits of rideables forward.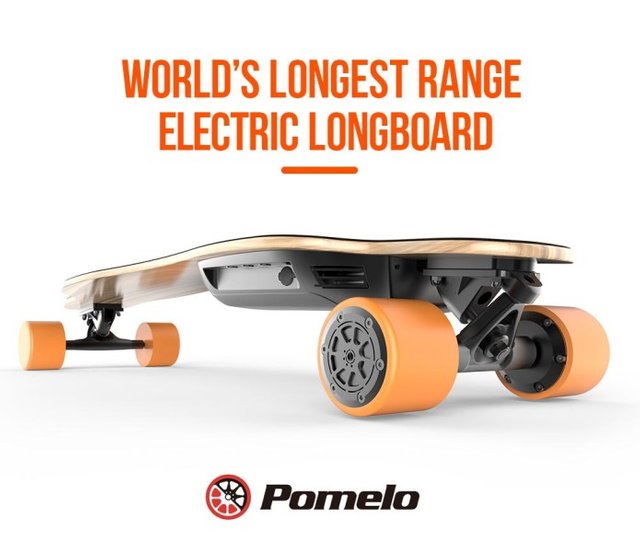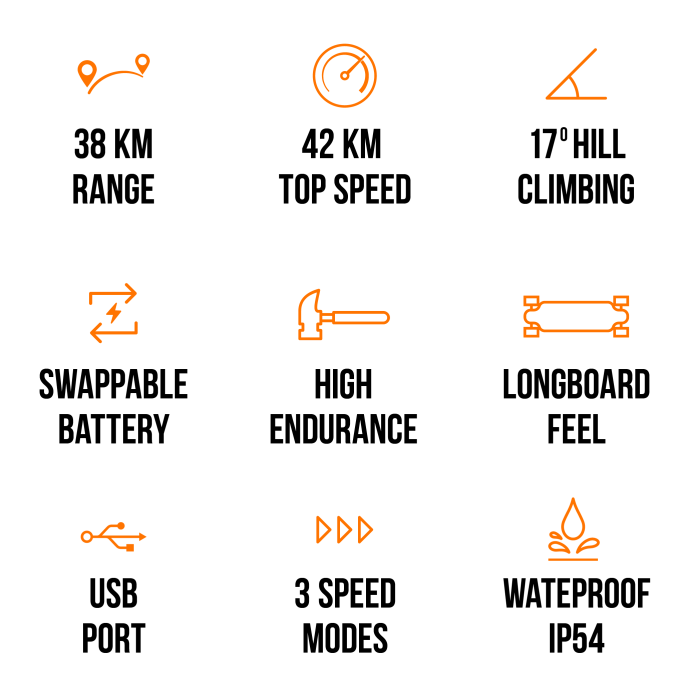 With a full charge the Pomelo Pro can carry you for 38 kilometres, making any city seem small. Thanks to its incredible range, large battery, efficient hub wheels, and regenerative braking you'll never have to worry about running out juice while on a long cruise.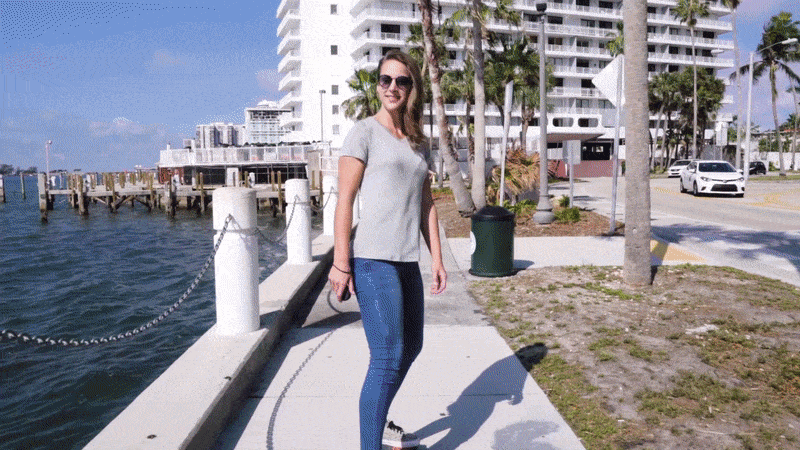 Get everywhere you need to go faster than you thought possible with Pomelo Pro's dual 200W motors and 4 nm of torque.
Pomelo Pro offers multiple riding modes to accommodate any rider no matter their skill, whether you are a beginner, seasoned veteran, or a casual cruiser.
You can even switch between different modes based on riding terrain to extend the range and get more out your board.
Pomelo Pro's advanced battery and dual Hub motors let you make easy work of hard hills. Reach speeds of 25km per hour on 17° inclines and hills and never break a sweat again.
Get more out of your ride with Pomelo Pro's regenerative braking technology. It captures and stores energy that would typically be lost while braking allowing you to get more distance out every ride just by slowing down.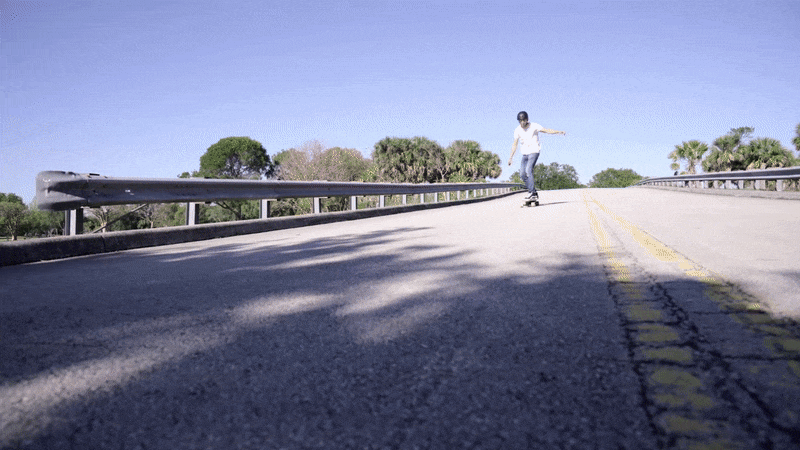 Go the distance with Pomelo Pro's 5700mAh easily swappable polymer battery. Its high capacity is guaranteed to last you for any trip or daily commute you need to make.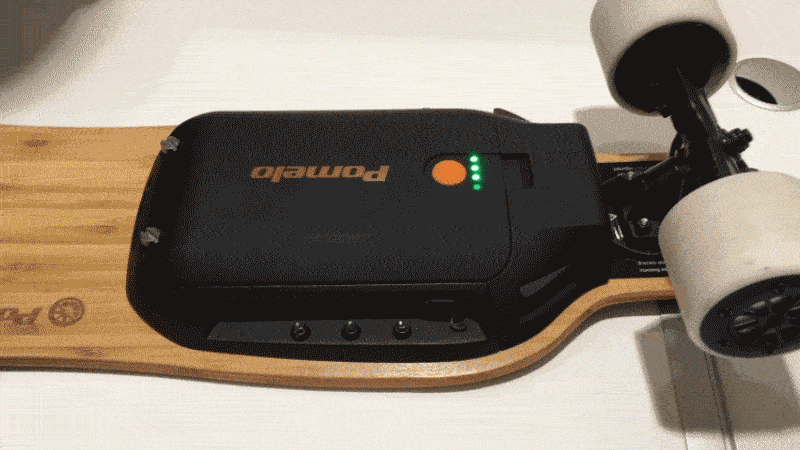 Fast Charging
It also is capable of fast charging, meaning you can charge your Pomelo Pro battery to 100% in just 2 hours and be back on the road in no time.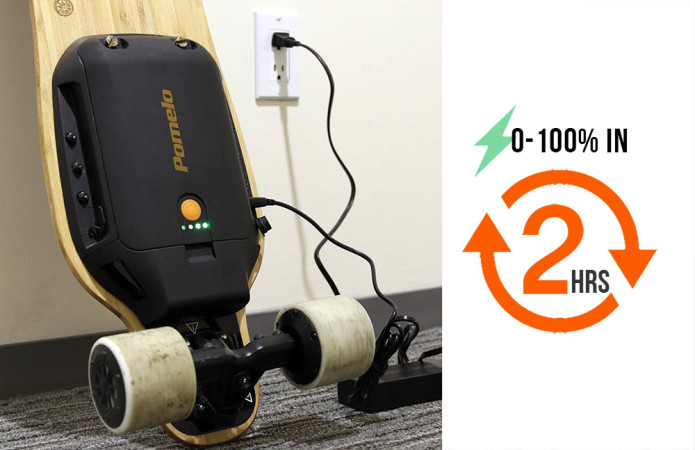 USB Charger
The battery has a built in USB output so you can charge your devices on-the-go using your Pomelo Pro as a power bank.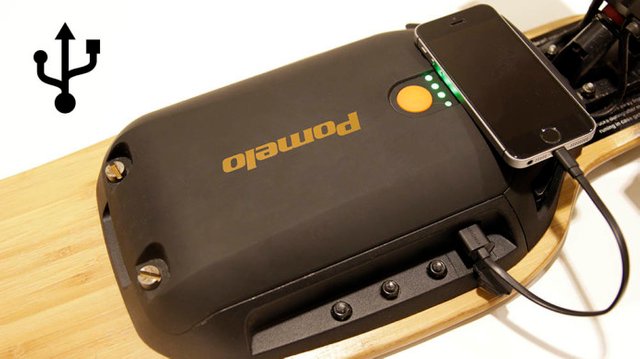 Pomelo Pro uses dual changeable Hub motors with 200W of power and 4 nm of torque for quick acceleration and braking. They are also easily interchangeable, so you can swap out the polyurethane tire around your Hub motors when they wear down.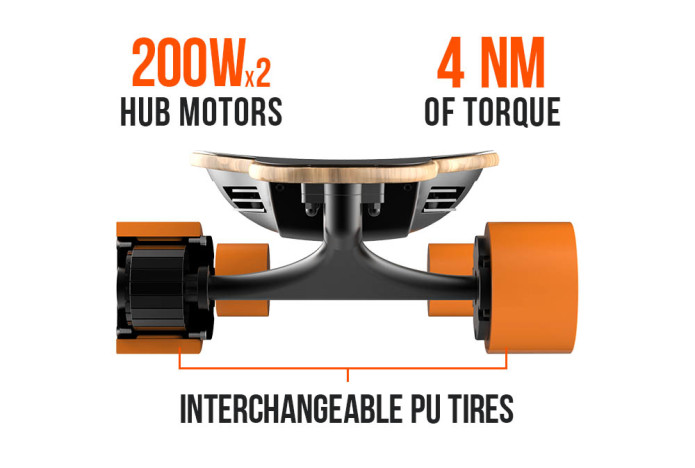 Pomelo Pro uses an intuitive remote trigger so you can control every aspect of your board with one hand. Change the direction, speed, or check the battery with a simple press of a button.