Email Income Guide
Your email list is the most important asset you own as an online business owner, blogger, or digital marketer. This is your audience, your crew, your tribe. Your email subscriber are the ones who will who keep coming back to read your contents, and they are also who you will build enough trust with so they will buy from you (either Service, products you create, or promote)
In order to build an email list, you'll need to sign up with an email service provider, here are 9 Best Email Marketing Services for Small Business owners
The Majority of bloggers make an average of $1-$3 in revenue per email subscriber each month! If you have a list of 1,000 subscribers, you can make up to $3,000 in revenue off that list per month!
Let's say you manage to build a list of 10,000 subscribers. You can make up to $30,000 in revenue off that list per month!
If you step things up a notch and build a list of 100,000 subscribers, now you can make up to $300,000 in revenue off that list per month! That's insane.
If you're new to email marketing, here are a few recommendations:
Here's an article you can read on the 9 Best Email Marketing Services For Small business owners.
Last but not least, read this post on How Much Money You Can Make Blogging. You'll get a clear understanding on how the successful blogger makes money with their blog.
Now let's move on...
What are the key metrics you should pay attention to when it comes to making money with your mail list? After you send an email, knowing how many contacts opened and engaged with it is very important. Here are 3 key metrics you should always focus on:
Your Open Rate
Click-Through Rate
Purchase Rate
Below, we have provided detailed explanations of what these metrics mean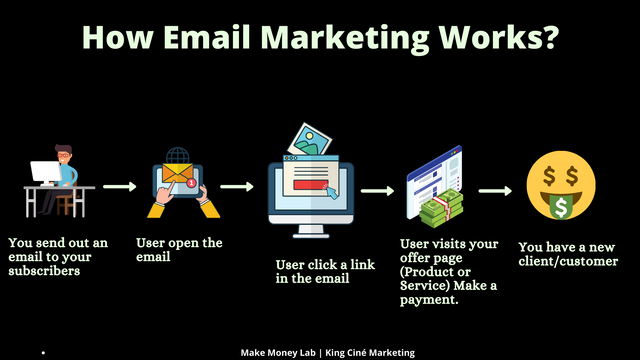 Open rate: Open Email rate is the percentage of people who received an email and opened it. Open rates vary widely and depend on a range of factors. Some factors that affect open email rates include:
The industry of the email sender
From name
Subject line
Time of day
Day of the week
Despite the variation in open rates, an excellent open rate is typically 20%-40%.
Click-Through Rate: Your email click-through rate (CTR) measures how many people received your email that clicked on at least one link. It's one of the most commonly talked about email marketing metrics.
Purchase Rate: The percentage of email subscribers who click your email link, visits your offer page, and buy from you (either Service, products you create or promote)
Keep in mind that the goal is not to build an email list to spam people with your services, products, or offers, but use your email list to build trust with your audience and position yourself as an authority in your niche by providing value.
But, yes, of course, sales emails are a part of the process. That part needs to be authentic. For instance, for every four valuable emails you send out to your list, one of them can be a sale email where you ask your tribe to buy (either Service, products you create or promote)
Thank you for taking the time to read this short guide. You can access the calculator in the next section.
I hope you find this guide helpful and we are King Cine