Engineering the Infrastructure - City Planning Basic Education
The evolution of human settlements reached an apogee in the second half of the last century, and then, with the appearance of the automobile, something awful has happened. The cities that once teemed with life started to turn sterile and the narrow streets with wide sidewalks started to get wider while the sidewalks got narrow and narrow, in some places disappearing completely. While in some very civilized parts of the world, including some places in central Europe, the atmosphere was kept close to what was originally designed, many of the other places lost their charm and turned into urban sprawl, horrific surfaces of monofunctional areas, designed for a single purpose, to automate and zone the living.

Life in an urban sprawl - how bad science turned its back to life
By using single-use zoning you have to live in a residential area and depending on your average income, you can buy nicer of not-so-nicer property or zone. Bad zones are far away from the city, sometimes ever too far to use public transport so you have to rely on your car. You then have to drive to work, in the business zoned area, which might happen to be in the other side of the city. The growth of the number of cars means that the highways need to be larger, wider. And those buses should not drive so slow, especially when you are hurrying to get to work. To avoid the traffic you will sometimes have to take "shortcuts" which will take you through "bad reputation neighborhoods". You know what I am talking about. In the lunch break, you must quickly get up in your car and go somewhere else to eat if you hate your building's cafeteria. And then quickly back. You also have to work fast so you can take your children from work and hurry up, you need to do the shopping all the way to the commercial zone. It's always so crowded there in that huge parking lot. By the time you get home to eat, cooking or not, several hours have passed, lost forever in traffic and mostly alone in your little bubble called a car. But at least you don't have to socialize, and you can listen to whatever you want. Time to get to the gym, the GPS says 38 minutes until arrival. You are too tired to visit the nice city center, you will find time tomorrow, surely.
Depressed yet? No?

We need a paradigm shift
What if the solution is not bigger, badder infrastructure but something more intelligent? Something that will also help development, pollution, commerce and interaction?
You don't have to be a psychologist to realize that people are more and more depressed. Working like robots day and night, standardizing their lives, fitting their desires to the ones of their own cities. Anxieties and lack of fulfillment, lack of time and so on.

First we need to understand the basic problems of the urban sprawl
I don't consider myself a genius, I am just your usual fella that thinks before he acts. How could the many city planners plan such madness? Were they not prepared? Is it that hard? Were they not interested? Were they corrupt? How can a city grow into such a monster that sucks its inhabitants of life and time?
It increases the number of driven distances and time spent in traffic
Adds a lot of pollution, discouraging pedestrian activity and endangering children's health
It requires a huge infrastructure, some cities even have gridlocks on 10 lane highways
It encourages wholesale sellers to act as intermediaries and set the price and control the market
It moves the vibrant city life to the shopping centers and away from the neighborhoods
It bankrupts shop owners who want to open shops anywhere except the city center due to reduced number of clients
Huge costs to rent in a shopping center or in the city center, prohibitive for any small business
It segregates low income from medium and from high and then offers segregated land value improvements to each of the zones
If the requirements for any type of zoning diminishes, the advent of urban decay is hurting the whole zone
Adds huge upkeep costs, just to own and operate that infrastructure
Makes a hell of an ugly city, due to limited green space just to cram everything together
I am writing this from Bucharest, Romania - it has Europe's worst traffic according to mapping and GPS navigation company, TOMTOM. This is mostly due to crass incompetence of the mayors and their lack of vision, scientific, social or anything else. Policies are written against bikes and pedestrians, with governments actually planning to dismantle existing bike lanes in favor of more lanes for traffic, it's perplexing.

What are the alternatives?
Designing a better city is always a challenge but it's not that hard as you might expect. First of all, we must come to terms with what a city is, ideologically. Its purpose is to help get people together and improve commerce. To have everything within a reasonable distance. To design a city for people, not for cars. If you are coming from the US, you will see that Europe is already a bit better at that than the US, but don't take it for granted, it lacks in the most important parts.

Designing according to clusters of interest
Keeping people together is good but having them migrate each day towards other zones is pointless. And the people hate it. So why don't we try to turn the commute into something pleasant? How do people commute? They could walk if the places they seek are within 20 minutes of walk time. They could use bikes if the areas they seek are within 20 minutes of biking. They can use public transport if they don't have to change or if the changes are short and comfortable.
What if a big city is broken into smaller self sufficient clusters? What does it need to function and what will happen to the inhabitants?

Food, services and basic commerce
Nobody wants to live at the lower building floors in a city due to the noise and the constant activity. So why not use the lower floors of all buildings as local shopping and service spaces. Think of how easy it would be to buy local, quality goods from people you can trust and see day by day. The chain of trust would be very short, and it will empower the small entrepreneurs. Not only you will not have to commute to these kinds of services ever again but it will actually make you discover new places and you will have a huge selection of good and services, some cheaper, some more expensive. The owners will most probably live close by and will have every interest to invest in the neighborhood, not pollute it and maintain a better social responsibility.
This will also keep the social segregation low as the rent for these types of spaces will be lower, these spaces would be everywhere, not only in a central area of the city. Preventing social segregation is paramount for the developing of a true future society as it will prevent social bubbles and social ignorance from developing. Inter-human relationships can also be better developed as people from the communities form connections and educate each other on all aspects. While some of these services will need to be provisioned, these operations can be scheduled as to not hinder the traffic.

Security and further social responsibility
This will effectively shape the local communities as there will be less indifference to social cases or cases of aggression and general criminality will drop. And these types of communities will be able to elect responsible and trusted person to represent them further up the chain, not even mentioning that debate regarding new policies and further investments in the cluster would be easier and much better understood by everyone.
Education could be done locally, children don't have to travel all the way to the other side of the city for that "best" school, due to issues in funding in others. Since there will be no socially impoverished neighborhood, the education will also be done in a similar way for all the people, breaking the current poverty loops. This will allow teachers to develop their own programs and get better funding that is fit for their neighborhood education.
Marginalization of the immigrants, or any other racial and social classes could stop. The integration of new residents into the already social structure will be easier and more organic, making the current problems grind to a halt, since everyone will feel closer to them, and not only a part of a statistic. People could be re-sensitized, repairing what is now seen as the biggest problem of the human race, the lack of inter-human care. Specialized services for each of the minorities will also be able to develop due to the drop in rent prices and availability.

Health and happiness
The unemployment is expected to drop as job opportunities will increase, even for the elderly, since low level shopping and services have a higher tolerance of elderly employees, due to less management systems and less overhead and training required for them. While talking of health is not my job, but rather the jobs of @conficker , @abigail-dantes or @tfcoates, we can just agree that the more employed people we have, the more the support for a better healthcare and better access to in-depth techniques and funding.
Walking or pedaling instead of driving could also help, I am one of the people that walks less than 4000 steps everyday. Maybe we can't get everyone out of their cars, but a significant percent of the people that are now driving, will be able to just walk to their businesses or school. Having all the basic services at walking distance it will mean that a lot more time is saved, remember that long trip to the gym that I was talking about earlier? You will finally be able to revoke that gym membership without feeling bad for a bit (sorry gym owners, contact me and we will find a way for you to also survive).

Transport infrastructure
The revitalization of the infrastructure is very important, but it must be tailored according to the new needs. Because having most of the services available locally, the traffic should clear a little (or a little more). There is no need for 3 lane streets in these clusters, aside from the main flow routes, if we look at some of the advanced traffic countries out there (I'm looking at you Netherlands and Denmark) we can observe that local streets of just one or two lanes can take most of the traffic, combined with a system of fast entry/exit intersections (I took this one from aviation - more on it in a future more technical article). And yes, less traffic lights, and more organic and flow-aware roundabouts and psychological speed limiters instead of those aggressive speed bumps.
With the spare space, we can increase the sidewalk and add wide bike lanes and public transport lines (with or without driver but electric).
Having a lot of transport lines with connections coming in quick succession and sized according to the specific needs will also help build trust in them and their use will increase. This must also be followed by a 100% exemption of local transport fares, as I think that it is part of the basic set of rights a state offers to its citizens.
The schedule will also be easier to keep for the public transport since the streets will be a little less congested.
The bike is the most effective means of transport since it has benefits to health, it is speedy and doesn't take a lot of space or resources to build. Having a bike sharing program will further increase this advantage. The daily user doesn't have to own his own bike and clearly he doesn't want to spend time to maintain it, so by having a commercial company to own and maintain the bike fleet is seen as a big plus.
The streets will also be safer, less cars, wider lanes, better security and more efficient flow, combined with more trees that will partly shade the buildings and tarmac, reducing the temperature of the cities.
Walking is most natural way of transportation. Each city should have pedestrian only pathways, shielded by trees and maybe even complete streets closed just for pedestrian use by day and provisioning by night. This will raise the commercial value of these streets and if used in conjunction with bigger intersections transformed into plazas, might even transform into small public entertainment venues and impromptu cultural events. Letting the new generation of children express themselves in public, might give them a different mindset. The options are so many that I am almost thinking of running for a council position once the current political government is trashed (remember, Romania is lead by corruption convicted felons who are trying to modify the entire justice system to allow them to rule without opposition, with only the President holding us in the EU).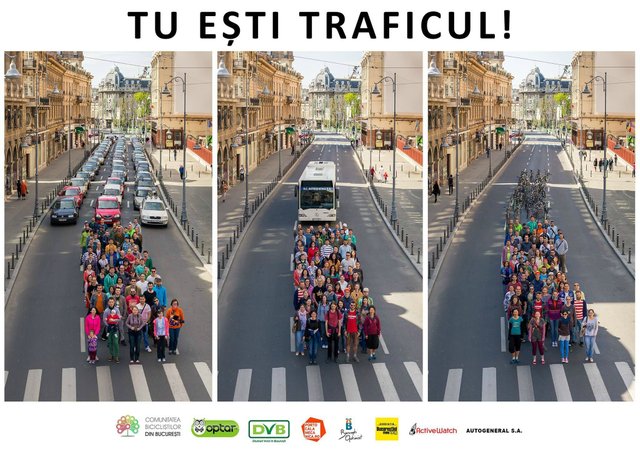 Public Domain awareness campaign made by collaboration of all the major Romanian biking NGO's and others, in order to graphically inform people of their transport footprint. The title is "You are the traffic!" .

Not all jobs can be local
While not all jobs can be local, the merging of business offices, commercial and service spaces with residential buildings, high rise or not, can contribute to the drastic lowering of traffic. But heavy industry can't be localized, neither can some type of specific jobs, so for those jobs there's not much that can be done in a first step (but driver-less cars and public transport can definitely help in the future years).

Instead of conclusion: We must keep in mind that options were always here, and if we want to progress we must shift the paradigm, think out of the box and not continue to accept the directions we are pushed to follow out of inertia. Write to your mayor and help educate others about the options. Not all of them will be open, but at least we must wake the engineers that are planning the streets. Especially in countries that are at the beginning of their infrastructure development, since everything is cheaper in this stage to set up. And let's not forget that a change of attitude and mentality is also needed in these communities. Next time I will get up and technical in the science of city planning.

Sources:
https://en.wikipedia.org/wiki/Zoning
https://en.wikipedia.org/wiki/Jane_Jacobs#Works
https://en.wikipedia.org/wiki/New_Urbanism
http://onlinelibrary.wiley.com/doi/10.1111/1467-8330.00249/full
https://www.sciencedirect.com/science/article/pii/S0094119003000597 - subscription needed but looks very interesting from what I read in other places about it.
https://www.ted.com/talks/peter_calthorpe_7_principles_for_building_better_cities/discussion#t-530911
http://journals.sagepub.com/doi/abs/10.1080/0042098993033 - I am amazed at how most of the studies are pay per view.
https://www.tandfonline.com/doi/abs/10.1080/01944360308976328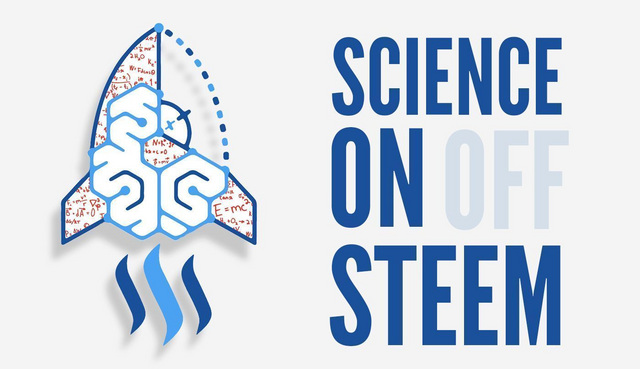 SteemSTEM is a community project with the goal to promote and support Science, Technology, Engineering and Mathematics on the Steem blockchain. If you wish to support the SteemSTEM project you can:


Contribute STEM content using the #steemstem tag | Support SteemSTEM authors | Join our curation trail | Visit our Discord community | Delegate SP to SteemSTEM