STUART
Greetings my esteemed ones, once again trying to conciliate the dream ... (This is a translation to the English of a post of my property ... I have supported myself with Google Translator)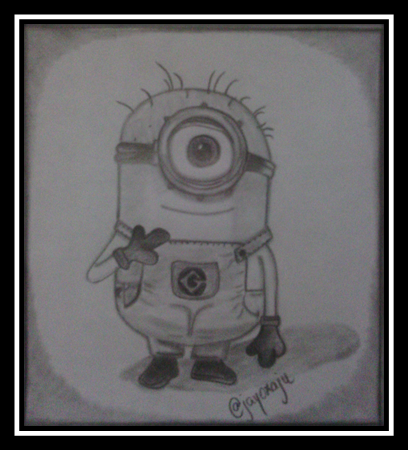 Today I bring a character that although we have seen many times even personally makes me laugh a lot, is more I'm writing these lines I imagined his peculiar way of talking and being and I can not control my laughter.
It is nothing more and nothing less than one of the minion, he is called Stuart, thanks to my children as always is that I have been able to meet these wonderful characters, because I confess them although I understand very little what they say when they talk like I love hahaha hahaha .
This character I could meet through the children's movie "My Favorite Villain"
Three minions embark on a dangerous mission, to find someone new to serve. At first, and although they try with Napoleon, Dracula, and T-Rex, they do not have much luck. But their luck changes when they encounter Scarlet Overkill, the first female super villain in the world, who is plotting with her husband, an inventor named Herb, a plan to dominate the planet.
Release date: June 17, 2015 (Indonesia)
Directors: Pierre Coffin, Kyle Balda
Music composed by: Heitor Pereira
Story by: Sergio Pablos
Languages: Spanish language, English language
SOURCE
How is the Stuart Personality?
Stuart is very funny and playful. It is very good playing video games like Dave. He can also be the most sincere and innocent of the minions. However, he also seems to have a rebellious attitude. He is seen as a bum by the other Minions, as he prefers to relax and play the guitar to listen and follow rules. In addition, he is always hungry. You can see in the Minions how he tries to eat Kevin and Bob, thinking they were bananas.
SOURCE
Having said all this about Stuart, I present my step by step on how I draw it.
Used materials:
*Block of white leaves.
*Diffuser.
*Professional pencil 8B.
*Pencil H.
*Not being able to sleep and so encourage you to draw hehehe hehehe.
Here the image you use as a reference.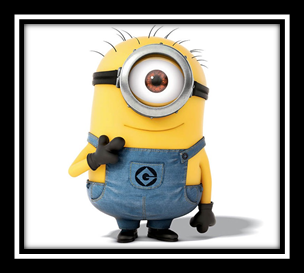 SOURCE
First, we made our sketch.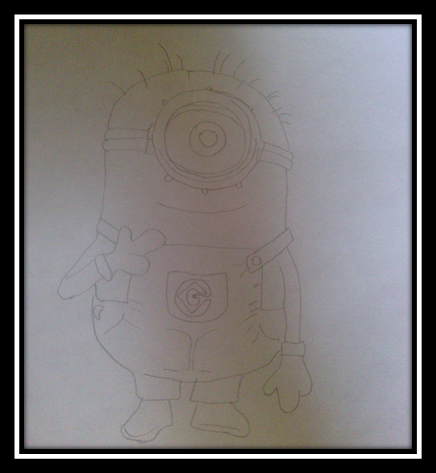 As a second step I focus on his only eye, and part of the head.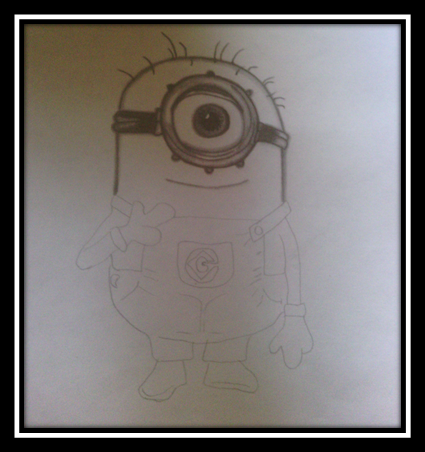 Little by little I was working on the shadows and other parts of the body like her gloves and the logo of her panties.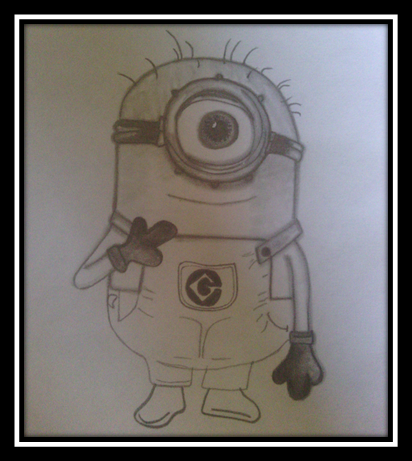 Finally I finished all the details of the panties, blurring and giving the necessary shadows, leaving my Stuart in this way.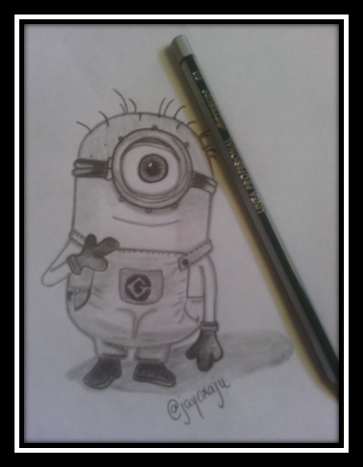 Please feel free to comment what you want, and if you have any suggestions for me do not hesitate to tell me.
All the photos are from my author, taken with my Blackberry cell phone.
ACKNOWLEDGMENTS
To God who gives me the opportunity to share this kind of experiences, to your beloved brother @javisem for being my mentor and my main support.
To you my good friends, who give life to each of my writings with their beautiful comments among them we have: @abigail-dantes, @paco, @zenkly, @paokarinat, @norkamoran, @lilianajimenez, @jedamez, @elteamgordo, @jleiva, @angelggomz, @luis07, @crisangel, my dear @ropavejero. I apologize if I miss someone to name, like everyone thank you very much.
A little person who gave me the biggest surprise since I'm here on this beautiful platform my friend @tincho, thank you for such beautiful words and support.
To you great team @cervantes and all your clan that for me are the best @goya, @velazquez, @don.quijote, @sancho.panza, @simon.bolivar that together do a wonderful job supporting all Spanish speakers . A thousand blessings!