"A bed for HEDRIAN"
Greetings, my dear... This is an English translation with the help of Google Translator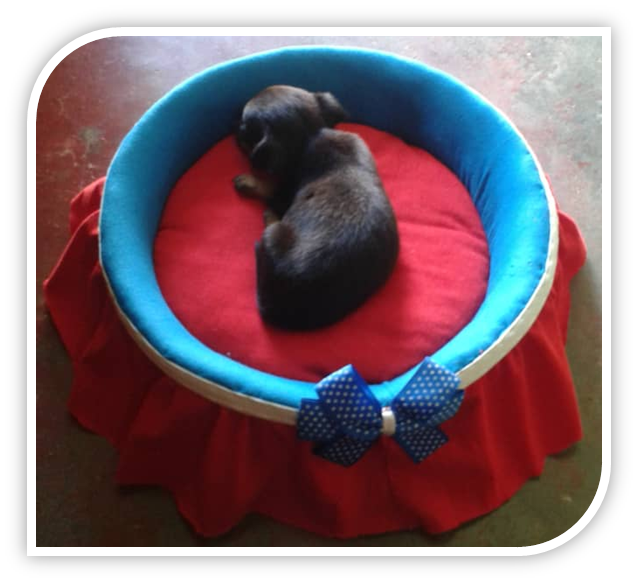 ---
Since my mother was very sad about the departure of her only granddaughter to another country, I decided to somehow or other encourage her and try to occupy her in something.
A friend gave us a puppy and what a better gift for her than just that little thing, it fell as a ring because it would be an entertainment for her, this way she would be busy taking care of him and taking care of him. I present the new member of the family Hedrian Semprún Nava hahaha hahaha yes, my mom put his name and surnames.
Since we already had Hedrian, we had to take care of giving him the comforts he deserved and more being a puppy, so between my mom and I we got down to work and made his own little bed.
Without further ado, I will show you how to make this little bed, very cheap and quite simple ...
---
MATERIALS TO USE:
A basket of the size of your preference.
Thread and needle.
Wadding foam.
Fabrics the color you prefer.
Scissors.
Anime.
Tape.
A Tie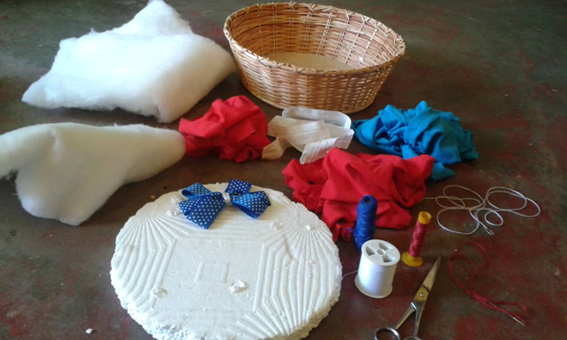 ---
STEPS TO FOLLOW:
1.- First we made what would be the mattress for the bed, for this we cut out an anime circle. Remember that the basket is to the taste of the person or the size of the puppy and depending on this will be the size of the circle of anime, we will also make a circle with the foam wadding and another of cloth (red). Observe the images.
2 .- I want to make the observation that the fabric cut out in the shape of a circle, must be larger than the anime and the foam wadding and so on, since the fabric will cover two things. Here you will see other images of how we will make the quilt, we first put the fabric and above this the wadding and finally the anime to then sew.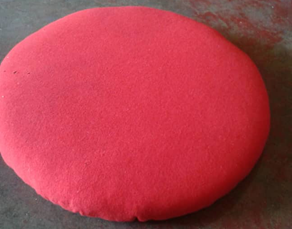 3.- Once the mattress is ready, we take the basket and start to put it together. Again we cut a rectangle of foam wadding everything to the size of the basket that you choose, personally my mom and I work as we say here in Maracaibo everything to the eye.
We take the wadding and we go placing it by the walls of the basket, this type of material is very easy to mold in what we want. Once the wadding is around the entire basket we cover it with what would be the fabric (blue), and then stitch it around the basket and finish stretching as much as possible and leave it smooth. Here the images.
4.- As a fourth step we will make an adornment for the bed and make it look more beautiful. We cut a rectangle of cloth (red) and with thread and needle what we do is roll up the cloth. We will sew this around the basket.
5.- Finally and to give the touch of beauty to Hedrian's bed, in the upper part you can see the blue of the fabric we put a white ribbon that we had and a ribbon, being of this form the new room of our puppy.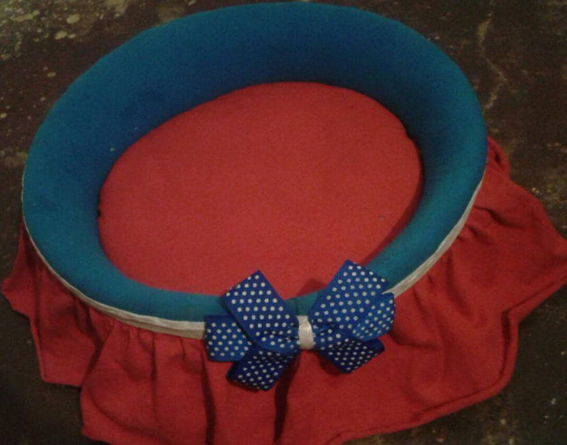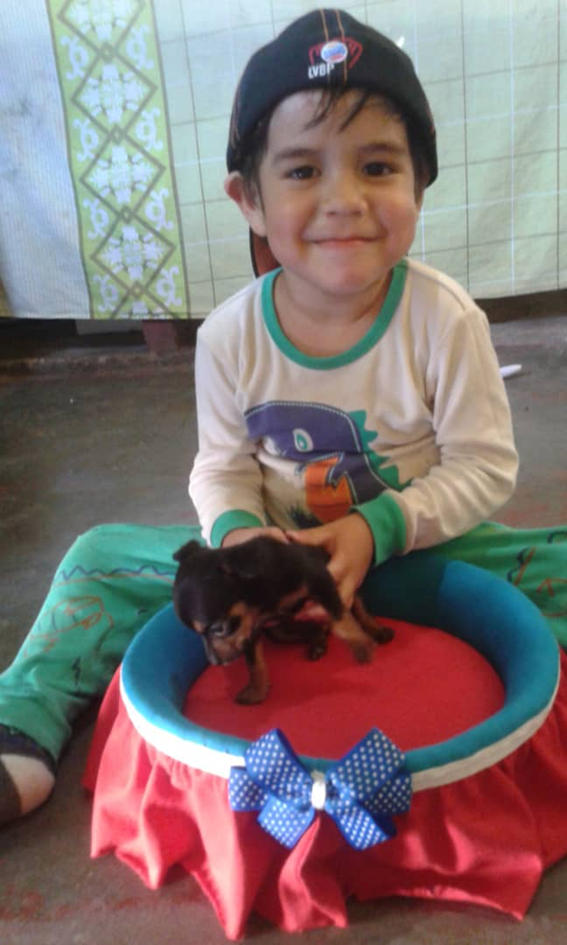 My son Juan José excited for Hedrian to sleep in his new bed.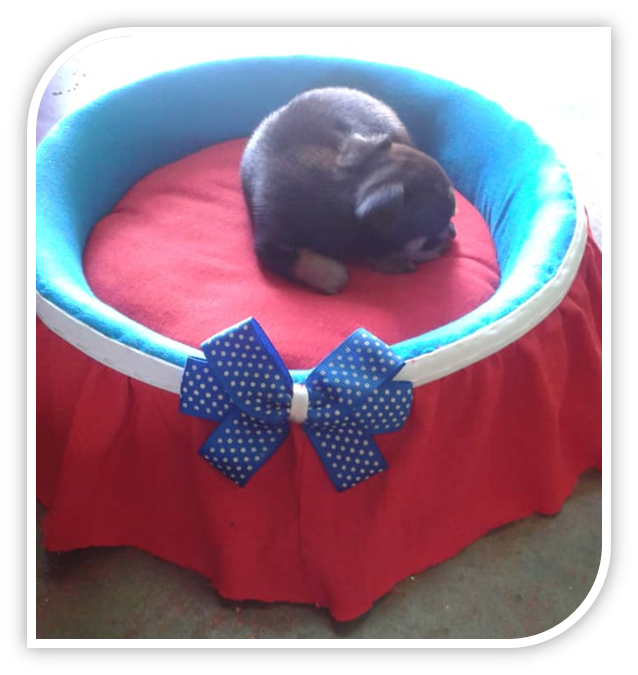 ---
ACKNOWLEDGMENTS
To God who gives me the opportunity to share this kind of experiences, to Beloved brother @javisem for being my mentor and my main support.
To you my good friends, who give life to each of my writings with their beautiful comments among them we have: @abigail-dantes, @paco, @zenkly, @ paokarinat, @norkamoran, @lilianajimenez, @jedamez, @elteamgordo, @jleiva, @angelggomz, @luis07, @crisangel, my dear @ropavejero. I apologize if I miss someone to name, like all thank you very much.
A little person who gave me the biggest surprise since I'm here on this beautiful platform my friend @tincho, thank you for such beautiful words and support.
A special thanks to @ocd, @eturnerx and @ utopian-io for the constant support. To you great team @cervantes and all your clan that for me are the best @goya, @velazquez, @don.quijote, @sancho.panza, @simon. Bolivar who together do a wonderful job supporting all Spanish speakers. A thousand blessings!