"No right to anything"
Greetings, my dear ones, once again welcome to my blog.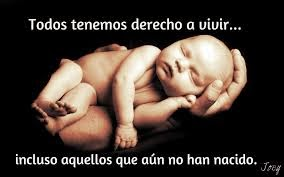 SOURCE
---
Today I will talk about a subject, which in my particular comes to my soul a lot.
Lately I've been hearing more and more about induced or induced abortions, either legally or not. Although for me, it is unheard of since we do not have the right to shorten life to anyone and even less to a being as harmless and vulnerable as a fetus or baby.
Every person knows or knows about who God is, and if he still does not believe something, in all his journey through this life he listened and of course recorded in his mind remained.
God created ten commandments, one of which emphasizes WHAT:
King James Version 1960 CHAPTER 20-13
You will not kill.
SOURCE
It is important to recognize that we do not have the right to kill, but we can have the blessing of being life-giving since God has given us that privilege.
I want to clarify that God is aware of everything, maybe not many of us believe in that, but here I bring you this passage that can clarify it and perhaps thus understand many things.
God watches over the little ones:
Matthew 18:10 Take heed that you do not despise one of these little ones; for I tell you that His angels in Heaven always see the face of My Father who is in Heaven.
[SOURCE](https://activated.org/es/ser-padres/libritos/preescolares/41-libro/de-donde-sacar-fuerzas/465-versiculos-sobre-la-crianza-y-formacion-de- children)
---
As a result of all this I felt very touched and I prepared to make my own drawing about how I see or I want to reflect my resounding NO on abortion.
Materials:
One opaline sheet
Pencils 3B and 7B.
Diffuser
---
Step by step:
1.- As a first step I made my sketch and in what way I wanted to focus it. As you can see, through my drawing I want to express the sadness of this child who is about to be killed and how some baby angels avoid the death of this one.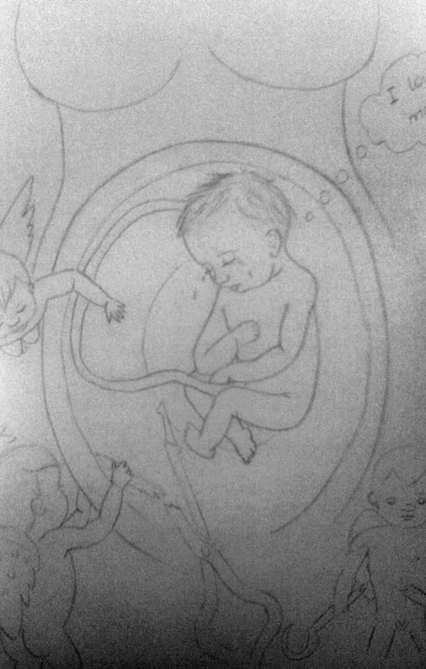 2.- Little by little I began to give the shadows to the body of the mother.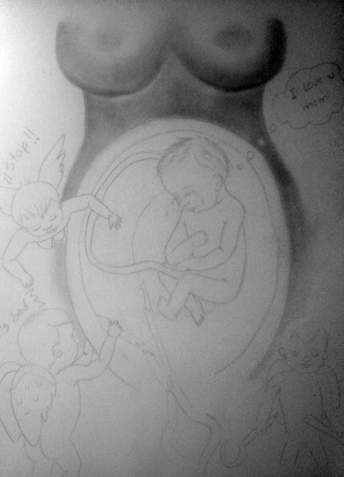 3.- Then I started to work with the baby that is in the mother's womb.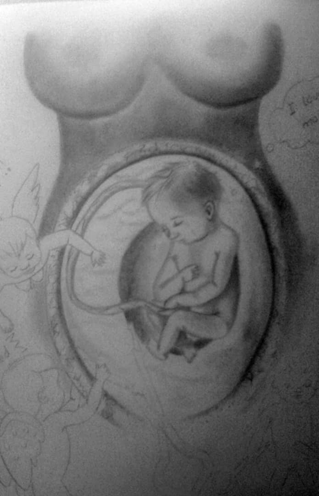 4.- Finally, to finish, draw each little angel.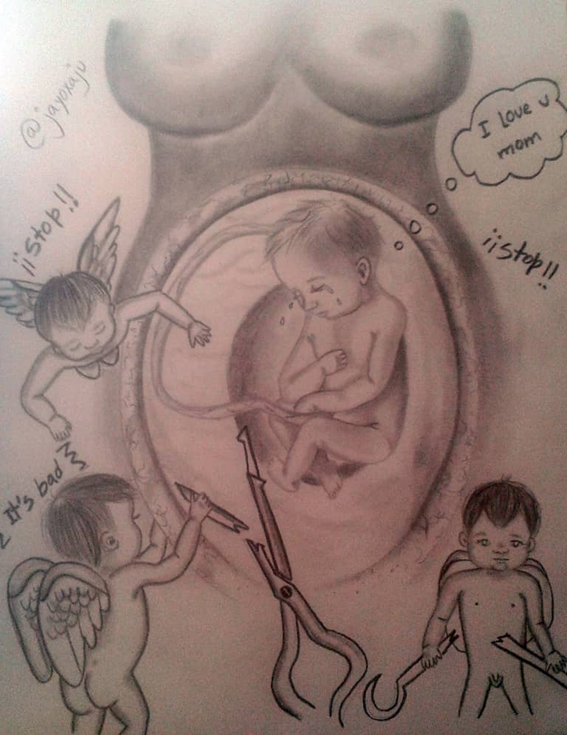 I thank God for this opportunity I have on the platform and in some way or another convey what my head usually happens with respect to my thoughts and how I see life. I have the blessing of being the mother of two beautiful children and I think it has been the best thing that I could live as a woman, being pregnant is not easy but as I always say: it is the pains and complications that you forget very quickly, it is so much so, that Many women tend to have more than one child jajaja jajaja.
---
ACKNOWLEDGMENTS
To God who gives me the opportunity to share this kind of experiences, to your beloved brother @javisem for being my mentor and my main support.
To you my good friends, who give life to each of my writings with their beautiful comments among them we have: @abigail-dantes, @paco, @zenkly, @paokarinat, @norkamoran, @lilianajimenez, @jedamez, @elteamgordo, @jleiva, @angelggomz, @luis07, @crisangel, my dear @ropavejero. I apologize if I miss someone to name, like everyone thank you very much.
A little person who gave me the biggest surprise since I'm here on this beautiful platform my friend @tincho, thank you for such beautiful words and support.
Special thanks to @ocd, @eturnerx and @utopian-io for the constant support.
To you great team @cervantes and all your clan that for me are the best @goya, @velazquez, @ don.quijote, @ sancho.panza, @simon.bolivar that together do a wonderful job supporting all Spanish speakers . A thousand blessings!
All photos are my own, taken with my Blackberry cell phone.