"Very delicious to eat, but hard to do"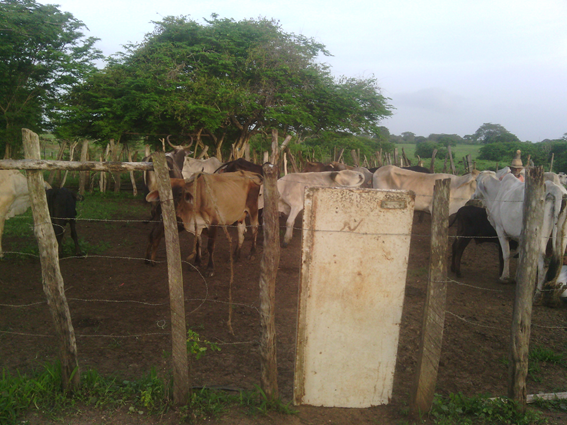 ---
Greetings my esteems of steemit.
Once again welcome to my blog. I had a few days of absence, since I was in the Guárico state.
Native land of my dear ones and my most appreciated llaneros @ropavejero, @luis07, @shikamaru and @crisangel.
I had the opportunity to undertake this trip with my dear friend @paokarinat, after almost 17 hours of travel we were able to meet with @ropavejero who has treated and cared for us with all the love and cordiality of the world. Giving us the opportunity to be hosted directly at home and giving us the best of attention almost like queens hehehe hehehe thanks Tom @ropavejero for all the love and time spent.
One of the many activities carried out was to go to milk, and then make cheese. Yes, as you are reading, we went very early near the village where @ropavejero lives to a small space between families where we find a herd of cows with their calves. These people who gave us the opportunity to milk were already there from 5:00 am we arrived around 6:10 am. Once they performed almost milking in full they left my friend @paokarinat and me (@jayoxaju) the last cow to milk ...
My anxiety began to increase, I confess that I was a little afraid since I had never been so close to this type of animal.
---
Then I will show you through a series of photos the whole process for us to make cheese, pay close attention ...
1.- First we must tie the hind legs of the cow, then we take the calf and let him take his mother's lechita to stimulate their udders and take out a lot of lechita, once the calf sucks it away from the udders and is tied close from the neck of the mother where the litter can not reach; Once the whole process is ready, we start milking.
I want to clarify, that milking is not easy. You must have the technique and the strength to be a total success. I for being inexperienced can imagine all the milk I could get hahaha hahaha ...
---
Once the tobos are ready, that is to say, full of milks and all the cows already milked, the people who went to collaborate go with a container to be given a portion of the milked milk.
---
3 .- Having the tobos ready, we started a long way home to Mr. Manuel and his son Samuel better known as Samuelito. Once there, the magic of how to make cheese began. You have to strain the milk, then there is a powder called CUAJO, nowadays it is so expensive that they mix it with sweet whey from other previous cheeses and they mix it with the milk and after almost 3 hours of rest, they proceed to compact the cheese, this is done with the hands. You must have patience and obvious technique. Observe the images.
---
4.- To finish with the cheese, salt is added. This is a thick salt, each grain is immense compared to the one we are adapted to see in our
homes. It must be mixed and then it is added in the respective containers so that the cheese drains the excess serum together with the salt, helping in turn to compact it into a whole. It is recommended to leave it there approximately 24 hours so that the cheese is a bit more hard.
---
Well, my dear ones, I can only say that making cheese can be seen very simple but in reality it has a lot of work and deserves a lot of effort. All these people who work every day have taught me how much they should try and now that I had the opportunity to see and try to do it was not at all simple. Very grateful for this opportunity, I learned not only how this arduous process is, but also how many people are behind all this work so that in our homes we do not miss the little piece of knowledge.
---
ACKNOWLEDGMENTS
To God who It gives me the opportunity to share this kind of experiences, to your beloved brother @javisem for being my mentor and my main support.
To you my good friends, who give life to each of my writings with their beautiful comments among them we have: @abigail-dantes, @paco, @zenkly, @paokarinat, @norkamoran, @lilianajimenez, @jedamez, @elteamgordo, @jleiva, @angelggomz, @luis07, @crisangel, my dear @ropavejero. I apologize if I miss someone to name, like all thank you very much. A little person who gave me the biggest surprise since I'm here on this beautiful platform my friend @tincho, thank you for such beautiful words and support.
A special thanks to @ocd, @eturnerx and @ topian-io for the constant support. To you great team @cervantes and all your clan that for me are the best @goya, @velazquez, @don.quijote, @sancho.panza, @simon.Bolivar who together do a wonderful job supporting all Spanish speakers. A thousand blessings!