* Chicken Salad * Super Healthy
Hello my dear community
Today I want to show you another of the salads that I liked the most because of its fast way of making, and above all it is very rich and healthy it is a chicken salad, I know very well that there are many ways to prepare such a salad and therefore here I bring you one I hope and it is to your liking.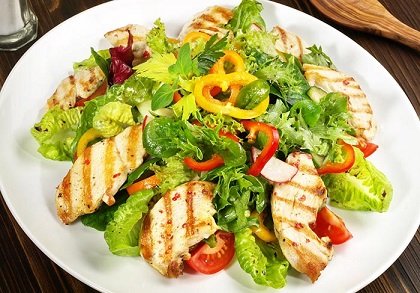 Source: https://www.comedera.com
The ingredients you will need are the following:
• A previously cooked chicken breast
• Lettuce
• A small yellow paprika
• 10 red tomatoes
• One onion head
• Oil
• Salt
• Vinegar
• Hard corn bread
preparation:
We should start by cleaning the lettuce, tomatoes, paprika and onion very well.
Then you can start by cutting the lettuce into strips or simply cut it into pieces by hand and cut the tomatoes in half, cut the paprika and onion into slices.
Add all the ingredients already cut into a sufficiently large cup to be able to stir.
The chicken breast after cooking very well if you want you can pass it through the grill for a while, after you have it ready you can cut it into strips and then add it to the mixture, the bread you should cut it into small pieces and add it in the same way to the mixture.
Add a touch of oil and vinegar also salt and pepper to taste and stir very well.
And you'll have your dish ready to serve, it's a very easy and quick recipe to make, I recommend you friends, I hope you like it and like it.