** Sweet Venezuelan Tizana **
Hello my dear friends of steemit
As every Venezuelan knows one of the richest and most traditional Venezuelan drinks of our country is the tizana, this drink is a mixture of fruit flavors that not only refresh us in hot moments but also is very nutritious and healthy and the most important thing is that In all parts of my country you can get it.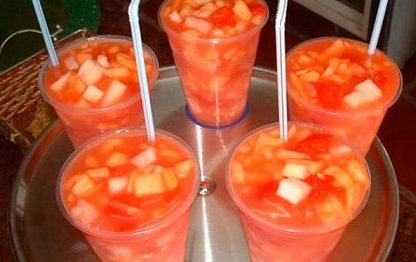 Source: https://steemitimages.com
It is Ideal for the little ones of the house who enjoy it more than all, for my part whenever I have the opportunity I do it to pamper my family, since it is very simple to do.
Here I leave the ingredients you will need:
Pin
Cantaloupe
Pineapple
Strawberries
grapes
Orange
Cambures
Milky
Apples
To start making our sooty the main thing is to give life to the juice is to say the key to a good smut is the way you prepare the juice, I personally to make it use grenadine juice, orange and pinch or in any house fresh soft drink to taste There are other people who use so spawned or pinch juice that is up to you.
Anyway, in this case I do it my way, so you have to make sure you combine the orange juice from Granada and the pin.
After you have the juice ready you must take care of the fruits, you must cut into small squares each fruit, noticing you have removed the seeds, petas and peeled them before.
Afterwards, what remains to be done is very easy, you must add the juice to the previously cut fruits and add a little sugar that is to your liking.
Take a cool leave for a while and you'll have your fresh and ready to share.
I hope and you liked greetings and thanks ...