WHY DO YOUR CAT'S EYES CHANGE COLOR?...
WHY DO YOUR CAT'S EYES CHANGE COLOR?...
In the animal kingdom things happen that to our eyes are curious and are the subject of research, even for many experts, these issues require further investigation, as there are still unexplained and inconclusive things to understand. Referring specifically to the subject in question, it is said that some cats are more curious because of the way their eyes look. Some, soon after birth acquire this characteristic and others in adulthood.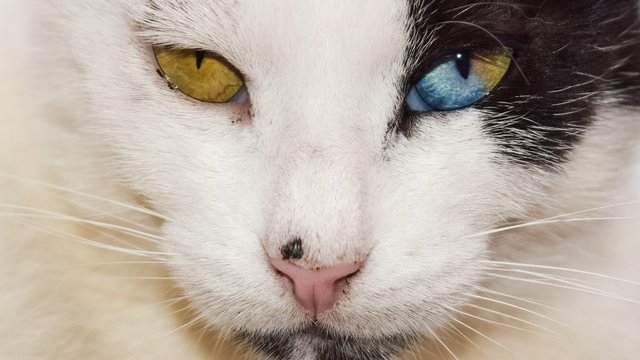 Ojos extraño gato. Foto: dimitrisvetsikas1969 / 15598 images
(https://pixabay.com/es/photos/ojos-extra%C3%B1o-gato-extraviarse-2344284/)
So, why does this happen?. Well, although I am not a professional or a scientist, I like to investigate and I can say that there are two reasons to answer this question:
the first one is that if your cat soon after birth changes the color tone of its eyes, it is totally normal since it is a congenital condition, this is called heterochromia and it is related to pigmentation. To better detail the above mentioned, it means that kittens are born with blue eyes, but in the first 12 weeks of life their true hue is manifested, since the pigment begins to change the color of the iris and it is said that blue eyes lack melanin, for this reason there may be a mixture of tones, in the example of the image the cat has the iris of one eye divided into two colors (green and blue) this is called: partial heterochromia.
The second reason why your cat may change the color of his eyes as an adult, may be due to an eye disease or injury and this requires treatment by an expert.