🔁 Community Support Challenge - EOS.Cafe Brand Identity Design Contest [BeyondBit & BEANS Prizes Inside]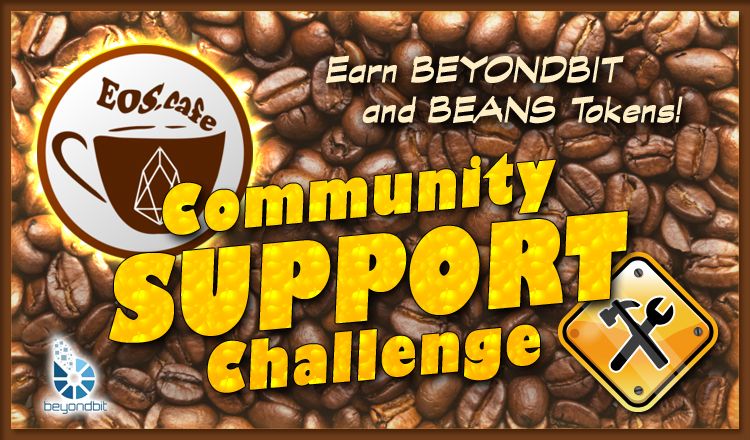 As blockchain technology continues to evolve at break-neck speeds and push the limits of decentralized data storage, transaction speed and self-governance, we don't have to look too far to see the true industry leaders in STEEM, Bitshares, and the soon-to-be-released EOSIO, even though they are often overlooked or dismissed in the mainstream discussion.
🌟 Let Spread the Creative Love!
Each week we host several opportunities for you to earn tokens through participation in various contests and community building challenges. We want to use our collective abilities and talents to help build and promote communities that help spread the missions of synergy and growth by working together.We have such a vast pool of creative people in our BeyondBitcoin Community and we want to offer you the ability to get paid for your talents by helping others.
☕ EOS.Cafe
This week our featured guest on EOSTalk Live! was Troi Bryan of EOS.Cafe. We had a wonderful discussion with Troi about the mission and goals that are at the foundation of this new decentralized community. EOS.Cafe was established as a place to exchange ideas with other people who are excited about building nifty new technologies on the EOS blockchain which will enable humans to interact in peace and prosperity.
We want to offer our collective talents and help the EOS.Cafe Community get a brand identity established, and reward you for your time and efforts, of course.
---
🌟 Your mission should you choose to accept it:
Here is your chance to earn BEANS and stake your claim in the EOS.Cafe Community. Using the information found on the EOS.Cafe website as a reference, create a Mission Appropriate Brand Identity for EOS.Cafe including a new logo, post signature graphic, and Steemit blog cover image. ALL 3 are required to enter. Please be creative, but keep the design professional.
📜 Please follow the Guidelines...
1) Create a New Logo Design for EOS.Cafe
Your Logo Design MUST be at least 500 x 500 pixels (or larger) (square or rectangle) in size
Your Logo Design MUST be in PNG format with a transparent background
Your Logo Design MUST the text "EOS.Cafe" somewhere in the design
2) Create a 'Signature' Graphic to be used at the bottom of @eoscafe posts
Your Design MUST be 800 x 175 pixels in size
Your Design MUST include the EOS.Cafe Logo YOU created
Your Design MUST include the EOS.Cafe contact info supplied below somewhere in the design
Website: EOS.Cafe
Twitter: @eoscafe
Steemit: @eoscafe
Token: BEANS
3) Create a 'Cover Image' to be used at the top of the @eoscafe Steemit Blog
Your Design MUST be 2048 x 512 pixels in size
Your Design MUST include the EOS.Cafe Logo YOU created
Your Design SHOULD match the 'Signature' Graphic YOU also created
4) Entrants MUST Upvote AND ReSteem This Post
(afterall, this is a community-building challenge)
5) Create a post with your entries (up to 3 per person)
Reply below with a link to your your post
You MUST put your contest design images in the reply
You MUST put your BTS/OL account name in the reply
---
📝 NOTE: A literal "coffee cup" is not required as part of the design, you are free to come up with any design that matches the community objectives. It is NOT advisable to use the images from the EOS.Cafe website in your designs since they are only temporary (not licensed) and will be replaced in the coming days. If you used images or other ready-made clip art in your designs, please make sure it is free/public domain or listed as creative commons.
---
🏅 Challenge Rewards
Winners will be chosen by the EOS.Cafe Team in one week when this post ends. You will need a Bitshares/OpenLedger account to receive any rewards.
1st Place: 30 BeyondBits + 30,000 BEANS
2nd Place: 20 BeyondBits + 20,000 BEANS
3rd Place: 10 BeyondBits + 10,000 BEANS
Plus, ALL genuine entries will receive a upvote rewards.
---
What are Beyondbit?
Beyondbit started as a conversations in the BeyondBitcoin hangout series shortly after Steem was launched historically in those very hangouts. It began as "community tokens" or "tag coins". These cross-chain tokens give their holders the power to Summon a Whalevote to posts without having to pay for attention. And they are only given to people who Participate in Challenges, Win Contests and do other things of value for the community!
BeyondBit tokens are on BitShares! So make sure you have a BitShares/OpenLedger account to receive and send them for upvotes on your Steem posts!
---

Join the BeyondBitcoin Communities
Please join in the discussions with us by becoming a member in ANY or ALL of the BeyondBitcoin and Bitshares communities. We have a wealth of knowledge and information waiting for you.
EOSTalk Discord
EOS.IO related community and topic discussions.
https://discord.gg/WaN27D2
Whaleshares Discord
Steemit community discussions, contests and events.
https://discord.gg/E9Rm9yT
Project Milkbox Discord [NEW]
Project Milkbox community and topic discussions.
https://discord.gg/dw58678
Bitshares Discord
Bitshares development community and discussions.
https://discord.gg/z2MSfWg
---
GOOD LUCK and HAVE FUN WITH IT!