Global EOS BP Summit 2018 - Invitation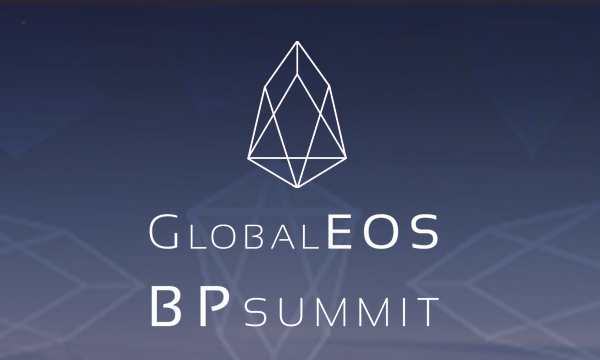 Calling all EOS Block Producer Candidates
It is our pleasure to invite you to the Global EOS BP Summit 2018! The event will be part of the CryptoFinance 2018 conference that takes place on the 16th-17th of November, in Oslo, Norway.
The Global EOS BP Summit is an arena for EOS Block Producer candidates from around the world to communicate, get to know each other, and make themselves visible to the community. The goal is to reach new insights into what it takes to be a Block Producer in a 3rd generation blockchain ecosystem, as well as attract new people and businesses to the EOS ecosystem.
Confirmed Block Producer Candidates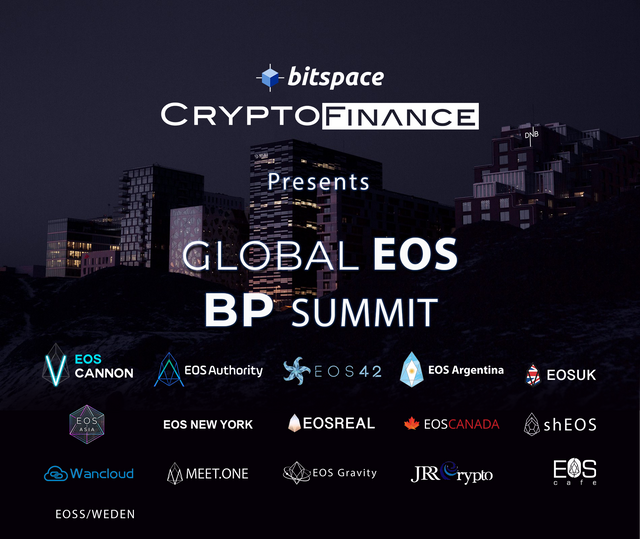 Preliminary Schedule
CryptoFinance is an annual event hosted by BitSpace, that merges the traditional world of finance with companies focusing on exponential technologies that are built on the Blockchain. With CryptoFinance 2018, we aim to deliver the greatest blockchain event to date in the Nordics.
Friday 16th
Workshop Day with focus on EOS. There will be presentations for and by the community, workshops covering areas such as BP Security and DevOps, EOS Governance and DApp Development to explore, learn and share ideas about the EOS ecosystem. There will also be an EOS BP Roundtable discussion where BPs and candidates can discuss the topics of the day such as technical developments since the launch of EOS, community initiatives, governance and what we can look forward to moving into 2019.
Saturday 17th

CryptoFinance Live, the general blockchain event where everyone will get together in the great event hall and listen to world-class speakers talk about the hottest topics and projects within the blockchain and exponential technology space. There will be a panel debate on the topics of blockchain/futuretech/governance/regulation, and some entertainment/interviews/surprise show in the evening.
We are planning to set aside at least 1-2 hours on Saturday to showcase EOS on the main stage and give the greater audience (including press and media) an insight into the latest and greatest within blockchain applications and decentralized governance.
Speakers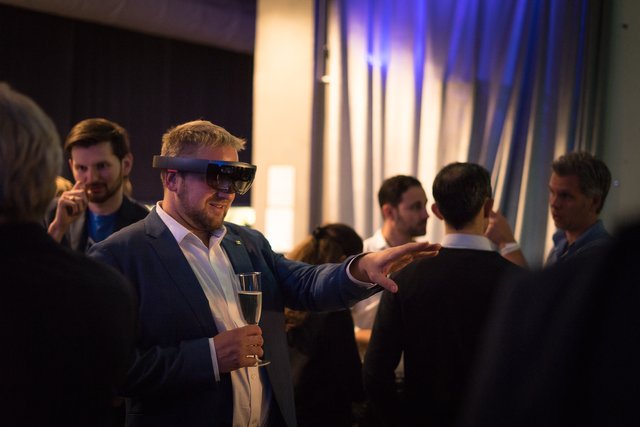 The list of speakers will be a diverse mix of Blockchain Personalities, entrepreneurs, YouTube influencers, developers, educators and politicians. The conference language is English and the entire conference will be broadcast on YouTube and various Social Media channels.
Please check out the CryptoFinance website for an up-to-date list of speakers:
All BP candidates are welcome!
If you are an EOS BP candidate who is not yet on the list, and want to attend the Global EOS BP Summit, please send us an email ([email protected]) with a short description of your project along with logo files, and we will make sure to get your name on the list.
Also, if you have comments, feedback, ideas or questions, please do not hesitate to send us a mail or write a comment below in the comment section.
Hope to see everyone here in Norway in November!

「Links」